McIntosh MC275 Amplifier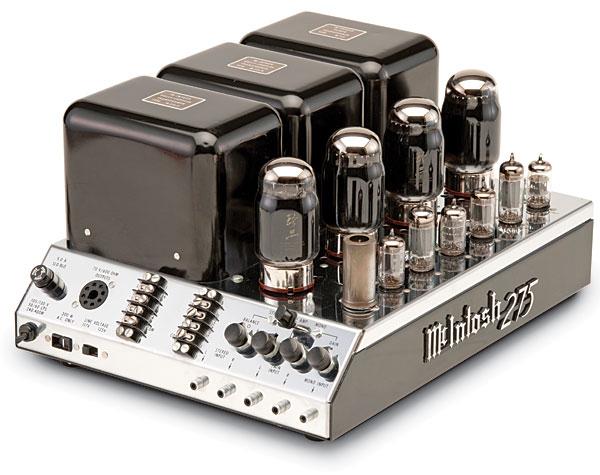 McIntosh's MC275 may be the most famous tube amplifier in the history of high fidelity. Designed and engineered by the company's co-founder Sidney Corderman and the McIntosh engineering team, the MC275 (2 x 75 watts per channel) was the most powerful McIntosh stereo amplifier in its day. Some say it was the Harley-Davidson of American amps, and with the big chromed chassis and exposed Gold Lion KT88 power tubes, the MC275 certainly looked the part. The retail price was $444 when the amp was introduced in 1961, and the mono version, the MC75, debuted the same year.
While most competitors' tube amps relied on output trans-formers sourced from outside suppliers, the transformers used in the original (and current) MC275 amps are designed and fabricated in-house on production equipment that has been in continuous use since the early 1950s. The transformers and McIntosh's famed unity-coupled circuit play a large role in the amp's distinctive sound.
Phased out in 1973, the MC275 reappeared in 1993 in a limited Commemorative Edition to honor the late Gordon Gow, longtime president and chief designer of McIntosh Labs. The amp is currently available in a heavily revised version, the MC275 LE, which uses four KT88 power-output tubes, three 12AX7A input and phase-inverter tubes, and four 12AT7 voltage-amplifier and driver tubes.
By the time I got into audio in the late 1970s, McIntosh wasn't a big player in the high-end community in the U.S. So it was somewhat ironic that Mac finally made its mark with hard-core audiophiles when it starting making tube gear again in the '90s. The company has a remarkably loyal worldwide following, and in recent years China has been a leading export market for this still-made-in-America brand's products. Export sales slightly exceed domestic output.
(Thanks to McIntosh president Charles Randall for his help with this report.)