Marantz AV8003 Processor and MM8003 Amplifier Page 2
The AV8003's balanced interconnectivity should result in superior immunity to induced noise (especially over long cable runs) when you use it with a multichannel amplifier that employs balanced inputs, like Marantz's MM8003.
The MM8003 Amp
The MM8003 140-watt, eight-channel amplifier takes up as much real estate as a hefty-sized receiver. It features a massive toroidal transformer, custom filter capacitors, and hand-selected components. The MM8003 also includes a copper-plated chassis, power distribution via copper buss bars, and ultra-bandwidth current feedback technology. This is the same technology Marantz used in its superb-sounding SM-11S1 two-channel amplifier that I reviewed in the May 2008 issue of Stereophile. You can access it online at www.Stereophile.com for a more detailed description of the amplifier's superb sonics and sophisticated, wideband circuitry. Why all the fuss over power supplies? Simply put, the music, dialogue, and sound effects you hear result when the signal modulates the power supply output. The sound can only be as good as the purity and consistency of the power supply output.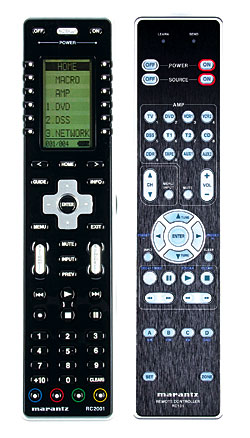 Marantz's 110-watt, two-channel SM-11S1 costs $3,999, or $1,600 more than the 140-watt, eight-channel MM8003. So it's safe to assume that there's "less of something" in the MM8003. Aside from the MM8003's more modest fit and finish, its specifications and operating instructions provide a clue as to where Marantz saved some money.
While the two-channel amp's output doubles into a 4-ohm load from 110 watts to 220 watts per channel, the MM8003's manual recommends at least 6 ohms. It warns that a lower impedance load might cause overheating that could trip the unit's protection circuits. In addition, the unit's 140 watts per channel into 8 ohms is specified for two channels driven, not eight channels driven.
When a multichannel amplifier has trouble with a low-impedance load and the manufacturer lists the power rating with only two channels driven, that usually indicates some power supply skimping. But don't be too concerned about that. The MM8003 is rated at 170 watts per channel into 6 ohms (also with two channels driven), so the power supply is reasonably robust.
These days, speaker designers understand the capabilities of the amplifiers that consumers will likely use with their speakers. Most companies strive to make their speakers amplifier friendly, with impedance curves that don't stray below 6 ohms. In addition, movies and surround music don't often drive all channels simultaneously. You should make sure your speaker's impedance doesn't drop too low over too large of a frequency range. This will enable you to get the most from the MM8003 or any reasonably priced multichannel amplifier.
You can run each of the MM8003's amplifier channels independently using either single-ended or balanced connections. You can also use channel pairs to biamplify the front speakers or power a stereo pair in a remote zone. Of course, unless you add an additional stereo amplifier, you'll lose the surround back channels (no great loss in my opinion). Speakers connect via reasonably sturdy banana plugs. Bare wires and spade lugs need not apply. This is per the EU's proscription against any post that exposes enough metal to be touched by a curious idiot's finger.
Easy Setup
You'd be wasting your money if you didn't use the balanced connections. You should get yourself seven high-quality interconnect cables fitted with XLR plugs or at least three good ones for the front channels. Thanks to the clean rear-panel layout and a reasonably clear set of instructions, connecting source components is a straightforward task. The onscreen GUI isn't the most elegant looking, but it's admirably clean and easy to navigate.
You can easily assign inputs and make other configuration choices, particularly if you've had some previous experience. I never got lost in a nest that I couldn't find my way out of. Just as I reported in the Denon review, the Audyssey software is straightforward. Its setup procedure is step-by-step foolproof, and the sonic results are impressive. You place the supplied microphone in up to six listener locations in your home theater (use a tripod if possible), and Audyssey does the rest.
I was extremely pleased with what I heard after the Audyssey system configured my speakers for size, crossover frequency, and distance. It even checked individual speaker polarity and used the AV8003's built-in nine-band equalizer to smooth out each speaker's frequency response. If you choose, you can also manually adjust these parameters. But I didn't, because in my opinion, the auto program was thorough, and the results sounded natural and seamless.
Front Panel Simplicity, Remote Control Complexity
Marantz decided to stick to basics, and the result is an uncluttered front panel. A hinged door offers easy access to every important feature and adjustment choice. An equally uncluttered fluorescent display provides important status information and lets you see it from a good distance. The AV8003 features large knobs on either side of the display for input selection and volume adjustment. For instance, if you want to listen to an SACD, you just scroll the input-selection knob until you get to 7.1-Channel Input. Nice! With some A/V receivers, you need to consult the manual each time to re-learn the multiple nested functions you'll need to roll through to access the function.
LATEST VIDEO