Marantz AV8003 Processor and MM8003 Amplifier
An Antidote to the AVR
With flagship A/V receivers approaching apartment building size and black-hole heft, there's a great deal to be said about separating the brains of the operation from the brawn. If you choose separates, it means you never have to borrow a construction crane to hoist a feature-laden, mega-watt seven- or eight-channel receiver onto a tall equipment rack.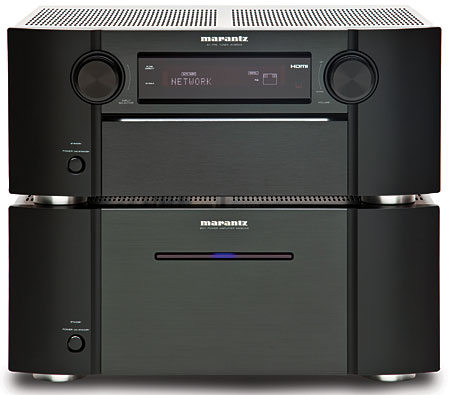 OK, that's an exaggeration, but not by much. Separates do produce more wieldy physical packages. But the real two-box advantage lies in having separate processor and amplifier power supplies. It's also advantageous because each separate is optimized for a specific purpose. Additionally, having the amplifiers work in a less noise- and interference-polluted environment also benefits the user.
If you have the shelf space for two boxes, the biggest disadvantage of separates is the added cost. The chassis is one of the most expensive components of any electronic design. Obviously, separates double chassis and front-panel costs. And they double shipping, packaging, and administrative costs as well. Separates should give you more performance for your money, but to remain competitively priced, they must give you less of something else.
You can buy these two handsome new Marantz separates for a total of $5,000 ($2,600 for the processor and $2,400 for the amplifier). Or for a few hundred dollars more ($5,500), you can get sister company Denon's feature-intensive AVR-5308CI A/V receiver, which I reviewed in the August issue. Whether the adjacent price point of these two products (counting the Marantz combo as one) is purposeful or coincidental, it makes for an interesting comparison.
The AV8003's "less of something else" involves a lack of some key features. It does not include Wi-Fi capabilities, a USB port, or front-panel-mounted inputs. It also lacks a Silicon Optix Realta HQV video processing chip. (It uses Anchor Bay's very good but somewhat less highly regarded scaling/upconverting chip.) It doesn't include an MM phono input either and has fewer HDMI inputs (four 1.3a versus the Denon's six), and fewer inputs and outputs overall. Instead of Burr-Brown, Marantz uses Cirrus Logic CS4382A 192-kilohertz/24-bit DACs and CS5361 ADCs. I'm not suggesting that either one represents something less or something more. I'm sure both have their partisans. But since I don't travel in chip-head circles, I wouldn't know what their advocates claim.
However, the AV8003 does feature a built-in media player. When you network the AV8003 with your computer or another DLNA (Digital Living Network Alliance)-compatible device via its Ethernet port, it shares your computer's music, pictures, and video content and presents them onscreen in almost real time. The AV8003 also features XM and Sirius satellite radio (the Denon only offers XM). The AV8003 also offers eight balanced (XLR) outputs (plus one pair of XLR inputs), which the Denon does not.
Like the Denon, the AV8003 is THX Ultra2 certified and includes the extremely useful Audyssey MultEQ room-correction system, as well as a programmable AM/FM stereo tuner with integrated HD radio. It also has the full portfolio of surround sound processing options. It includes old-school Dolby Digital, THX Surround EX, DTS and ES, as well as Dolby TrueHD, DTS 96/24 DTS-HD, and DTS-HD Master Audio. It provides the full range of matrixed surround sound formats, plus simulated surround modes for those who simply cannot live without surround sound (even when the original source is monophonic). Like the Denon, the Marantz also offers HDCD decoding, plus SRS Circle Surround, Dolby Virtual Speaker, and Dolby Headphone. Much like Denon's Restorer function, Marantz's M-DAX (Dynamic Audio eXpander) attempts to re-create what MP3 and other digital compression schemes remove. The AV8300 is ready for Deep Color and x.v.YCC color space, even if you and the rest of your video system are not. In addition, the AV8003 offers 1080p upconversion of digital and analog video (composite, S-video, and component) via the built-in Anchor Bay processing.
The AV8003 handles three zones and comes with two remotes. It features an RS-232 port and two 12-volt trigger outputs for remote control of the MM8003 amplifier. It comes with all of the features custom installers insist upon that reviewers rarely touch.
In other words, the AV8003 includes just about every feature you need and provides enough inputs and outputs to satisfy the vast majority of home theater enthusiasts. It also includes many features that probably waste time, space, and money, such as composite video connections. Does anyone who's thinking about buying a sophisticated A/V processor in 2008 really have composite-video-equipped components? On the other hand, these are probably included on prefab modules that don't cost the manufacturer extra to include.
Consumers expect improved build quality and meticulous circuit layout in separates, and Marantz does not disappoint. The AV8003's high-capacity power supply is centered on a low-flux, toroidal transformer encased in a mu-metal shield. It's designed to minimize stray magnetic fields which could interfere with delicate low-level signals. Marantz designed the rigid, heavy, copper-plated steel chassis to reject electromagnetic and vibrational interference that come from the outside world.