The Man-Cave Horror Theater
When movie prop collector (and long-time Tom Spina Designs client) Wesley Cannon told us his dream of having rooms in his home themed like an actual cave, we couldn't pass up the opportunity to take a more literal stab at the phrase "Man Cave." The result is a pair of richly themed and incredibly unique rooms in his new North Carolina home.
When Wesley first presented the initial idea, he hadn't fleshed out any details for the "cave". We expanded on his concept and came up with a design with rooms built inside a cave that appears to be left behind by some great adventurer many years ago. This opened us up to a lot of possibilities for a sense of "story" and soon a variation on the theme for each of the rooms soon emerged.
We created two unique rooms for this project. While both rooms fit the overall "cave" theme, each has its own distinct feel. You must walk through the Movie Prop Display Room to get to the Media Room.
The Media Room is centered around a 62" Samsung Plasma HDTV along with a Samsung sound system. The client chose this model TV because of his love for split-screen gaming. The room is filled with a comfortable couch along with custom sculpted tables and shelves with layers of textured details that create the room's cave-like atmosphere. The faux rocks in this room intentionally have more warm brown tones versus the gray tones in the prop room. Stalactites mingle with pipes in the back ceiling and a pair of old boilers look ready to keep things toasty.
Girders and other elements bridge the visual "feel" of the two rooms and unify them. Riveted metal strips around the rocks give the impression of a wood floor being trimmed out around "existing" rock formations.
The Movie Display Prop room is a museum of horror movie props like no other. This is the outer room to the Media Room. Its gritty, dark and imposing feel was created with rusted metal walls, craggy gray rock outcroppings, and specially designed furniture that draws inspiration from the horror genre.
This museum space displays the bulk of Wesley's incredible collection of original movie props and wardrobe. Our work needed to compliment and enhance the display of these pieces and not outshine them. Mannequins and props were sorted based on theme and placed so that they all feel entirely natural in their new environment.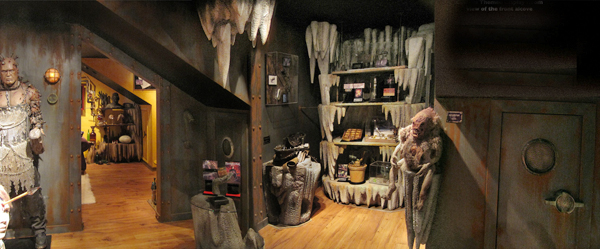 For the Prop Room a giant 8' tall x 5' wide x 3' deep faux rock shelving unit with oddly shaped faux metal shelves was created and detailed to look like riveted and severely aged copper. Four faux rock pedestals and a faux metal pipe pedestal were made to use as movie prop displays. A rock formation was built into the back corner revealing a "face" in the dark. Stalactites drop down from the ceiling and themed elements like pipes, shut-off valves, flickering lights, vents and more were added throughout. A variety of special displays were made to show off specific props from famous horror movies.
Repeating elements like girders, light fixtures and grates hold the theme together and visually link the two rooms. Both rooms feature a touch of chunky steampunk elements which we feel compliments Wesley's horror props nicely while adding another layer of interest and style to the overall design.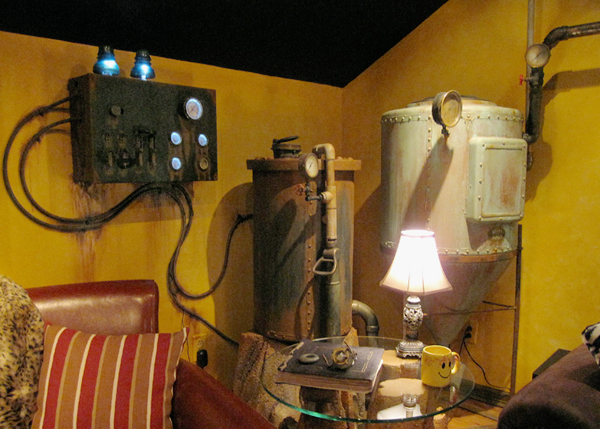 Please note, there is no affiliation between Tom Spina Designs and the show "Man Caves" on the DIY Network. Tom Spina Designs provides custom sculpture, furniture, mannequins, movie prop and wardrobe displays & restoration and other unique items for collectors, home theaters, businesses, museums and more!
Contact
Tom Spina Designs
TomSpina@mac.com
www.tomspinadesigns.com