The Man Cave
The project to transform my empty basement into The Ultimate Man Cave took about 8-months. The theme is "Transportation" and all of the artwork and dcor is based on planes, trains, antique cars, motorcycles, etc. We turned approximately 1400 sq. ft. into a large media room/game room/pool room with a dedicated workout area, home office, wine room and storage/AV Room. There is also a full bath and wet bar.
The main area is composed of a Media/TV Area complete with a Samsung 58" Plasma TV, an Onkyo 7-channel surround sound receiver, plus a Sony CD Changer for whole-house music. We use the Sony PS3 for games and playing Blu-ray discs. Underneath the TV, I made cutouts in the drywall for in-wall speakers. A special enclosure was built just for the TV.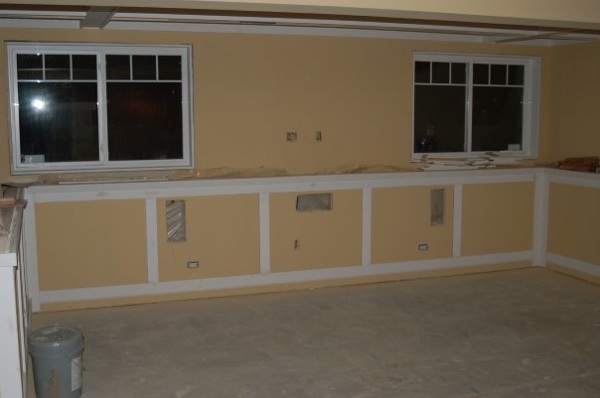 Everything is controlled with the RF-enabled Logitech Harmony 890 remote control. It allows all the AV equipment to be stored in a dedicated section of the storage room, along with all the internet wiring, alarm wiring, alarm system, wireless router, etc. There is seating for 10-12 people including a curved leather sectional, two recliners, and four captain's chairs behind the granite bar.
Now that the AV system on the main floor is connected to the new AV system in the basement, I can go anywhere in the house, or out on the patio, and control music with just the Harmony remote. All the basement lighting is also controlled by the remote via z-wave compatible dimmer switches. The system works great and I plan to replace other dimmer switches and the main thermostat in the house with z-wave compatible devices so I can control indoor/outdoor lighting and heating/cooling all from the same remote.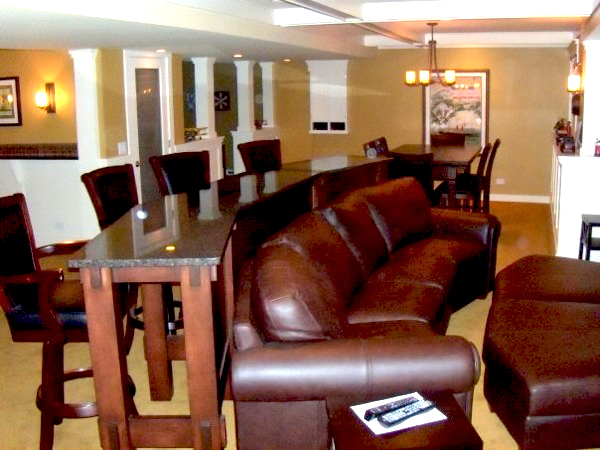 Behind the bar is a pool room with am 8' Pool Table and a wet bar with a built in beverage center and ice maker. There is a great deal of granite and tile work around the room, allowing friends to set down their drinks while playing pool. The sconce lighting can be dimmed, which is programmed into the universal remote controller, during movies or sporting events. In another part of the room, there is a game table that can also be used for dining plus a dedicated wine room, where there is a wine refrigerator and cabinets for additional storage.
The dedicated office has a wireless access point but there is also CAT 5 cabling running throughout the house. The workout room has a 32"HDTV on an articulating mount, allowing it to also be viewed from the main seating area. A special touch is the in-wall iPod dock, which allows anyone in the workout room to play their own music.