JVC Diamond DM65USR LCD Ultra HDTV Review Test Bench
Test Bench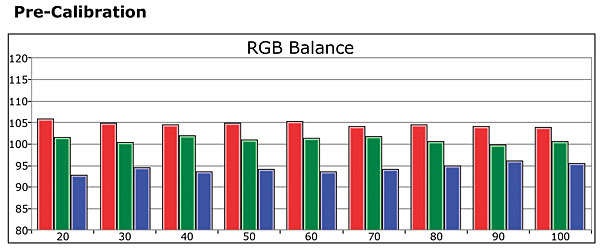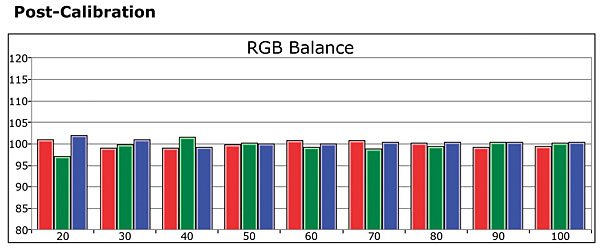 The measurements here were made using CalMAN measurement software from SpectraCal, together with Photo Research PR-650 and Klein K-10A color meters, and the VideoForge pattern generator from AVFoundry.
Full-On/Full-Off Contrast Ratio: Unmeasurable
All of the measurements here were performed the Movie Picture Mode.
With the Backlight on 80, the Picture (Contrast) control at 5, the Brightness at 51, the Gamma Style on Mid-Dark (post-calibration, I changed my preference to Dark as that setting provided the most consistently good results on most Blu-ray source material), Local Dimming on, Color Space on Standard, and Dynamic Contrast on Low (Middle or High were later found to produce results that better matched my reference plasma display—at least on Blu-rays), the measured peak white level was 35.95 ft-L and the black level 0.000 ft-L. This doesn't mean that the set has infinite contrast, but only that the LEDs turn off in the presence of a full black screen image, such as fadeouts between scenes. When a small bright spot was applied, in this case the pause bug from the Oppo disc player in the upper left-hand corner of the image, it had little effect on the result, since the reading was taken at center screen and the bug had only a small effect on the LED zone covering that area. But in this situation, the peak white was 36.2 ft-L and the black reading 0.0009 ft-L, for a full-on/full-off contrast ratio of 40,222:1.
With Local Dimming off and the other controls unchanged, the peak white level was 41.6 ft-L and the black level 0.044 ft-L, for a full-on/full-off contrast ratio of 1,015:1. In the default Vivid mode with Local Dimming on, the peak white level was 98.46 ft-L and the black level a still impressive 0.0002 ft-L, for a full-on/full-off contrast ratio of 492,300:1.
In the Warm Color Temperature setting the average pre-calibration gray-scale Delta E was 3.68, with a maximum of 5.44 at 100% brightness. Post-calibration, using both the 2-step and 10-step color calibration controls, the average gray-scale Delta E was an excellent 0.64, with a maximum of 1.15 at 70%.
(Delta E is a figure of merit indicating how close the color comes to the D65 HD standard at each point in the brightness range. Values below 3—some experts say 4—are generally considered visually indistinguishable from ideal.)
The pre-calibration color gamut Delta E averaged 4.92, with yellow the main offender at 18.33. Post calibration using the Color Management controls, the Delta E improved to 2.41. Blue was the farthest off (as it is on many displays) at 7.14. Fortunately, our eyes are least sensitive to blue.
As with many displays having dynamic dimming (or, in a projector, a dynamic iris), the JVC's gamma curve was peculiar with Local Dimming engaged. In the calibrated settings, with the Gamma Style on Mid-Dark, the average gamma measured about 2.5. Its high value was almost 3.0 at 70% but dropped to near 2.0 at 80% and 90%. Nevertheless, the visible effect of this odd gamma was much less obvious than these numbers might suggest. Gamma Style settings other than Mid-Dark or Dark, however, produced flat images that were too light, and poorly saturated.—TJN