JVC Diamond DM65USR LCD Ultra HDTV Review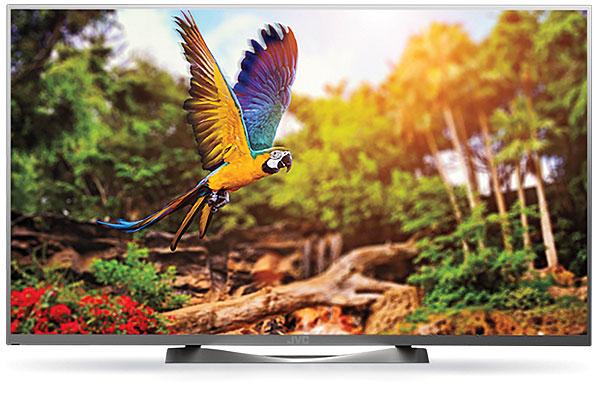 PRICE
$1,999
AT A GLANCE
Plus
Bargain price for a 65-inch Ultra HD set
Good blacks and shadow detail
Impressive sound
Minus
Clips above white and below black
Odd gamma
Typical LCD off-axis performance
Wobbly stand
THE VERDICT
The JVC required considerable tweaking to get the best from it, but once dialed in, it looked excellent with 4K test patterns and 1080p Blu-ray material.
AmTRAN plans to raise the 4K Ultra HD bar by lowering the price. AmTRAN who, you may ask? Based in Taiwan, the company is a major maker of video displays, both consumer and professional, for a variety of brands, the biggest of which is Vizio. In 2010, AmTRAN licensed the JVC brand to put on its flat-screen HDTVs in North America, which are sold and marketed by its U.S. subsidiary AmTRAN Video Corporation. This is the first JVC flat panel we've tested since that company left the TV business a few years ago to focus its display business on LCOS projectors.
What makes this set compelling is that, at $1,999, the JVC Diamond Series DM65USR is the least expensive Ultra HD set of this 65-inch size we've yet encountered. There are also similar models at 55 inches (SP55ULR, $999) and 85 inches (DM85UXR, $7,999). All of these designs—like Vizio's current lineup—are 2D only; they don't support 3D.
What's Inside
By outward appearances, the DM65USR looks little different than most HDTVs—Ultra HD or otherwise. It sits on a stand that's stable horizontally but can wobble considerably (+/– about 0.5 to 0.75 inches) from front to back. Our sample also sloped slightly toward the front. I used two wedge-shaped doorstops to level it out.
The side- and back-panel inputs include four full-capability HDMI 2.0 inputs and one HDMI 1.4 input with MHL. According to AmTRAN, the set also offers HCDP 2.2 and the ability to decode HEVC (H.265) Ultra HD source material via streaming or other means. ARC (Audio Return Channel) is provided for on one HDMI port (HDMI 4).
I did all of my pre-calibration work in the Warm Color temperature setting and calibrated the set in the Custom mode. The set offers both 2-point and 10-point adjustments, plus a full color management system (CMS) for all primary and secondary colors. While most of these controls can be set independently for different Picture Modes and different inputs, the 2-step Custom Color Temperature setting cannot; once dialed in, its settings apply across all modes and inputs.
Crystal Motion Pro is the JVC's version of the now de rigueur motion smoothing/frame interpolation feature. It operates similarly to the frame interpolation features in other sets. The result is slick if you like all of your movies to look like Days of Our Lives, but best left off it you don't much go for the soap-opera effect. Apart from checking it out, I left it off.
By far the most unusual feature of the JVC (at this price) is its full-array, LED-backlit local dimming. Its 32 zones aren't a lot for a 65-inch set (the far more expensive, no longer available Sharp Elite we reviewed a couple of years ago had hundreds). But they're effective nonetheless in dramatically increasing the set's subjective contrast and shadow detail.
The set's remote control isn't backlit. But the most-used buttons are easy to find by feel since they're small and widely separated. Many of the little-used buttons that clutter the front of many remotes have been moved to the back where you'll also find a small touchpad and a tiny QWERTY keyboard with buttons ideal for your five-year-old's fingers. Occasionally, I did find that the TV failed to respond to repeated pressing of the remote's menu button, a problem that always cleared when I turned the set off and then on again. There's no printed owner's manual provided apart from a basic Quick Start Guide, but you can call up a full manual onscreen.
You can connect the JVC to the Internet either wired or wirelessly. Using the Home menu, you can view or listen to material available on your home network and surf the Web. I found no provision for wired or wireless firmware updates.
The set's internal Internet capabilities don't include onboard access to popular downloading and streaming sites such as Amazon Instant Video, Netflix, Vudu, and Hulu. JVC's solution is to include a Wi-Fionly Roku Stick that connects to the set through the MHL HDMI input. From there it's linked to the set's neurosystem so you can control it using the JVC remote.
This arrangement didn't work particularly well for me, though. While the onscreen navigation for these features is slick, it was occasionally unresponsive, and I sometimes ran into hang-ups that, as with the menu button mentioned above, were cleared only when I turned the set off and then on again. In at least two instances, I had to unplug the set and power it back up to get things back to normal.
I was also unable to access any HD material from Amazon, Hulu, or Vudu through my Wi-Fi connection to the Roku streamer, apart from a few trailers. The SD I did get was nearly unwatchable to my HD-acclimated eyes. The download speed check on Vudu told me that my download speed was 1.5 megabits per second or less, adequate only for SD! When I checked my wireless download speed on my computer, I obtained results no lower than 8 Mb/s on some speed-check sites and as high as 63 Mb/s on at least one. I've obtained far better streaming results, and many more images that were clearly HD, from the integral Smart TV features on other sets.
Watching
The JVC passed most of our standard video tests but clipped both above white and below black. While there shouldn't really be any video source information below video 16 or above video 235 (out of the 255 levels available in our 8-bit video system), there sometimes is. These often involve whispy clouds on a sunny day or the brightly lit snow you'll find in such films as The Art of Flight. Clipping such material will crush anything above 235 into a uniform, featureless white, which is why we test for it. The decision to restrain video signals to the 16-to235 range or allow full passage is most often set by the manufacturer in firmware, and while we still encounter displays from time to time that do this, most TV makers at this point have heard the videophile call and opened up that pipeline.
My first out-of-the-box reaction to the JVC's picture, using usually reliable cable sources and the Movie mode tweaked just by fine-tuning the standard picture controls, was "meh." But after a week or so of casual viewing, it appeared to improve significantly. This was most likely due to subsequent tweaks, some of them significant, that I made to the default picture controls, even prior to a full color calibration. One step on the Brightness control, for example, made an obvious difference. So did the Gamma Style control; its default Standard setting produced an image that was too light. I found that Mid-dark or Dark on the Gamma Style control helped significantly. The Dynamic Contrast control was also sometimes useful, but could be a mixed bag. I preferred it in its Middle or High setting on Blu-rays. But on some cable channels, it produced harsh images, even in Low.