Justice League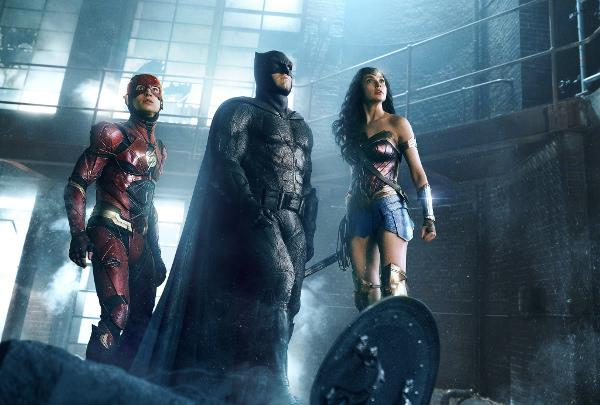 Haters be damned, Justice League is actually pretty good. I just wish it was great.
The theoretically-can't-miss combination of DC's legendary "trinity" of heroes — Superman, Batman, and Wonder Woman — has a far greater chance of failure when two-thirds of that crew is already on difficult footing. In the rightly reviled
Batman v Superman: Dawn of Justice
, an irrational, homicidal Dark Knight (Ben Affleck) sets his sights on a mopey, defeatist Man of Steel (Henry Cavill), resulting in tedium and the sudden death of the Man of Steel. It did however introduce audiences to the new Wonder Woman (Gal Gadot), who has since captivated audiences with her own solo movie and who now elevates this team tale.
The powerful interplanetary villain Steppenwolf (Ciarán Hinds) has returned to Earth, with plans of hellish transformation, so Bats and his Amazonian colleague need to build their ranks if they intend to save us all. They recruit Aquaman (Jason Momoa), the Flash (Ezra Miller), and Cyborg (Ray Fisher, his character retconned from the Teen Titans to the League back in 2011). Some resist the call to action at first, they bicker and crack wise but eventually learn to work together on the way to a decisive confrontation. It's a pretty well-worn path by this point in movie history, and the Hail Mary hiring of Joss Whedon — he the scripter/helmer of The Avengers, the team-up movie that Justice League wants so desperately to be — for late rewrites and reshoots could only accomplish so much.
The fight sequences can be unimaginative, specifically those scenes involving big bad Steppenwolf. He relies upon his go-to move quite a bit, whacking a hero who then goes sailing backward into a wall to leave a sizable dent — that is when the same treatment is not being meted out upon him. Nothing more original? Maybe read a comic book for inspiration? Stylistically, the movie is full of the sort of overblown CGI that helped make Batman v Superman so exhausting, while the dialogue ranges from fresh and clever to dreary and painful.
The thing is, despite its flaws, Justice League is not a trainwreck. Wonder Woman's meaningful character arc continues from her standalone adventure. Ezra Miller's Flash brings dependable comic relief throughout, imbuing this latest DC flick with a long-MIA sense of fun, and the story moves briskly across its two tight hours. It's not quite the movie that the fans deserve, but it's definitely watchable.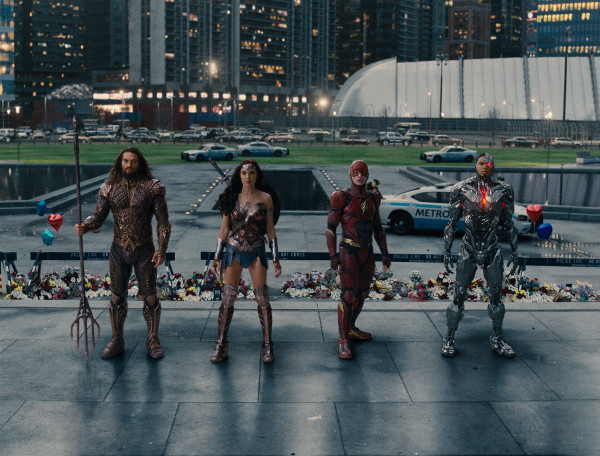 I could sort of guess which scenes were pinch-hit by Whedon, as they tend to exhibit a lighter tone dramatically as well as visually. Both the lush tones and the more subdued shades are strong, often vibrant, and quite pleasing to the eye, thanks in part to the wide color gamut and high dynamic range. Kudos to Warner for grading the movie in Dolby Vision, although my review was in HDR10. Justice League was captured in a combination of digital video and the Super 35mm film process, the latter being director Zack Snyder's preferred format, but there's a fair amount of noise on display. The 4K clarity can be striking however, with ample detail shot-to-shot as well as particularly impressive moments like when a distant swarm of bug-men fills the sky, each one tiny and distinct, reminiscent of the hail of arrows in Snyder's 300.
My issues with the audio on Batman v Superman notwithstanding, this track (by many of the same folks) is mostly a treat. The disc defaults to DTS-HD Master Audio 5.1 for some reason, but I opted into Dolby Atmos and enjoyed the TrueHD 7.1 at its core. It is an aggressive soundfield that really sweeps us up into the action, further enlivened with little surprises like a certain ring of power zipping between the speakers. Half a point off for the dialogue though, which more than once was difficult to decipher.
As is too often the case these days, no audio commentary is supplied but there's a cluster of predictable "gee-whiz" featurettes instead, about the costumes and such, on the bundled standard Blu-ray disc. Vast sections of the movie were reportedly excised, so the deleted scenes were the most anticipated bonus, and ultimately the most disappointing: brief and unenlightening. A Movies Anywhere digital copy code is tucked inside, too.
For Justice League aficionados who felt a bit let down, the timing is just right for the latest "issue" of CultureFly's World's Finest: The Collection subscription box. Proffered by the same company that put together the nifty Game of Thrones box I wrote about in last year's Holiday Guide to Blu-ray Gift Sets, this is another quarterly assortment of exclusive and remarkably useful gear but on the DC theme, this time the Justice League specifically.
Drawing from the comics first and foremost, the carton contains a Green Lantern planter (that's fun to say fast), a Wonder Woman USB charging cable (a la the Lasso of Truth), some lovely Superman wall art, a snazzy Batman belt buckle (with secret compartment, naturally), and more.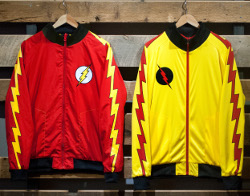 The hero item is indubitably the Flash track jacket in (brave and the) bold red, emblazoned with the signature lightning bolt, all in a spring-appropriate weight. Typically subscription boxes contain t-shirts as the wearable, so this is a rather generous upgrade, pegged at a $70 value all by itself. But it's also reversible, to reveal the uniform of Flash's arch-nemesis... Reverse-Flash. Which might just make this the most meta article of clothing ever.
To find out more, see past boxes or to order, visit worldsfinestcollection.com.
Ultra HD 4K Blu-ray
Studio: Warner, 2017
Aspect Ratio: 1.78:1
Audio format: Dolby Atmos with TrueHD 7.1 core
Length: 120 mins.
MPAA Rating: PG-13
Director: Zack Snyder
Starring: Ben Affleck, Gal Gadot, Ezra Miller, Henry Cavill, Jason Momoa, Ray Fisher