Batman v Superman: Dawn of Justice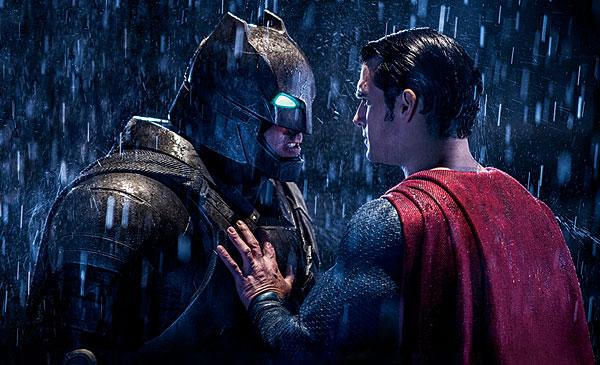 Superman (Henry Cavill) is still bemoaning his sad fate, living as a covert god among men, while politicians and pundits debate his role in Earth's affairs. Batman (Ben Affleck), a native who witnessed the devastation unleashed in Man of Steel, blames Supes and sees him as a threat to all mankind, egged on by young mastermind Lex Luthor (Jesse Eisenberg). The main event doesn't start for more than two hours, and while the story has an operatic sense of drama in the best and worst ways, this incredibly overblown, overdone movie lacks a basic sense of reasonable pacing. The characters are all missing something, the plot grows tiresome, and the end result is profoundly unsatisfying.
The action—and a lot of standing around talking—was captured on a variety of film and digital media, and the 2.4:1 image is for the most part superbly clean, as when Metropolis is awash in a thick cloud of white dust with nary an artifact in sight. A sand-whipped desert is perhaps unavoidably noisy, while I noted significant grain in some scenes but not others. Shadow reproduction is generally strong and nuanced, essential for a tale set extensively at night and in gloomy interiors, although I would stop short of calling this reference-quality.
The movie arrives with a Dolby Atmos soundtrack, but I listened to the Dolby TrueHD 7.1 core. The mix is expansive and richly rendered, with discrete voices and other elements placed keenly in the surrounds: the rustle of leaves, the flutter of bats, and so on. Gunfire is thunderous all around us at times, while the bold directionality across the soundfield is seamless, for even greater immersion in the various battles. But is the generous use of LFE excessive? Finding just the right level for this one was a challenge.
Eleven featurettes can be found on the theatrical version disc, mostly standard explorations of obvious topics, with the occasional nugget of fresh intel. There's a DVD and an UltraViolet Digital HD copy of both cuts, but no audio commentary, and nothing on the scale of Man of Steel's epic "Journey of Discovery" bonus platter.
Blu-Ray
Studio: Warner Bros., 2016
Aspect Ratio: 2.40:1
Audio Format: Dolby Atmos / TrueHD 7.1 core
Length: 152/183 mins.
MPAA Rating: PG-13/R
Director: Zack Snyder
Starring: Ben Affleck, Henry Cavill, Amy Adams
Dawn of Justice brings together the entire trinity of DC Universe heroes, arguably the most enduring characters of 20th-century popular culture. So where's the thrill? The awe? The "wow," dammit? Let's focus on the expanded three-hour Ultimate Edition featured in this set, also available separately on 4K Ultra HD Blu-ray, along with director Zack Snyder's other two DC forays, Man of Steel and Watchmen.