2017 Holiday Guide: 11 Outstanding Blu-ray Gift Sets
So, apparently putting a bow on a fancy new TV and cramming it under the tree (or wherever your holiday customs dictate) is a thing now, which means you (or some lucky recipient) will need something extra-good to watch on it. We've got you covered. Each of the Blu-ray titles on our 2017 holiday list have been hand-picked to bring the merriest of AV enjoyment — half of this year's crop even elevates the holiday cheer to 4K status. Sort of makes me think that poor VHS has become the modern equivalent of a lump of coal….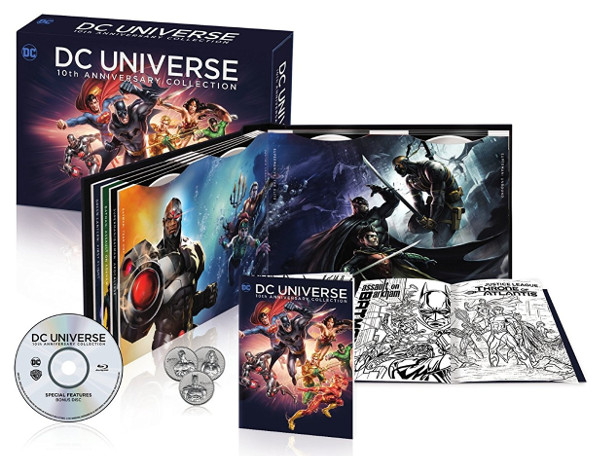 DC Universe Original Movies: 10th Anniversary Collection Blu-ray (Warner)
As a lifelong comic book fan, I've come to the conclusion that the most memorable stories feel, well, epic. Warner has now brought fans a set that is appropriately grand, putting the first 30 of the DC Universe Animated Original Movies together in a single box. What are those? Since 2007, DC/Warner has been producing animated direct-to-video adaptations of some of comicdom's most treasured tales — occasionally taking great liberties with the source material — and brand-new adventures. With the exception of the regrettable The Killing Joke (never tinker with the works of Alan Moore), the results are almost always top-notch, with distinctive, authentic artwork, excellent voice casts, and a welcome PG-13 edge. Eleven are headlined by Batman and nine star the Justice League, currently debuting theatrically in live action.
The complete lineup, in original release order, is as follows: Superman: Doomsday, Justice League: The New Frontier (here in a recently updated "Commemorative Edition"), Batman: Gotham Knight, Wonder Woman (also a Commemorative Edition), Green Lantern: First Flight, Superman/Batman: Public Enemies, Justice League: Crisis on Two Earths, Batman: Under the Red Hood, Superman/Batman: Apocalypse, All-Star Superman, Green Lantern: Emerald Knights, Batman: Year One, Justice League: Doom, Superman Vs. The Elite, The Dark Knight Returns, Part 1 & Part 2, Superman: Unbound, Justice League: The Flashpoint Paradox, Justice League: War, Son of Batman, Batman: Assault on Arkham, Justice League: Throne of Atlantis, Batman Vs. Robin, Justice League: Gods and Monsters, Batman: Bad Blood, Justice League Vs. Teen Titans, Batman: The Killing Joke, Justice League Dark, Teen Titans: The Judas Contract and most recently Batman and Harley Quinn.
The five DC Showcase animated shorts that premiered on various discs are in this set as well. All of the previous supplementary material has been carried over, including the many fascinating insider discussions of DC's greatest moments and the psychology behind their most enduring characters plus audio commentaries and much more. An exclusive bonus disc reveals over two hours of new special features, with Comic-Con panels and documentaries, plus an image gallery. The cover art from the series comprises the pages of a tempting adult coloring book, and the finishing touch is a trio of beautifully sculpted coins embossed with DC's "trinity": Superman, Batman, and Wonder Woman.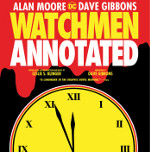 For those who want an even more substantive exploration of DC's most beloved storylines, in the 416 pages of the new hardcover Watchmen Annotated, Leslie S. Klinger breaks down the seminal Alan Moore/Dave Gibbons tale with extensive, panel-by-panel analysis. Those guys put in some amazing minutiae way back in 1986, much of which I just plain missed, but this hefty volume is the key to unlocking the many secrets within the legendary 12-issue maxiseries.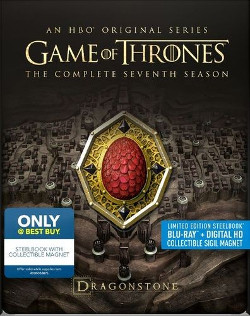 Game of Thrones: The Complete Seventh Season Steelbooks (HBO)
Sure, I've dropped my jaw and muttered "WTF…?" at Game of Thrones in the past, but Season Seven broke all the records. Reunions and revelations that have been brewing for ages, dragons unleashed and White Walkers on the march: Frankly, I'm exhausted, and yet I can't wait to experience it again.
HBO's finest is back in black (steel, albeit not Valerian), this tough, snazzy compact case marked with a "Dragonstone" sigil magnet (available in red or cream) in deference to the castle where Daenerys Targaryen set up shop this past year as she prepares her endgame against The Lannisters. A bonus disc expands upon the unseen history of the Seven Kingdoms, expertly written and animated and brought to life by the voices of the show's stars. There's also a deep study of the hardest-working art department in television, a look at how the elaborate action was staged, plus audio commentaries on all seven episodes. Only on Blu-ray, additional animated vignettes provide further background on the latest places and events. Exploiting Blu-ray's capabilities, the onscreen in-episode guides mean never having to ask, "Now, who is that again…?"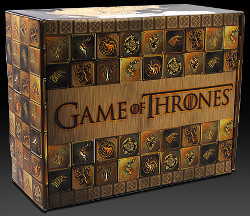 As Thrones fever is poised to peak during the run-up to the final season, CultureFly is releasing a new GoT subscription box. For those not familiar, subscription boxes deliver a surprise assortment of themed paraphernalia to your doorstep throughout the year. I am sworn to secrecy on specifics of the contents at press time, except to say that this first quarterly box celebrates "Noble Houses of Westeros," which casts a nice wide net to involve the various power-hungry clans. And CultureFly has a tradition of including higher-quality items that are clever, exclusive, and actually useful, so this is one box that I can heartily recommend.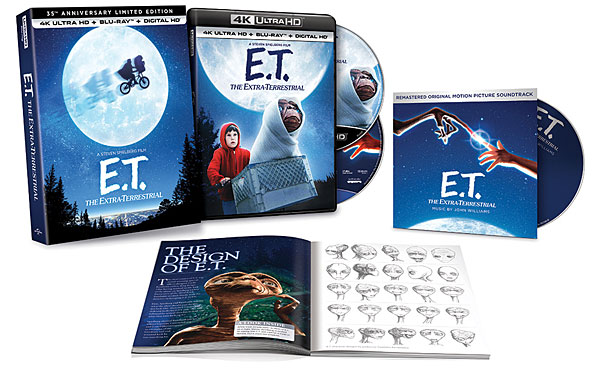 E.T. The Extra-Terrestrial 35th Anniversary Limited Edition Gift Set (Universal Studios)
Still the only director to wear the highest-grossing-movie-of-all-time crown for three different films, Steven Spielberg will forever be in a class by himself. As he neared the end of his first decade in features, he proved time and again that no one could create resonant cinematic entertainment as successfully. While the dated trappings of E.T. might show signs of wear — that is, when not inspiring wildly popular homages such as Stranger Things — the profound emotional beauty hasn't aged a day. It moves us, and thrills us, and speaks directly to the child in all of us. (Have no fear, this is the original 1982 version, without a CGI walkie-talkie to be found.)
Shot on 35mm film by longtime Spielberg collaborator Allen Daviau, E.T. has been restored and scanned at 4K, and encoded in high dynamic range (HDR) to deliver what is without question its finest disc release yet, divulging nuance never before seen in the home theater. Sometimes that means grain or the constraints of optical effects are exposed, but the good far exceeds the not-so-good. A new DTS:X remix adds dimension without feeling unwarranted or otherwise distracting.
Most of the best supplements from discs past are on the Blu-ray bundled inside the slender box, along with an UltraViolet/iTunes digital copy of the movie. There's also a well-designed little book in addition to a compact disc — the remastered Grammy-winning 1982 soundtrack. Fun fact: half of those tracks were recorded specifically for this album and don't appear in the film per se. For E.T.-philes and audiophiles, a separate, expanded two-CD release from La-La Land Records offers the entire score plus musical extras.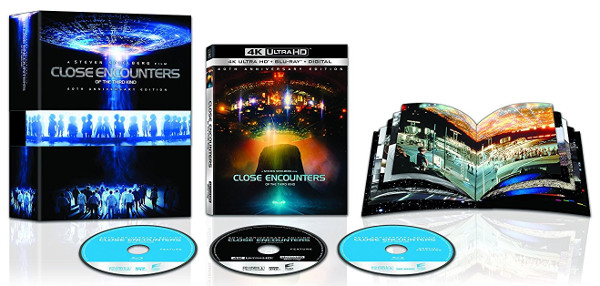 Close Encounters of the Third Kind Limited Edition 3-Disc 4K Ultra HD Gift Set (Sony)
So if E.T. was part of Spielberg's attempt to reinvent himself with back-to-back lean-and-mean hits (along with Raiders of the Lost Ark) following the misguided excess of 1941, Close Encounters caught him riding high on the earlier critical acclaim and box office joy of Jaws. And so this tale of UFO contact by a suburban dad and others is a sprawling, ambitious production captured on film by the wonderful Vilmos Zsigmond, who won an Academy Award for his work here. Now in 4K with HDR, the image proffers much more to see, with exquisite subtlety and delight. It's another terrific example of classic films being given stunning new life in the next-generation format.
The 4K disc carries all three versions of Close Encounters, kicking off with the original theatrical edition from December 1977. There's also the so-called "Special Edition" from 1980, which dropped some scenes while reinstating previously deleted footage as well as adding new bits, including a somewhat hokey look into the alien mothership, which rubbed many a fan the wrong way. Lastly is the 1997 "best of both" Director's Cut, all optionally enhanced with "A View From Above," a pop-up feature that lets viewers track the differences between the versions as each plays. The two Blu-rays serve up the various cuts along with a bevy of extras. Beyond the outstanding legacy content, there's a featurette with Spielberg as well as modern filmmakers such as Denis Villeneuve, whom Spielberg really admires, apparently. And Steven's personal home movies and outtakes are finally revealed after all this time, which is pretty cool. A digital copy and photo-filled book are tucked inside the extravagant packaging, which incorporates lights, lenticular artwork and those five iconic notes of music.
Spider-Mania in 4K (Sony)
Marvel's most popular character has certainly had his ups and downs in Hollywood, but when he's good, he's spectacular. The Spider-Man Limited Edition Collection is a seven-disc set containing his first forays onto the big screen: Sam Raimi's Spider-Man (2002), Spider-Man 2 (2004) and Spider-Man 3 (2007) in 4K, as well as the trilogy plus Spider-Man 2.1 and Spider-Man 3: Editor's Cut on a total of four Blu-rays. 2.1 is a thoughtful if not entirely necessary 2007 re-envisioning of the series' high-water mark with a bit more action. Both versions work masterfully, but start with the theatrical edition. The remarkably labor-intensive Spider-Man 3 "Editor's Cut" from Oscar winner Bob Murawski was an odd and surprising announcement, a decade after the fact, but overall manages to shed a few of this clunker's winces. I'm of the mind that any change here is an improvement.
The Amazing Spider-Man Limited Edition Collection is five discs, each of Marc Webb's Amazing outings (2012 and 2014) on 4K and Blu-ray, plus a bonus Blu of extras. Reboot star Andrew Garfield's more comedic take on Peter Parker and his alter ego does wonders to elevate a pair of confused, lackluster scripts. The Amazing set repackages previously released discs whereas the Raimi batch flaunts lots of fresh 2017 bonus material, likely as part of the Spider-Man: Homecoming celebration, although losing a few of the old bonus bits along the way. But these new hardcover digibooks are so classy and gorgeous, I consider them a definite upgrade. The 4K clarity and HDR panache show off how good the special effects really are, and the dependably vibrant red and blue of the Spider-suit truly dazzles. All five of the movies now pack Dolby Atmos audio, too.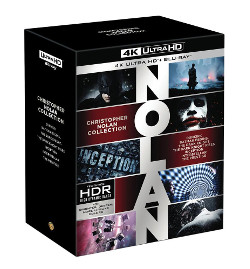 Christopher Nolan Collection in 4K (Warner)
As befits an event of this magnitude, Warner's Christopher Nolan bundle is massive, more so than I was expecting. It's a 4K-Ultra-HD-plus-Blu-ray combo pack (no digital copies), divided into three extra-large keepcases housing 21 discs in toto. The black case holds the 4K editions of director/writer Nolan's Batman Begins plus its two sequels, The Dark Knight and The Dark Knight Rises; as well as Nolan's more personal works, The Prestige, Inception, and Interstellar, plus his recent Dunkirk. (The Prestige and Interstellar are included via a special arrangement with Disney and Paramount, respectively.) The second case contains the same seven movies on HD Blu-ray, followed by another seven discs, one companion Blu platter for the bonus features supplementing each of the films, all quite interesting, some genuinely outstanding. This set bypasses altogether his first three feature films (Following, Memento, the Hollywood remake of Insomnia), instead celebrating the epic spectacles for which he has become known.
Audio on the 4K discs is true to the theatrical releases, so expect full-bodied 5.1-channel high-res audio, with no overhead channels. But it's the 4K video with high dynamic range that makes this collection a marvel. In the filmmaker's own words, "The deeper color palette comes closer to matching the analog colors of film" and damn, this guy loves the old-school photochemical medium, routinely refusing to shoot digitally. The clarity and color grading on these meticulous remasters is a revelation, almost like seeing them for the first time. As we might logically assume, the oldest (Batman Begins) hangs toward the rear of this esteemed pack for picture quality, while 2017's Dunkirk is an absolute stunner. The director favors extensive use of IMAX cameras for most of these, so be prepared for shifting aspect ratios at those large-format sequences, with astounding results. Christopher Nolan knows how to wow an audience, and there's no better way to enjoy these seven movies in the home.