Gnomeo & Juliet 3D (Blu-ray 3D)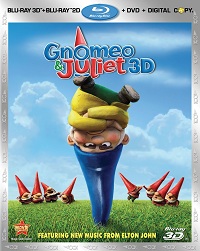 Caught up in a feud between neighbors, Gnomeo (Mame McAvoy) and Juliet (Emily Blunt) must overcome many obstacles to be together. But can this young couple find lasting happiness with their two families hell-bent on destroying each other?
This is a classic example of false advertising. While the trailers made this film look funny and fresh, it's anything but that. The screenplay is pathetically weak, the characters exhibit zero personality, and even the great music from Elton John can't make this anything more than a colossal waste of 84 minutes.
Video Highlights

MVC/1080p encode on a BD-50 disc
Understated 3D effects
Bright and colorful in daytime sequences
Nighttime scenes are a tad dark
Occasional ghosting
Excellent detail
Audio Highlights

DTS-HD MA 7.1 soundtrack
Immersive experience
Intelligible dialog
Tepid bass response
Elton John inspired score is the highlight
Normally animated titles made in 3D leap off the screen, but the presentation here is more understated than other Blu-ray 3D movies I've viewed. It's mostly bright and colorful, especially during the daytime sequences, but the nighttime scenes are too dark and obscure too much shadow detail. The audio track is decent, but the sound design isn't as aggressive as it could be, especially on the low end.
Bonus Materials

Elton Builds a Garden
Alternate Endings with Filmmaker Introductions
Deleted and Alternate Scenes
Frog Talk with Ashley Jensen
The Fawn of Darkness
Crocodile Rock Music Video
Digital Copy, DVD, and Blu-ray (2D and 3D)
Maybe I set my expectations too high going in, but the entire family was disappointed with this one. Nearly 20 minutes into it my kids were bored and wanted to turn it off (never a good sign). The presentation is pretty good and I'm sure 3D starved consumers will give it look for this reason alone, but buyer beware.
Release Date: May 24, 2011
Studio: Touchstone
Movie: 3/10
Picture: 9/10
3D-ness 8/10
Sound: 8/10

Review System
Source
Oppo BDP-93 Blu-ray player

Display
JVC DLA-RS40 projector
Stewart FireHawk screen (76.5" wide, 16:9)
Electronics
Integra DTC-80.2 pre/pro
Anthem PVA-7 power amplifier
Belkin PVA-PF60 power conditioner
Speakers
M&K S-150s (L, C, R)
M&K SS-150s (LS, RS, SBL, SBR)
SVS PC-Ultra subwoofer
Cables
Monoprice HDMI cables (source to pre/pro)
Best Deal analog-audio cables
PureLink HDC Fiber Optic HDMI Cable System (15 meters) from pre/pro to projector

Acoustical treatments from GIK Acoustics