Coraline (Blu-ray 3D)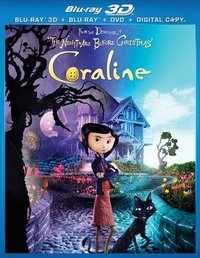 Eleven-year-old Coraline Jones (voiced by Dakota Fanning) has just moved with her parents (Teri Hatcher and John Hodgman) to a new home in Oregon. With her parents distracted by work and no one to play with except an annoying boy, Wybie Lovat (Robert Bailey Jr.), she spends her time visiting her older neighbors. When she convinces herself that her new home is the most boring place on earth, she uncovers a secret door that leads to a parallel world much like her own—but much better. Is the grass greener on the other side or is it all an illusion?
Pixar has changed the way animated films are made, but the days of stop-motion are far from over as director Henry Selick (The Nightmare Before Christmas) proves with this visually stunning and wildly entertaining tale of a young girl in search of attention. One caveat—this isn't really a kid's movie. There are some intense sequences in the "other world" that may frighten younger viewers, so a prescreening is recommended for parents with young children.
Video Highlights

MVC/1080p encode on a BD-50 disc
Outstanding 3D presentation
Some scenes are a tad dark
Excellent depth and immersion
3D actually complements the story
Audio Highlights

DTS-HD MA 5.1 soundtrack
Wide and expansive stereo spread across the front
Demo-worthy surround experience
Chest-thumping LFE
Wonderful score from Bruno Coulais
I found the 2D presentation one of the best of 2009 and this Blu-ray 3D takes the experience to a whole new level. The original release included 3D, but it was with the anaglyph glasses with magenta and cyan lenses and doesn't come close to "real 3D."
Bonus Materials

Blu-ray 3D, Blu-ray, DVD, & Digital Copy
Feature commentary with director Henry Selick and composer Bruno Coulais
"The Making of Coraline" featurette
"Voicing the Characters" featurette
Deleted Scenes
Creepy Coraline featurette
This the is the first feature film from animation studio LAIDA and the first stop-motion animated feature originally produced in stereoscopic 3D, and it shows on the presentation. While there aren't any "in your face" 3D moments, the immersion of the image pulls you into the story. Highly recommended.
Release Date: January 4, 2011
Studio: Universal
Movie: 9/10
3D Picture: 10/10
Sound: 10/10

Review System
Source
Oppo BDP-93 Blu-ray player

Display
JVC DLA-RS40 projector
Stewart FireHawk screen (76.5" wide, 16:9)
Electronics
Integra DTC-80.2 pre/pro
Anthem PVA-7 power amplifier
Belkin PVA-PF60 power conditioner
Speakers
M&K S-150s (L, C, R)
M&K SS-150s (LS, RS, SBL, SBR)
SVS PC-Ultra subwoofer
Cables
Monoprice HDMI cables (source to pre/pro)
Best Deal analog-audio cables
PureLink HDC Fiber Optic HDMI Cable System (15 meters) from pre/pro to projector

Acoustical treatments from GIK Acoustics