The Polar Express 3D (Blu-ray 3D)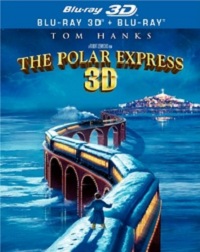 A boy (Daryl Sabara) has lost the Christmas spirit and doesn't believe in Santa Claus. He awakes on Christmas Eve to the sound of a train arriving in his front yard. Invited to join the Polar Express on its journey to the North Pole by the train conductor (Tom Hanks), a magical world opens his eyes to the spirit of Christmas.
I'm the only one in my family that isn't in love with this picture and I can't say the 3D experience improved it for me that much, if at all. The story is somewhat tedious and forced, so I was paying more attention to the technical details of the presentation and while the audio is outstanding, the Blu-ray 3D presentation wasn't as good as other titles I've watched the past couple of weeks.
Video Highlights

MVC/1080p encode on a BD-50 disc
Adequate depth
Insufficient brightness
Below-average detail (somewhat intentional)
Occasional ghosting
Audio Highlights

DTS-HD MA 5.1 soundtrack
Wide soundstage
Tight bass response
Excellent dynamics
A ton of discrete effects
While this isn't the best 3D presentation I've seen on Blu-ray 3D, it's a big improvement over the anaglyph release from 2009 with more accurate color reproduction and greater depth. The audio has been updated with a DTS-HD MA 5.1 track in lieu of Dolby True HD, but you'd be hard-pressed to distinguish any difference between the two.
Bonus Materials

"Smokey and the Steamer" song not seen in theaters
You Look Familiar: The Many Polar faces of Tom Hanks
5 Featurettes
True Inspirations: Profiling author Chris Van Allsburg
Believe: Josh Groban performance and behind the scenes
5 motion-capture sessions
Snow Angels: Moviemakers' Christmas memories
Theatrical trailer
Blu-ray 3D and Blu-ray
If you like the movie and have a 3D display you may want to consider the upgrade, but the presentation isn't as solid as other 3D offerings. Sure, it's better than anaglyph but that isn't saying much.
Release Date: November 16, 2010
Studio: Warner
Movie: 8/10
Picture: 6/10
Sound: 10/10

Review System
Movie: 9/10
3D Picture: 10/10
Sound: 10/10

Review System
Source
Oppo BDP-93 Blu-ray player

Display
JVC DLA-RS40 projector
Stewart FireHawk screen (76.5" wide, 16:9)
Electronics
Integra DTC-80.2 pre/pro
Anthem PVA-7 power amplifier
Belkin PVA-PF60 power conditioner
Speakers
M&K S-150s (L, C, R)
M&K SS-150s (LS, RS, SBL, SBR)
SVS PC-Ultra subwoofer
Cables
Monoprice HDMI cables (source to pre/pro)
Best Deal analog-audio cables
PureLink HDC Fiber Optic HDMI Cable System (15 meters) from pre/pro to projector

Acoustical treatments from GIK Acoustics