Imax Under the Sea 3D (Blu-ray 3D)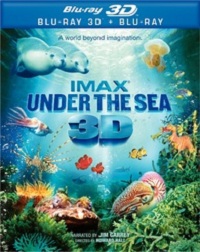 Imagine a world of incredible color and beauty. Of crabs wearing jellyfish for hats or of fish disguised as frogs, stones, and shag carpets. Journey into the waters of the Great Barrier Reef and other South Pacific realms and immerse yourself into 3D from the comfort of your own home.
Here's the first of many Blu-ray 3D reviews you'll be seeing at UltimateAVmag.com. For the sake of full disclosure, our household was divided about 3D. My wife and daughter have always enjoyed it, while my son and I haven't, with one exception—Avatar. Everyone enjoyed the 3D experience of James Cameron's blockbuster at our local theater.
When I ordered a new projector, the JVC DLA-RS40, I was upgrading primarily for its 2D performance; having 3D was a bonus. In fact, I was on the fence about ordering the 3D glasses because of the price, which added about 20 percent to the total cost. My wife wanted the glasses and I didn't, so we compromised—we did what she wanted. (Isn't it the same in your marriage?)
Family squabbles aside, I'm glad she made me pull the trigger because I am extremely impressed with the 3D image. In fact, it blows away the cinematic experience in all respects but one—the size of the image. It's much brighter, has more depth, and best of all, there's no teenager texting during the movie.
Video Highlights

AVC/1080p encode on a BD-25 disc
Very good 3D effects
Occasional blurriness
Vivid color saturation
Excellent detail
Audio Highlights

DTS-HD MA 5.1 soundtrack
Outstanding Imax opening
Immersive underwater experience
Enveloping above-ground surround activity
Intelligible narration from Jim Carrey
With this being the first Blu-ray 3D title I've watched, it's hard to rate the video quality without a frame of reference. Overall, I think it's quite good, but there are a couple of instances of blurriness, especially when there are a lot of tiny fish swarming. The depth is outstanding and gives the impression of looking into a giant aquarium.
Bonus Materials

I sat down a skeptic of the new format, but I've come away with a much better attitude toward 3D, and I look forward to seeing other 3D titles. While this isn't the best nature documentary I've seen, it's only 41 minutes long, and I found it mildly entertaining. If you have a new 3D-capable set and your pining for content, be sure to give this one a look.
Release Date: November 16, 2010
Studio: Warner
Movie: 6/10
3D Picture: 8/10
Sound: 9/10

Review System
Source
Oppo BDP-93 Blu-ray player

Display
JVC DLA-RS40 projector
Stewart FireHawk screen (76.5" wide, 16:9)
Electronics
Integra DTC-80.2 pre/pro
Anthem PVA-7 power amplifier
Belkin PVA-PF60 power conditioner
Speakers
M&K S-150s (L, C, R)
M&K SS-150s (LS, RS, SBL, SBR)
SVS PC-Ultra subwoofer
Cables
Monoprice HDMI cables (source to pre/pro)
Best Deal analog-audio cables
PureLink HDC Fiber Optic HDMI Cable System (15 meters) from pre/pro to projector

Acoustical treatments from GIK Acoustics