2017 Holiday Guide: 11 Outstanding Blu-ray Gift Sets Page 2
100 Years of Olympic Films (Criterion Collection)
I'm not a sports guy but I do like the Olympics, not for the historical, political significance so much — although it's certainly there — rather it strips away the B.S. of professional athletes and allows the beauty and purity of what these amateurs do to shine through, often overcoming tremendous adversity. And the tradition of Olympic films, dating back a century, has liberated generations of documentarians to tell stories far deeper than "faster, higher, stronger." It's a fascinating evolution from basic chronicles of the events, for those who could not make it to the stadium and before TV had been invented, clearly an eclectic mix reflecting the gifts and inclinations of the people behind the camera, much like each of the games is unique.
Criterion's 32-Blu-ray set is so massive, just lifting it should qualify a person for a medal. Inside are 53 newly restored films from 41 Olympics, winter and summer, a project begun in 1996 (Atlanta!), restoring and scanning the film elements at 2K or 4K… or 8K, in the case of the IMAX large-format film from Nagano, 1998. Since the earliest films are silent, new musical scores were even composed: This absolutely unprecedented menagerie extends back to Adrian Wood's The Games of the V Olympiad Stockholm, 1912. There are meaningful stops at Berlin, 1936 (Leni Riefenstahl's Olympia Part One: Festival of the Nations and Olympia Part Two: Festival of Beauty) and Munich, 1972 (Visions of Eight, from a diverse octet of artists including Miloš Forman, Arthur Penn, and John Schlesinger), culminating in London 2012 with Caroline Rowland's First. The lavishly illustrated, painstakingly researched hardcover book is the ideal complement.
Men in Black Trilogy 4K (Sony)
At their best, the MiBmovies are big, splashy tentpoles, owing much to the comedic friction between the ever-affable Will Smith and endearingly gruff, post-Oscar Tommy Lee Jones. At their worst, they're Men in Black II, which Rick Sanchez aptly summed up as a "joyless cash grab." Based upon the independent comic book created by Lowell Cunningham, the trilogy riffs on those intimidating, unemotional agents who do the government's dirty work. Now, instead of investigating un-American activity, they specialize in aliens visiting Earth and serve as the last line of defense against possible invasion and/or annihilation. It can be a very fun, very effective blend of science fiction and action. Director Barry Sonnenfeld, himself an accomplished cinematographer, is true to the title, not just for the dark suits and shades of his men's standard attire but frequent scenes at night or in outer space or shadowy interiors. But for select portions of 3, it was all shot on film, and so the 4K restoration from the original camera negative — even better with the enhanced contrast of HDR — is as awe-inspiring as a first visit to MiB HQ inside the Brooklyn-Battery Tunnel Ventilator Building. The three movies have been remixed for Dolby Atmos as well, and the bundled Blu-rays hold high-def editions plus a host of extras.
The Vietnam War (PBS Distribution)
Has any war hung in the hearts and minds of a nation the same as Vietnam? The brutal, complex conflict bears immersive investigation, and that's precisely what writer Geoffrey Ward and directors Ken Burns and Lynn Novick give us. With compelling narration by Peter Coyote, the story comes alive with newfound lucidity and urgency: It's not just about warfare and kill ratios but race, politics, patriotism… and hippies! The 10 episodes in this 10-disc set range from about 80 minutes to two hours, culled from countless hours of vintage footage, nicely restored and remixed in surprisingly good surround audio with some clever sound design and ample boom to underscore the heavy artillery. This is intercut with many modern interviews from individuals who were there, witness to history, on both sides. A "making of" sheds real light on the Herculean efforts behind the scenes, while an array of segments that didn't make the cut for whatever reason are aggregated for later viewing.
To accompany this substantial miniseries, there's enough music from UMe to fill a pair of two-CD sets. The Soundtrack assembles 38 of the songs, not merely nostalgic snapshots of the era but evoking the many moods of rapidly changing circumstance at home and in country. Bob Dylan is well-represented with three tracks, Pete Seeger's "Waist Deep in the Big Muddy" is still chilling, and The Beatles wrap it up with the prophetic "Let It Be." With their Original Score, Oscar winners and Nine Inch Nails alums Trent Reznor and Atticus Ross add a subtle but brilliant undercurrent that sometimes echoes, sometimes accentuates the unfolding drama, for an extremely listenable 90-plus minutes all on its own.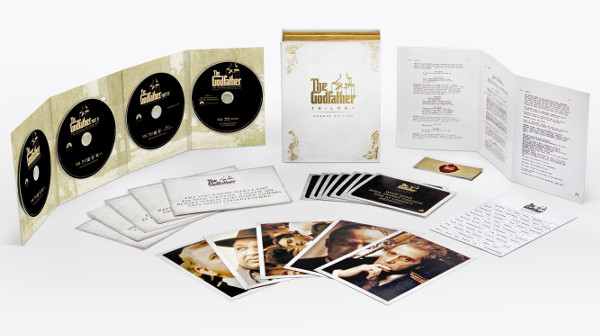 The Godfather Trilogy: Omertà Edition (Paramount)
Some movies — or sagas — become so popular, seemingly every scene, every word is feted and takes on a life of its own. Such has been the fate of The Godfather certainly, and this is the set for such fans. Named for the Mafia's deadly serious code of silence, the Omertà Edition starts with The Coppola Restoration of The Godfather and The Godfather, Part II, as well as the remastered version of The Godfather, Part III, as released on Blu-ray in 2008. As I noted in my review at the time, the costly rescue was a long-overdue boon to the black levels, the film grain, and the warm golden tint employed by cinematographer Gordon Willis. In addition to a solid Dolby TrueHD 5.1 audio upgrade, this set features revealing full running audio commentaries by the wise Mr. C plus a mixed-bag disc of extras.
This reissue is all about the goodies, housed in a handsome, numbered box limited to 45,000 (in honor of the 45th anniversary?) A handful of trivia cards tease the brain, fridge-ready "magnetic poetry" empowers us to craft our own Puzo-worthy dialogue with quote cards backed by sepia-toned character photos, and the "Anatomy of a Scene" foldout merges script pages and stills that impart an insider's peek at the notorious Sollozzo dinner scene. Recommended for loved ones who never got around to picking up the trilogy, or anyone who would appreciate a bit more fun with their cannoli.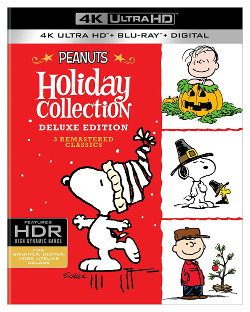 Peanuts Holiday Collection Deluxe Edition 4K (Warner)
Correct me if I'm wrong, but people who grew up with A Charlie Brown Christmas inevitably return to it, with or without kids. Premiering in 1965; which puts it historically right between the debuts of those other yuletide stalwarts, Rudolph and The Grinch; this TV special touched the hearts of viewers in a simpler time, yearning to be reminded of the true meaning of Christmas amid increasingly commercialized holidays. And that was more than half a century ago! Its success led to similar family-friendly romps for Halloween and Thanksgiving &mash; It's the Great Pumpkin Charlie Brown (1966) and A Charlie Brown Thanksgiving (1973) — and soon Charles' Schultz's Peanuts would rule the airwaves year-round.
Despite its slim profile, the Peanuts Holiday Collection Deluxe Edition contains six discs in all. In each case, the headliner plus two additional programs on each 4K platter have been mastered from the original archival camera negative. Christmas is joined by It's Christmastime Again, Charlie Brown and It's Flashbeagle, Charlie Brown; Pumpkin includes It's Magic, Charlie Brown and Charlie Brown's All Stars; and Thanksgiving has a side dish of The Mayflower Voyagers and Play It Again, Charlie Brown. Best to think of these kinda-themed/kinda-not bonuses as such, not as any sort of artistic peer to the classics. Each of the three Blu-rays offer the same specials plus a targeted featurette.
Nudging the Peanuts even further into the modern era, the 4K programs are presented at their true 1.33 and then reformatted to a TV-agreeable 1.78, achieved primarily by matting top and bottom. This works quite well, and while there's not a ton of detail in these hand-drawn frames, the unique characteristics of the comic strip hues are finally living up to their potential thanks to the wide color gamut. It dawns on me that such lofty treatment of a rough-around-the-edges bit of old-school TV fare might seem excessive, but I think of it like using digital technology to restore and preserve a cherished family photo, one that we can then commemorate and better enjoy for generations.