Jethro Tull: 'The Broadsword and the Beast' Box Sets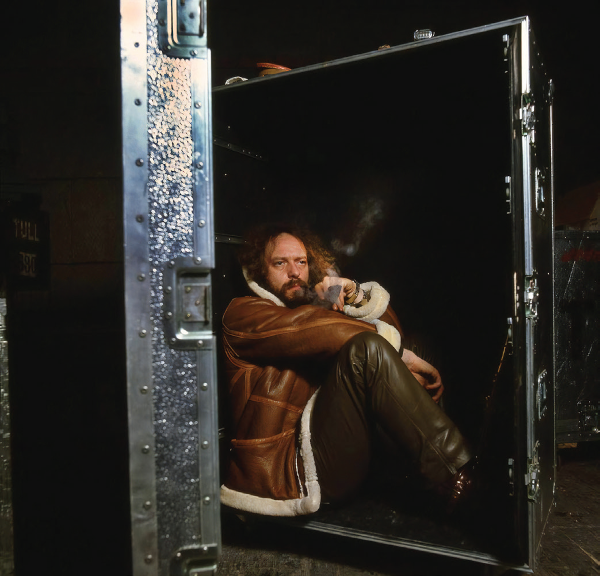 40th Anniversary Monster Edition & Vinyl Edition Box Sets
Like many rock bands that initially emerged from the free-flowing nether-reaches of the 1960s, Jethro Tull had a decision to make upon entering the 1980s — namely, stick with their signature sound, or embrace the emerging technology of the new decade? Tull mastermind Ian Anderson chose the latter, initially going all-in on the electronic-tinged aural front with August 1980's A. While A was certainly an eclectic and challenging jumping-off point, its follow-up, April 1982's The Broadsword and the Beast, was a much better marriage of classic neo-Tull with the more modernized electro-Tull. Two new 40th anniversary box set offerings for Broadsword — a 5CD/3DVD smorgasbord subtitled the Monster Edition, and a relatively extensive companion 4LP collection — tell the album's expanded sonic-swashbuckling tale quite well in their respective ways.
The Broadsword CD/DVD box measures 51/2 x 12/8 x 75/8 inches (w/h/d), and it fits perfectly alongside the other (count 'em) 13 entries in the master Tull box set reissue series. Interestingly, the afore-noted Broadsword 4LP box set is the most wide-ranging offering for this series' vinyl companions to date — usually, they tend to replicate the core album with limited additional material. Since I never owned an original Broadsword LP — having been quite content with the 1990 Chrysalis Redbook CD and then the 2005 remastered Chrysalis CD with eight bonus tracks — the 42-track LP box was a welcome addition to my analog-listening queue, and it also gave me a chance to marvel at the original full-size lavish LP cover art by Iain McCaig, as found within. (The outer box only sports a centralized silhouette of McCaig's iconic "beastie" image on a black background.)
Inside the Monster Edition CD/DVD box set is a bound-in 164-page book containing truly detailed liner notes by Martin Webb and various recollections from Anderson and other Tull-member participants plus many of-era photos, and much more. Truth be told, I wish more box set liners were this in-depth. (The loose, saddle-stitched booklet in the LP box runs just 28 pages, but it is still quite informative.) Besides all that, there is Broadsword music galore, with a cavalcade of bonus tracks — many of them hitherto unreleased — including associated recordings and demos, early 1981 sessions, original 1981 master mixes, 1982 rough mixes, and two dozen 1982 live recordings from Germany, all strewn across 5CDs and 3DVDs.
Longtime handpicked Tull remix-master Steven Wilson has once again been deployed to update the stereo mix — which can be found on all three formats (CD, DVD, and LP) — in addition to providing new 5.1 (and even 4.1!) options on DVD. (Alas, there is no Atmos.)
CD1 commences with Wilson's new stereo mix of the core album — and you'll likely notice some, shall we say, "keyboard level adjustments" all throughout that may in fact be preferable to certain Tull fans' ears. (That said, a flat transfer of the original stereo mix can be found on DVD1.) Of the surround offerings on DVD1, I prefer the Dolby ACS 5.1. Wilson gets the instrumental balances just right, commencing with the opening track "Beastie" by having Peter-John Vattese's initial ominous keyboard stab-growls swirl all around the soundfield before nestling somewhat back in the overall mix, rather than dominating it. Martin Barre's brief guitar solo comes at you front and center — and be sure to listen for Anderson's final vocal exclamation in the rear-left channel before "Beastie" ends.
Wilson also nails the all-channel melodic blend of acoustic guitar and flute lines in "Fallen on Hard Times" — not to mention where he has the supportive slide riffs appear in the song's back half. Meanwhile, the partially titular "Broadsword" offers a nice pair of slow-burn buildups to both of Barre's guitar-solo sections, each of which take advantage of the breadth of the full-channel field in different-quadrant call-and-response ways. DVD2 carries forth with the balance of the studio bonus material, while DVD3 contains all Live in Germany 1982 tracks in both LPCM stereo and 4.1 DTS and Dolby ACS options. The vocal harmonies on "Songs From the Wood" are amongst my favorite 4.1 moments on DVD3.
Without question, The Broadsword and the Beast 40th Anniversary Monster Edition towers over its CD (and LP) predecessors. Fact is, hardly any of Jethro Tull's chief contemporaries have been so archivally invested as this band continues to be in mining and refining their entire catalog and vault content quite so thoroughly and rigorously — and, I suspect, this M.O. will continue as Anderson and the Tull team wind through the remainder of the band's recorded C.V.
Me, I can't wait to hear what Anderson & Co. have in store for September 1987's Crest of a Knave — likely to follow whatever's done with September 1984's Under Wraps, that is. And, please, can we get Atmos mixes for those two albums while we're at it? (Asking for a friend.) In the meantime, the bulk of the Broadsword box set — whether you choose to go digital or analog (or both!) — is a beast of a rewarding listening endeavor in every best sense of the word.
5CD/3DVD & 4LP
Label: Chrysalis/Parlophone
Audio Format: 24-bit/96kHz DTS 5.1 and Dolby ACS 5.1, 24-bit/96kHz DTS 4.1 and Dolby ACS 4.1; 24-bit/96kHz LPCM stereo (DVD); 16-bit/44.1kHz LPCM stereo (CD)
Number of Tracks: 81 on 5CDs; 92 on 3DVDs; 42 on 4LPs
Length: 5:22:29 on 5CDs; 6:48:19 on 3DVDs; 2:38:47 on 4 LPs
Producer: Paul Samwell-Smith (original album and box sets)
Engineers: Robin Black (original album and box sets); Leigh Mantle (assistant engineer, original album); Steven Wilson (stereo remix for CD/DVD and LP box sets; 5.1 and 4.1 surround mixes for box set DVDs); Don Needham (audio research, box set)