Hitting All the High Notes
These days, home theaters serve many purposes. They can be dedicated cinemas, game rooms, or entertaining environments. This homeowner from Long Island, New York, is a music lover and admitted audiophile, so his theater had to be a place where he could relax and enjoy his music.
According to Eric Smith, president of Intech AV in Hicksville, NY, his client not only wanted to have a dedicated theater room, but an acoustically correct listening space with audiophile-quality sound. For complete accuracy, Smith brought in a certified acoustician. The acoustician determined the proper size of the room and what type of soundproofing to use. He also decided how and where to install the soundproofing.
Smith worked closely with the builder after the walls were already up in the newly constructed three-story townhouse. Smith's team reopened the walls to soundproof the ceiling and adjoining walls of the town home. The soundproofing allows the homeowner to blast his sound system or crank up the volume on a movie without disturbing his neighbors.
The home theater, which seats nine, is located in the basement. The room looks like an elegant cinema, complete with gold columns and accents, movie star pictures, and rich colors. Acousticsmart, a home theater design company in Merrick, NY, furnished the wall paneling, fiberoptic ceiling (a night sky complete with shooting stars), and seating.
To make room for top-of-the-line gear in the theater, the client moved his Meridian audio system with 7000 Series speakers to the family room, located on the home's second level. The crew then installed new Meridian 8000 speakers ($45,000 for just the left and right models) and a full audio system downstairs. Meridian's flagship left and right speakers are not only head-turners, but ear pleasers as well. Meridian says the speakers are designed to place musicians in precise locations around your room. So the system is perfect for the homeowner who enjoys music videos along with Star Wars and James Bond movies.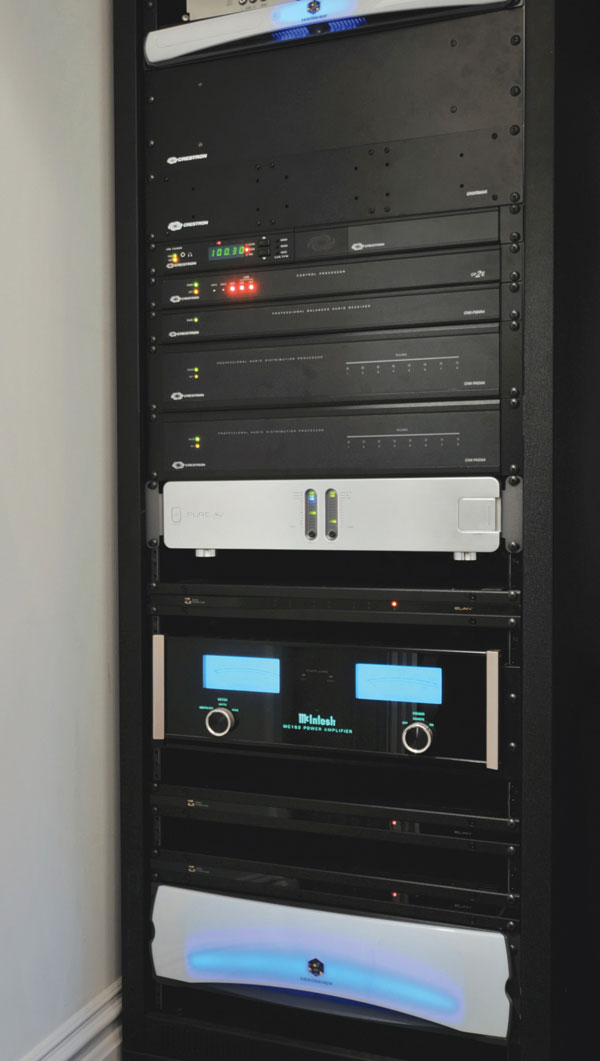 The homeowner's extensive music and video library includes thousands of DVD and CD cover-art images and a multitude of playlists. For easy access to this library, Smith installed a Kaleidescape K-SERVER 5000. This model stores 1,340 DVDs, 15,000 CDs, or a combination of the two. The K-SERVER 5000 works in conjunction with the Kaleidescape Music and Movie Player 2, which has a combo CD/DVD drive. The homeowner watches movies on his Da-Lite 106-inch HD Cinema Screen, with video provided by a SIM2 C3X Lite three-chip DLP projector. All of the other gear is hidden out of view. A closet with Middle Atlantic racks in the back of the theater holds the majority of the home theater equipment. A second closet, located outside the home theater, stores the gear for the wholehouse audio system.
Since music and video were so important to the client elsewhere in his home, Smith engineered the family room to provide an experience similar to the theater room. He installed a second Kaleidescape to replicate access to the stored DVDs and CDs. The homeowner can then watch the same DVDs on his 63-inch Fujitsu plasma. The final result is a family room that allows the homeowner to experience a high-end audio and video environment, without having to go to the theater room on the lower floor. To access the Kaleidescape throughout the house, Smith installed in-wall Crestron touchpanels