Hisense 50H8C LCD Ultra HDTV Review Test Bench
Test Bench
Full-On/Full-Off Contrast Ratio: 36,100:1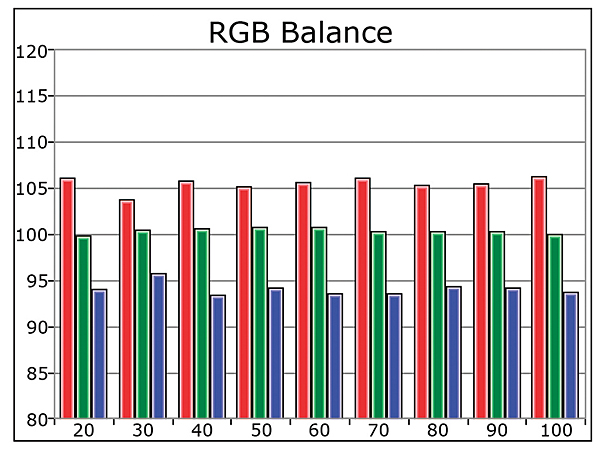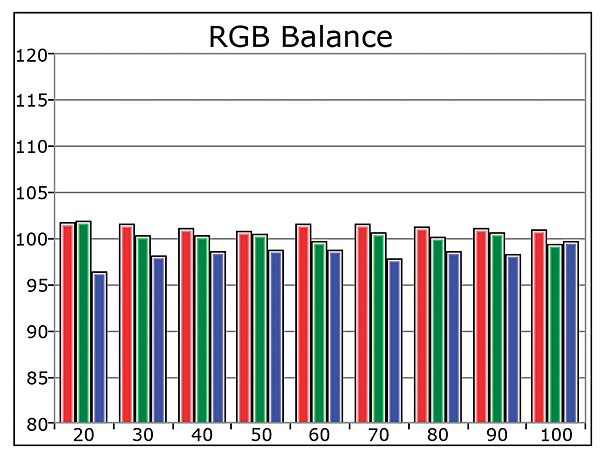 Pre- and post-calibration measurements were made with the Hisense 50H8C's Theater preset active. Maximum contrast measurements were made with the Theater preset selected and Local Dimming turned on. With this setup, black level measured 0.001 foot-lambert and peak white 36,100 ft-L, for a contrast ratio of 36,100:1. Highest peak brightness was delivered by the default settings in the Vivid mode: 111.2 ft-L.
With an HDR test disc supplied by Samsung, light output in the calibrated Theater mode was 143 nits on a 10% window, 148 nits on a 25% window, and 156 nits on 50% and 100% windows. With a 0-nit black pattern, light output was 0.011 nit.
Before calibration, the TV's color temperature preset in Theater mode delivered a too-warm grayscale, with the Delta E averaging out to 7.0. Calibration improved performance to 2.0, with a high of 4.6 at 20% brightness. (Delta E is a figure of merit that indicates how closely a display adheres to the Rec. 709 HD color standard. Experts generally agree that levels below 3 are visibly indistinguishable from perfect color tracking.)
The Delta E of the 50H8C's color points in the Theater mode's default settings averaged out to 7.3. Calibration using the set's color management system adjustments reduced that number to 2.8. Measurements confirmed that the TV was capable of 78% coverage of the P3 (Digital Cinema) color space.
Gamma in the Theater mode averaged 2.3 and displayed impressively linear tracking. Post-calibration, gamma remained about the same, averaging 2.3, with a high of 2.45 at 50 IRE.
The Hisense performed well on our suite of video processing tests, only tripping up on an HD 2:2 pulldown pattern.—AG