Hisense 50H8C LCD Ultra HDTV Review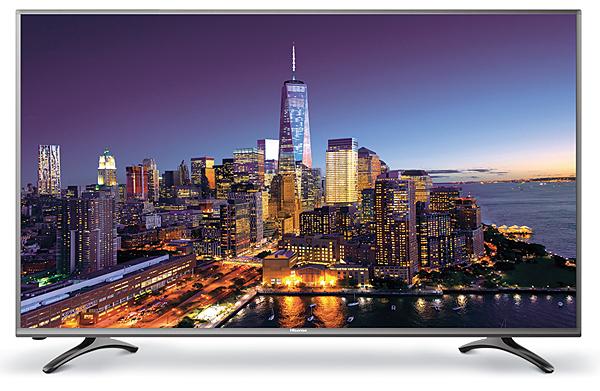 PRICE
$549
AT A GLANCE
Plus
Inexpensive
HDR compatible
Impressive contrast
Minus
Minor backlight artifacts
No extended color-space option
Flimsy stand
THE VERDICT
Hisense's sensibly priced 50H8C does many things right, but buyers expecting an ultimate HDR experience will want to pass.
There's been plenty of what tech marketing types call "disruption" in the TV industry over the past decade, with big-name Japanese brands like Mitsubishi, Hitachi, and Toshiba bowing out and Chinese companies like TCL and Hisense stepping in. While TCL has gained recognition as a maker of Roku TVs that span a range of screen sizes, it's still a bit early in the game for us to get a sense of what Hisense is all about. What's clear so far is that the company is producing sets with upscale features like 4K Ultra HD resolution and high dynamic range, at disruptively affordable prices. Case in point: the new 50H8C, an HDR-compatible 50-inch UHDTV that sells for a mere $549.
While the 50H8C and other sets in the company's H8 series are HDR10 compatible, they don't qualify as "Ultra HD Premium" TVs as defined by the UHD Alliance, an industry trade group tasked with creating standards to help consumers make sense of Ultra HDTV. To meet the Ultra HD Premium spec, an LCD set needs to, among other things, deliver a minimum of 1,000 nits peak brightness while achieving less than a 0.05-nit black level.
Does the 50H8C deliver 1,000 nits peak brightness? Not even close. It also lacks the extended color-gamut capability that many other UHDTVs, Premium or not, provide now as a standard feature. That said, a Direct- LED full-array backlight with local dimming does allow this TV to display pictures with impressive contrast. The set's comprehensive range of color adjustments also allows it to be tweaked for near- perfect Rec. 709 color, the gamut used for standard high-def sources like Blu-ray Disc and ATSC TV broadcasts. Did I mention that the 50H8C sells for $549?
Other features include dual-band 802.11ac Wi-Fi connectivity (not a bad thing to have if you're wirelessly streaming 4K content) and—drum roll, please—smart TV apps. The set's app selection includes Netflix, Ama- zon Instant Video, Vudu, UltraFlix 4K, and YouTube. While I didn't have problems streaming 4K programs from Netflix, I had no such luck with 4K videos from YouTube. They showed up on screen in HD resolution.
Unlike those rail-thin LED-backlit UHDTVs, the 50H8C is a full 3.3 inches deep. Its narrow black-toned bezel is just under 0.5 inch, however, lending the set something of an "all-screen" look. One thing I definitely didn't like was the TV's stand. For $549, I didn't expect the last word in sturdy, but the cheap construction of this stand forced me to insert rubber feet in the gap between it and the TV to prevent the panel from wobbling forward. Did I mention that the 50H8C costs—never mind.
The no-frills theme fortunately doesn't extend to the remote control. While not backlit, it does have a thoughtfully laid-out keypad with large, clearly labeled buttons; the simple layout made it easy to control the TV in a dark room. Another nice touch is a grouping of buttons at the remote's bottom that lets you directly launch Netflix, Amazon, Vudu, and YouTube.
Setup
Because the 50H8C has a limited menu of picture adjustments, setup in the TV's Theater mode didn't require much work. A Backlight submenu lets you toggle local dimming on/off and provides a backlight level control. There's an Adaptive Contrast setting with Off, Low, Medium, and High options; I left it switched off to avoid interaction with the set's local dimming processing. The set also provides an Ultra Smooth Motion setting with Off, Clear, Standard, and Smooth options. After checking these out, I opted to switch it off to avoid the high level of soap-opera effect that each mode generated.