Hidden Gem
A home with historic heritage goes high tech.
Old-world charm and modern-day technology are balanced in just the right proportion in this Montclair, New Jersey home.
For this 3,500-square-foot Cotswold-style home the task, recalls architect John Reimnitz, "was to create a much larger, modern space for them that still had the same sort of quality and details of the existing house."
The 5,200-square-foot addition was made only to the back of the home since the house is on the National Register of Historic Places and no changes could be made to the front of the structure. The bigger house now includes a 650-square-foot multipurpose room.
Ralph Fonte, owner of Upper Montclair, New Jersey–based CSA Audio Design, had done several custom-installation projects for the family before. This time around, he says, the objective was to hide all the gear. "They didn't want the equipment to be visible when it wasn't being used."
The media/family room, which is located right off the kitchen and has windows on three sides, serves several purposes. It's an environment where everyone can sit around the fire and be cozy. Yet, while being suited to intimate gatherings, the room is also large enough for the family and friends to experience movies on a grander scale. For daytime and more casual viewing, a four-year-old Marantz 50-inch plasma drops down from above the fireplace. The plasma actually hides in the fireplace and operates on a lift that comes down from inside the mantel.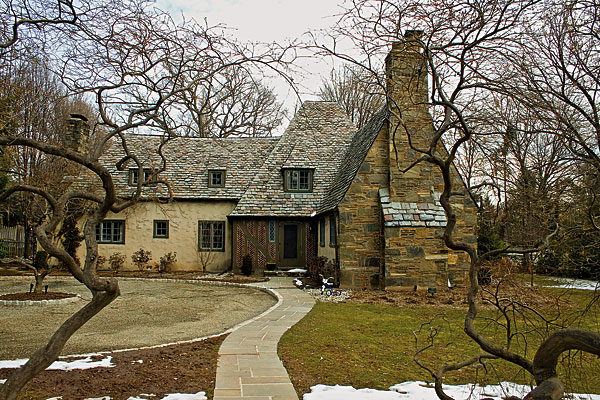 "This is my third project doing something like this," says Fonte of the unusual but increasingly popular install. He used a Chief Manufacturing automated ceiling lift—the CM2C40—to achieve the result. "Many people take a picture and move it sideways," explains Fonte. "You're looking up at the fireplace where the plasma panel is, and it's way too high for comfortable viewing for any length of time."
For movies, a Marantz VP-11S1 DLP front projector has been partnered with a 106-inch custom Vutec screen that drops from the ceiling. "We started out using just the plasma TV in the room," says Fonte. "We were never going to do a projector because the client was actually going to do the home theater room down in the basement. But then he decided that maybe people won't go downstairs as much to use it, and if they were just going to use this new room at night for movies, then he would put it upstairs as long as the gear could be hidden. That was when we started talking about lifts for the projectors and screens that would flush-mount in the ceiling."
All the gear, including five B&W CCM817 in-ceiling speakers and a B&W 610 subwoofer all driven by an Arcam AVR350 receiver, is operated with an MX-3000 Universal Remote Control.
"It's a family room, playroom, or media room—it all changes because the gear appears out of nowhere," sums Reimnitz. "You wouldn't know all that technology is there unless you push a button."
Contact
CSA Audio Design
(973) 744-0600
www.csaaudiodesign.com