A Garage Transformed
Since the early 90's,we have dreamt of building a home theater.Our dream was finally realized when we converted our 22 x 22 foot garage into a theater. The actual dimensions of the theater are 22 x 17 due to a small portion (5 x 17) of the garage we saved for storage. While it's not very large, it's comfortable and built to exacting specifications to ensure exceptional performance.
The projectwas a collaboration between Acoustic Innovations, who built the theater off-site, and Hi- Fi House in Wilmington Delaware, who did the actual layout, construction, and equipment specifications. The entire process took about 2 months.
After taking measurements, the folks at Hi-Fi House sat down with us to begin the design process. Although the theater is built off-site, most aspects of theactual look of the theaterwas left up to us. Some of our choices included color, carpet,seating, wood-trim (type of material and color), lighting sconces, acoustic panels and many other options thatallowed our personal tastes to influence the total design. Myfavorite option is the dual porthole doors on each side of the room givingit a classicmovie theater appearance.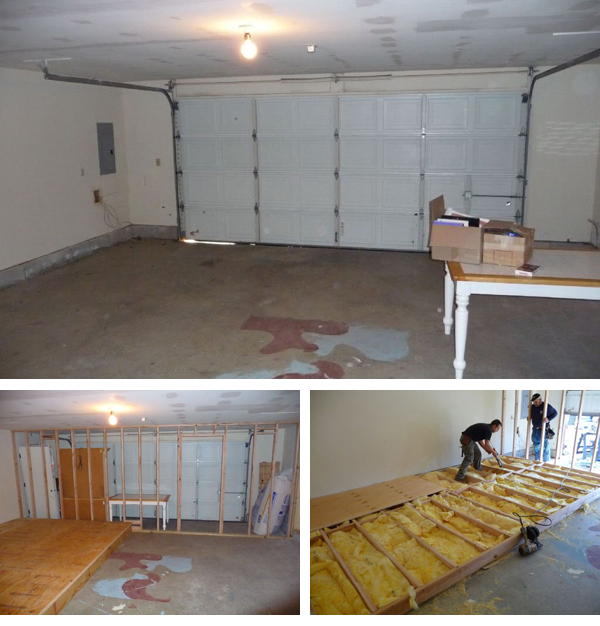 The fit and finish of the installations was second to none and we couldn't be happier. All of the wood, from moldings to the cabinet, were allfurniture grade.A testament to the excellent construction is,regardless of volume, there is never a rattle or buzz to distract our movie viewing.Acoustic Innovation Contempo seats are all leather with motorized reclining.
The look of the room is fantastic but the picture and sound is absolutely incredible.For video, we paired an Anthem LTX 500 LCOS projector with a 110" Stewart Firehawk screen. On the audio side an Integra DHC-9.9 pre/pro was chosen and mated to an Anthem Statement P5, a 5-channel, 325 watts (x5), amplifier. This beast is capable of handling the loudest transients with ease, yet, is whisper quiet during quiet scenes.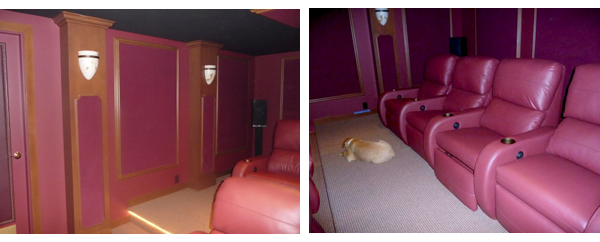 We choseKlipsch Speakers all around along with two Velodyne DD-15 subwoofers. Our theater is strictly for movies, so we focused our searchfor speakers with a big up-front sound which can handleloads of power and immediacy to compliment the action movies we love so much.Having speakers of matching tonal quality was something we'd never experienced. The rear channels no longer call attention to themselves. We now sit in that "sonic bubble" we've heard about with sound all around. It took some getting used to, but now we love the sound.While the theater wasunder construction, wehad a couple of suggestions.
I think one of our best investments was the SVS AS-EQ1, an advanced, EQ and bass correction system for the Velodyne subwoofers. The difference was like night and day. Where before there were bass deadspots in certain areas of the room, now thereare none. Most impressive, was the elimination of theboominess in certain parts of the theaterwhichhas beenreplaced bya tightness and smoothness throughout the entire room.
Bringing everything together is the Universal MX-980 remote. This controls all facets of our home theater. At the touch of the button labeled "Watch Blu-ray", the projector, amp, preamp, and blu-ray playerturn on, the lights go down and it's movie time.
Equipment List
Klipsch RF-83 fronts

Klipsch RC-64 center

Klipsch RB-81 rears

2) Velodyne DD-15 Subwoofers
SVS AS-EQ1 subwoofer EQ

Anthem Statement P5 5-channel power amp

Integra DHC-9.9 pre/pro

Pioneer BDP-95D blue-ray player (for my intro DVD)

Samsung BD-P2500 blue-ray player

Panamax M5300-PM surge protector

Verizon FIOS HD DVR

Anthem LTX 500 LCOS projector (JVC DLA-RS20 repackaged and sold by Anthem)

110" Stewart Firehawk screen

Universal MX-980 remote

Active Thermal Management Cool-Stack ll cooling system