Garage Home Theater: Part III
The finished theater, and my dream recording studio.
What an amazing adventure. Starting with a design, cement, and sheetrock, we have come a long way and now have a beautiful theater. It's almost time to roll out the red carpet for the premier of the AcousticSmart showroom theater—after we take care of a few final touches.
Pre-Launch Check
Everything is now in place. The equipment is connected, the carpeting is in, the woodwork is completed, the seats are installed, and the lighting is hooked up. It's now time to see how well everything works. We called in a team of specialists to give our theater a thorough inspection prior to our first demos.
Audio Interiors tested out the components in our rack. Confident these were working properly, they now had to program the Crestron remote so that my family and I could easily operate and enjoy our theater.
Norm Varney of AV Room Service arrived to calibrate the sound and tune the room acoustics. Norm created the acoustic treatments used throughout our theater. They were shown and described in Part II of this feature (see the September issue of Audio Video Interiors) before they were covered with our custom fabric. While he was testing the sound from every angle, Norm discovered that two of the side-wall tweeters were not functioning. That is something that could easily have been missed if not for his detailed sound mapping.
All that's left is the fine-tuning of our projector. Kevin Miller of the Imaging Science Foundation was kind enough to give us a hand. It's important to get the right balance of white and black level. Many projectors are set too bright and do not create a true movie theater experience.
Let's Get Ready to Rock!
I have always had a love of music and the guitar. After I graduated from college, I went to work for a major recording label. Ever since that time, I have always wanted a recording studio of my own. Shortly after I moved into my new house, I joined a local band. We call ourselves Rock Stars of America. That's me seated in the middle. To find out what we sound like, you can find us at: cdbaby.com/cd/rockstarsofamerica. Now my dream has come true, and our band has a home in my new "garage." With the professional recording studio that I always wanted, we can rehearse and record in a great acoustic environment without disturbing our family and neighbors.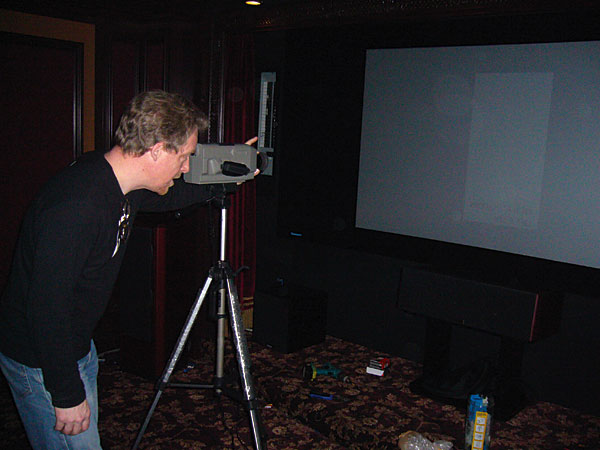 Quiet on the Set. . . Action!
The time has come to try out the theater. I decided to use a DVD of Lawrence of Arabia. It makes very good use of the Runco projector's Cine-Wide technology.
Needless to say, I was blown away. The picture and sound are even better that I could have imagined. It no longer pays for me to go to a commercial movie theater. The family just wants to stay in the theater all the time.
Next I tried out the Loggins & Messina: Live in Santa Barbara concert DVD. The sound was awesome. It was just as good as being there live with the best seats in the house.
The next day, I found my children and their friends in the theater playing a basketball video game on their PlayStation 3. When I first walked in, I thought I was watching TV. The game and reproduction was that realistic.
We've rolled out the red carpet and invited our friends and family over to see the new showroom. Many of them have never been in a home theater of this magnitude. They couldn't believe it. Several of my dealers and future clients have also stopped by the AcousticSmart showroom. In just a short period of time, I have been commissioned to build at least three more theaters. Everyone keeps talking about how great everything turned out. I don't think any of them knew they were sitting in what was once a garage.
Carefully Chosen Equipment And the Reasons Why
Krell HTS Five-Channel
Krell is not only known for great theater Amplifier and Audio Processor surround sound processing, but also for two-channel audiophile listening quality. Concerts sound lifelike and detailed, giving us the best of both worlds.
Parasound Two-Channel Amplifier
To create 7.1 sound and power the side surround speakers.
MIT Cables
Used for all speakers and interconnections. Compared with other cables, the performance level of these cables created such a noticeable difference that you have to hear it to believe it.
Arcam DV 139 DVD Player
In addition to solid video reproduction, it has audiophile-quality sound. Even old CDs are brought to new life as if you are listening for the first time.
Pioneer Laser Disc Player
I still have a very extensive collection of laser discs. They now look even better.
Stewart 117-Inch CineCurve Screen
We were blown away by this product's technology and performance. This screen gives you total control of every aspect ratio in the book without the black bars. The screen's curved shape really draws the viewer into the experience.
Runco VX2C Cine-Wide Lens Projector
Although this is only a 720p three-chip projector, when combined with the Stewart CineCurve screen, the effect is incredible. Movies shown in original CinemaScope are a treat for any movie enthusiast.
When hooking up a Blu-ray or HD DVD player or the PlayStation 3, the pictures are crisp and detailed. Picture quality is equivalent to, if not better than, a commercial cinema.
Tannoy Speakers
Coming from a recording-studio background, I was quite familiar with Tannoy's quality. Although not laid-back in nature, the overall detail and instrumental separation involves the listener immediately.
Monster Power Conditioner
A secure, level power source is a must for true A/V reproduction.
AcousticSmart Seating
All of our seats come from our own exclusive line. The rear seats are manual wall-hugging recliners to bring the viewer away from the screen, while the front-row seats have heat and massage built in. Our dual motors control the back and footrest independently for the ultimate in comfort without the neck strain.
For further information, contact:
Richard Charschan: AcousticSmart
52 Benson Lane, Merrick, NY 11568
tel. (516) 623-5711 fax (516) 623-7032
Richard@acousticsmart.com