February 2017 Top Picks at a Glance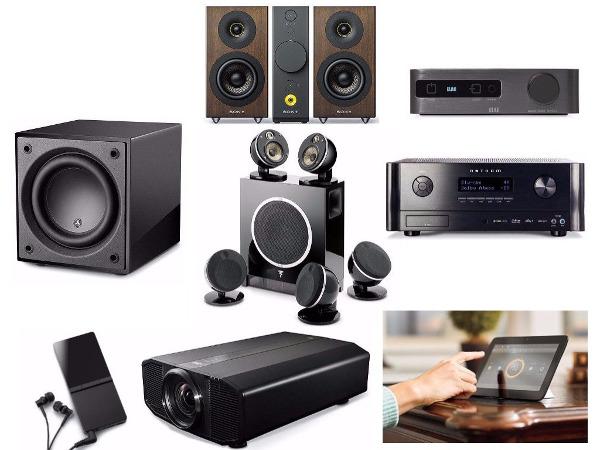 February may be the shortest month of the year but it was long on noteworthy product recommendations from your favorite magazine, including three that made our Top Picks of the Year list. Among these most recent picks is a cinema-caliber projector, an affordable yet powerful home automation system, a killer subwoofer, and a speaker system that is striking sonically and visually.
While we're on the subject of awesome products, it never hurts to revisit our 2016 Top Picks of the Year—54 outstanding products that will take your home entertainment experience to the next level and make you smile.  
Anthem AVM 60 A/V Processor: $2,999

One of only two separates on our 2016 Top Picks of the Year list, the AVM 60 gives you up to 13 channels to work with and skips features you don't need in favor of focusing on stuff that counts, including an intuitive interface, Anthem's awesome ARC room-correction system, 4K/60 HDMI 2.0a/HDCP 2.2 video switching, Dolby Atmos and DTS:X decoding, and pristine sound. Anthem even throws in multiroom wireless streaming courtesy of DTS PlayFi. "Whether I auditioned two-channel or multi-channel recordings of music or movies…the Anthem doled out my chosen source materials as close to precisely as I knew them to be," wrote audio veteran Dan Kumin. "In other words, it was close enough to perfectly transparent to impose no discrete sound of its own."
AT A GLANCE
Plus
Pristine audio plus 4K passthrough video
Clean, simple, eminently usable design
Excellent proprietary auto-setup/EQ system
DTS Play-Fi streaming/multiroom wireless capability
Minus
Lacks Bluetooth, USB playback
No legacy video connections or scaling
Focal Dôme Flax 5.1 Speaker System: $1,999

If you're looking for ordinary, you can skip over this section. If, on the other hand, you want something singular, you owe it to yourself to give the Dôme Flax 5.1 a serious look. France's Focal has been making fine speakers for more than 30 years and it shows in this sophisticated "sub/sat" system, one of six speaker packages to make our 2016 Top Picks of the Year list. Reviewer Mark Fleischmann's take: "The Focal Dôme Flax 5.1 is a state-of-the-art satellite/subwoofer set with outstanding build quality…Pair it with warm-to-neutral amplification, and its voicing will leave no spatial or timbral detail behind."
AT A GLANCE
Plus
Flax cone woofer
Aluminum-magnesium inverted-dome tweeter
Wall-hugging sub
Minus
Limited bass from satellites
HiFiMan SuperMini Music Player: $399

Whether he's building a pair of exotic electrostatic headphones, a mini amp, or a hi-res personal music player like the SuperMini, HiFiMan's Fang Bian has a knack for nailing the sonics. Here he's come up with a player that holds its own against pocketable gear costing much more. "The company has found a way to drive moderately challenging headphones for long periods while minimizing cost and form factor, and although it may not be the last word in transparency, it's a sonic overachiever at its price point," wrote reviewer Mark Fleischmann. "It would be hard to imagine a more agreeable companion for a long day of on-the-go listening."
AT A GLANCE
Plus
Balanced and unbalanced output
Drives moderately demanding headphones
Hi-res capable, including DSD
Minus
No album art
No fancy DAC chip
No user-accessible internal RAM
Control4 EA-1 Home Automation System: $600

One of only two home automation systems to make our 2016 Top Picks of the Year list, Control4's EA-1 bundle sets a new standard for affordability and opportunity when it comes to professionally installed AV control and home automation. Reviewer Darryl Wilkinson summed it up this way: "In the hands of a good integrator, the EA-1 bundle is a powerful masterpiece of hardware and software, filled with exciting promise and vast potential, even more so now with the fantastic integration of Alexa voice control."
AT A GLANCE
Plus
50 context-sensitive programmable buttons on remote
IR, serial, and IP-based control
Amazon Alexa voice-control integration
Minus
Controller generates a lot of heat
Low-resolution screen on remote