Focal Dôme Flax 5.1 Speaker System Review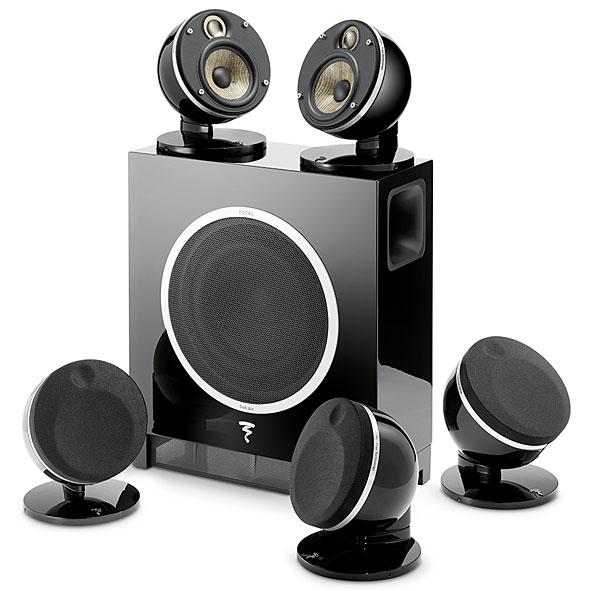 PRICE
$1,999
AT A GLANCE
Plus
Flax cone woofer
Aluminum-magnesium inverted-dome tweeter
Wall-hugging sub
Minus
Limited bass from sats
THE VERDICT
Unique driver materials, overall quality of construction, and adroit voicing make the Focal Dôme Flax 5.1 one of the best-sounding compact sat/sub systems I've heard.
As the home theater milieu increasingly divides into Atmos and non-Atmos camps, the satellite/subwoofer category seems destined to remain part of the old guard, usually sold in a set of five little speakers and a sub or two. Is it possible for a satellite speaker to retain its merciful compactness if it's also to include an Atmos-enabled upfiring driver? I'd love to review such a product, but right now it's a figment of my imagination and hopes. Focal, the prodigious French speaker manufacturer, does now offer a 5.1.2-channel Atmos-capable sat/sub system that takes a different approach (see below), but you'll be happy to know that plain ol' 5.1 is still alive and supported by this and other fine speaker makers. Even now it remains the bedrock configuration of surround sound.
Home Theater Diversity
Focal offers a wide variety of home theater–friendly loudspeakers, not to mention studio monitors, headphones, automotive audio, and custom installation products. The Utopia III, Sopra, Electra 1000 Be 2, Aria 900, and Chorus 700 lines include towers, monitors, and centers. The Sopra, Aria, and Chorus also include dedicated surrounds. The Electra has both a dedicated surround and a few in-walls. Meanwhile, the Easya is a wireless tower. Focal also offers subwoofers, of course.
Then there are the pure home theater entries—among them, the Dimension soundbar and two families of satellite/subwoofer sets, the Sib & Co. and the Dôme. The Dôme comes in 5.1.2-, 5.1-, 2.1-, and 2.0-channel variations. Before we dismiss the relatively new Dôme Flax 5.1.2 system ($2,499), note that it has five satellites and two in-ceiling speakers (rather than upfiring modules) with flax-fiber composite woofer cones plus a flat wall-hugging wireless sub. (Configurations of 5.1.4 are also available with various combinations of satellites, in-walls, and in-ceilings.) But we're reviewing here the Dôme Flax 5.1, the only one of the three 5.1 sets to include both the flaxen woofer and the flat wireless sub.
The Dôme Flax satellite, with its built-in pedestal, can be mounted on a table, stand, or wall. It has a flat baffle and semi-spherical back made of high-gloss lacquered aluminum, available in black or white. Fastening it to its pedestal is a skinny column that slides in a groove, allowing the speaker to pitch from 0 to 90 degrees. Speaker terminals in the pedestal are designed for modest-gauge bare wire, a logical choice for this kind of product. They require some careful maneuvering to get all the strands into the partly obstructed holes; the trick, I learned, was to shape the ends into hooks. The terminals also require a hex wrench to tighten the screws. Overall, connection wasn't difficult, and each satellite has storage for its supplied hex wrench in its rubber base so you can put your hands on it down the line when you need to.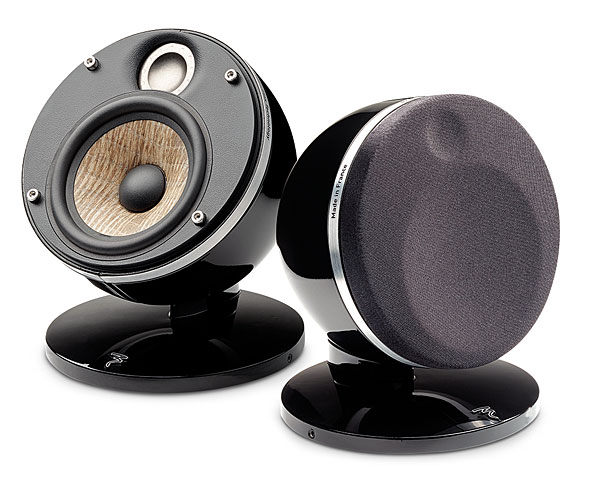 Behind the fabric-covered grille, which detaches with a counterclockwise twist, are a 1-inch aluminum-magnesium inverted-dome tweeter and a 4-inch cone woofer. Focal refers to the woofer cone as a "sandwich" of flax enclosed by two layers of glass fiber. The flax is grown in France, and the cone is manufactured in Saint-Étienne, southwest of Lyon. (Oh, the meals I've had in Lyon. Oh, the cheeses.) Focal says the material is light and rigid, with good damping.
The enclosure of the Sub Air wireless subwoofer is slightly more than 6 inches deep. It can go "wherever you want" within its 10-meter (33-foot) range, according to the literature, but experience teaches us an up-front location is often best, especially with the high crossover point required with compact satellites, which requires the sub to handle upper bass information that may become localizable. The sub's flattish form factor makes it perfect for sitting against a wall. It can also mount directly onto a wall with backpanel threaded inserts that allow attachment of a wall bracket and rubber anti-vibration pads. It has an 8-inch front-firing paper cone woofer behind a metal grille, with a bright white LED beneath. The port is on the side, so it won't be blocked by the wall. Controls are on the bottom surface, which is lifted off the floor by 2-inch feet.