Focal Dôme Flax 5.1 Speaker System Review Page 2
Associated equipment included a Denon AVR-X7200W A/V receiver, Oppo BDP-83SE universal disc player, Micro Seiki BL-51 turntable, Shure M97xE cartridge, and Denon PRA-S10 stereo preamp serving as phono preamp.
The 5.1 Spell
The Dôme Flax satellite has a crisp, upfront sound, with the limited bass that's customary in speakers of this size. Combine that with identical satellites all around, and you get a tightly integrated soundfield with clean panning in any direction. Having listened to a lot of Dolby Atmos and DTS:X systems recently, I'm just starting to miss the height dimension when returning to an ear-level-only configuration.
That said, I have decades of 5.1 experience built into my listening reflexes, so the basic surround sound of this Focal system quickly cast its spell. The sub provided enough bass reinforcement to maintain the spell except when something exploded, reminding me that 4-inch woofers and 8-inch subwoofers have their limits, even in the best products.
Eye in the Sky (Blu-ray, DTS-HD Master Audio), which explores the ethics of drone attacks and collateral damage, stars Helen Mirren, Aaron Paul, and—in his final on-camera role—Alan Rickman as a British army general mediating between politicians and the military. The Dômes delivered that resonant Shakespearean voice with its full complement of rich overtones down to the sub crossover, where the Sub Air took over, filling out the bottom end with only slightly less timbral detail and no booming, despite the 120-hertz crossover I'd picked for the satellites' 4-inch woofers. Tension-producing synth bass was present but not forceful. Orchestral instruments, including swooping trombones and war drums, came through vividly on the sats. The crack of gunfire was sharp enough to be startling.
The Divergent Series: Allegiant (Blu-ray, Dolby Digital) has a dynamically challenging soundtrack. On the low-volume end, whispered dialogue was well served by the inverted-dome tweeter and flax woofer. The volume ramps up in a scene where rebels reverse-rappel up a wall (the Atmos version is on Dolby's more recent demo disc). The satellites showed good dynamics in their depiction of the music and effects. Only the exploding vehicle left me wanting more low-frequency force from the sub.
Born to Be Blue (DVD, Dolby Digital) is a biopic of trumpeter Chet Baker, starring Ethan Hawke. Naturally, the highlights are the musical interludes, which reveal how the tumults and agonies of his life affected his playing. Here, the instrument became another voice for a speaker system that excelled at communicating timbre. Informal after-hours listening included Star Trek: Beyond. When the Blu-ray came in the mail, my household insisted on hearing the Atmos soundtrack on the available 5.1 system. The Focal array held imaging and soundfield together even with the decibel level increased.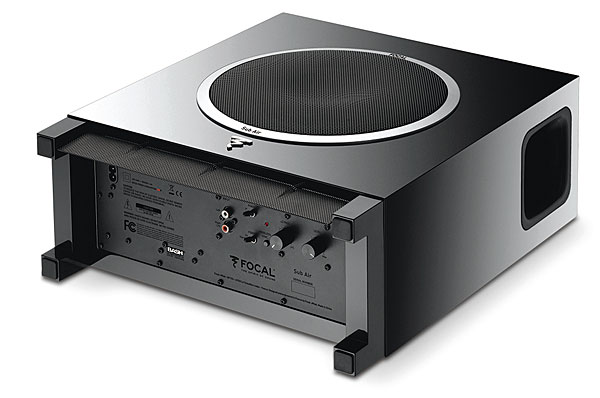 Reconnecting
Pink Floyd's Wish You Were Here came via James Guthrie and Joel Plante's 2011 remaster on a 180gram slab of low-noise vinyl. Did Focal's finicky tweeters not appreciate the digital mastering and raise an analog-purist eyebrow ever so slightly, especially in Richard Wright's opening synthesizer fanfare? Or had Guthrie and Plante just punched it up a little compared with the original Columbia pressing I grew up with? The sub and sats did a smart sketch of the meaty bass and drum sound—brute force, no, but adroit tailoring at the crossover, yes. Unlike other commentators, I think David Gilmour's guitar textures on this reissue approximate the original feel, and the satellites revealed them colorfully.
For other music demos, I reconnected with albums that I've cherrypicked for test tracks. I've heard "Strange Weather," the world-weary chanson that Tom Waits and Kathleen Brennan wrote for Marianne Faithfull, more than a hundred times without ever tiring of it, and the rest of Blazing Away (CD) is just as involving. Like Rickman, Faithfull has one of those spellbinding British voices, and this live album gives it the perfect setting: the reverberant stone walls of St. Ann's in Brooklyn. The Dômes mined Faithfull's honey-leather voice for every ounce of tone color, especially in her a cappella performance of the traditional tune "She Moved Through the Fair." Even in 2.1-channel reproduction, the satellites summoned a huge soundstage with rich ambience.
The third movement of Bach's Brandenburg Concerto No. 3 is a test of string texture, which should be light but lively on the hybrid multichannel SACD featuring Masaaki Suzuki and the Bach Collegium Japan (which includes all six of the concertos as well as the Four Orchestral Suites). As I played through Brandenburg Nos. 3, 5, and 6, the Dômes resolved the string texture just as a good set of planar headphones would, with the addition of surround sound and in-room ambience, of course. They also captured the plucked-string delicacy of Suzuki's exhilarating solo harpsichord passage in Concerto No. 5.
The Focal Dôme Flax 5.1 is a state-of-the-art satellite/subwoofer set with outstanding build quality. It has a classy, even timeless look; it's impossible to imagine anyone finding these satellites in an attic generations from now and saying, "Oh, that looks so early-21st-century." Pair them with warm-to-neutral amplification, and its voicing will leave no spatial or timbral detail behind, while ensuring reasonable comfort. Pass the cheeses.