Fall Review: Best Gear of 2021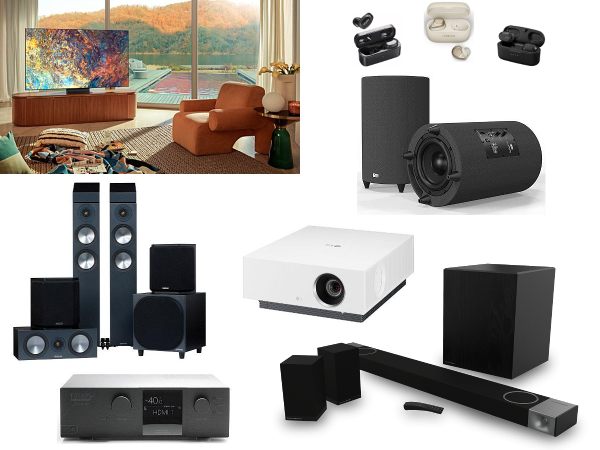 With the holidays fast approaching and only three months to go before we ring in 2022, it's a great time to take stock of
Sound & Vision
's Top Picks in 2021, a year that will go down in history as a runner-up to pandemic-ridden 2020. In the following seven pages, we've categorized three dozen exemplary A/V products, a third of which can be had for $1,000 or less. Whether you're in the market for a budget soundbar (we have two recommendations), a full-on home theater speaker system, a kick-ass subwoofer, or a state-of-the-art surround processor, we've got you covered. Every A/V category is represented. Or maybe you're looking for a good set of wireless earbuds to give as a gift. We have several vetted options for you to consider. If something grabs your attention, don't forget to check current prices. In some cases, prices have gone up since the time of our original review; in others, discounts are available.
TVs & Projectors
TCL 6-Series 65R635 Roku LCD Ultra HDTV: $1,300
With its latest LCD TV, TCL embraces the popular Roku streaming platform while demonstrating the benefits of using Mini-LEDs to deliver more uniform backlighting at a price most of us can afford — hence, the well-deserved Top Value designation. The 65R635 boasts an impressive 160 zones of local dimming for its 65-inch screen, which translates into a highly satisfying viewing experience whether you're watching in 4K or plain old high-definition. The set also brings quantum-dot technology into the fold for expanded color performance, supports three flavors of high dynamic range (HDR) — Dolby Vision, HDR10, and HLG — and offers a low-lag THX Certified Game Mode to meet the challenges of fast-paced gaming. It even offers a unique feature called iPQ Mobile Calibration that uses the camera in an iPhone or Google Pixel phone to capture onscreen images and calibrate the color (though its capabilities are limited).
Putting the 65R635 to the test with Guardians of the Galaxy Vol.2 and other challenging material on 4K Blu-ray, the video perfectionist in reviewer Tom Norton described what he saw as "eye-catching" with the ability to convey subtle detail and rich, though not overdone, color. He was also impressed with how cleanly the set handled the "wickedly challenging" horses-grazing-in-snow demo segment from the Spears & Munsil UHD HDR Benchmark test disc and praised the TCL set for its ability to produce impressive looking Dolby Vision HDR images when properly adjusted. Though its suggested retail price has crept up $300 since we posted our full review in February, the TCL 65R635 can still be had for $1,175 on Amazon.com.
AT A GLANCE
Plus
Effective, 160-zone local-dimming
App-based color calibration
Affordable price
Minus
Image quality reduced at off-center seats
Some green push with HDR content
Full Review Here (posted 2/17/21)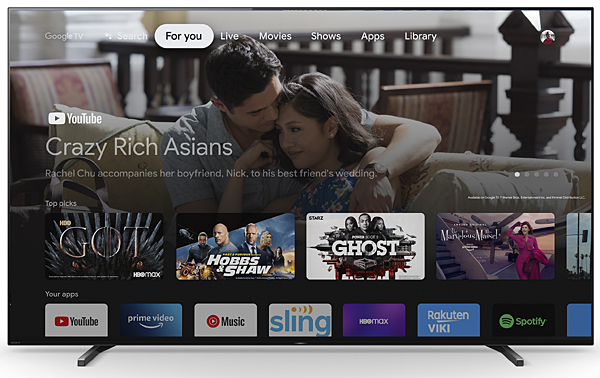 Sony XR-65A80J OLED Ultra HDTV: $2,300
Sony continues to expand its presence in OLED TV, this time with a full-featured model built to deliver top-shelf video performance at a price most of us can afford. The XR-65A80J supports Dolby Vision high dynamic range (HDR), Google and Amazon voice control, and is equipped with HDMI 2.1 inputs and a surprisingly decent sound system. But what's most intriguing is Sony's new Cognitive Processor XR, which analyzes hundreds of thousands of picture elements in real time and makes tweaks to improve image quality. The goal is to get as close as possible to what you would see on a professional video monitor. To accomplish this, the processor detects the most important focal points in each frame and enhances them in a way that complements how our brains work. Hyperbole aside, it actually seems to work.
As veteran TV reviewer Tom Norton put it, "I can't say exactly how much Sony's Cognitive Processor XR adds to the A80J's stunning image quality, but I'd wager that its contribution is significant. Watching the documentary Samsara, the scenes in Versailles, and the making of a mandala in a Hindu monastery looked even more strikingly vivid than usual. Costume dramas profited as well, with Victoria & Abdul offering a rich tapestry of Victorian decor, particularly in the banquet hall scene with its brilliant red highlights."
Though the Sony's black-level performance wasn't the best we've seen, Norton characterized shadow detail as "superb" and praised picture quality during bright scenes. "Toy Story 4 began conventionally enough, but once I got to the scenes at the carnival and in the antique shop, the results were dazzling. A brief shot of illuminated chandeliers in the shop was so startlingly vivid that I involuntarily gasped." High praise, indeed.
AT A GLANCE
Plus
Crisp resolution from Cognitive Processor XR
Ultra-wide viewing angle
Impressive shadow detail
Minus
Picture setup menu limitations
Minor black-level issues with HDR
Full Review Here (posted 8/4/21)
Samsung QN65QN90A NEO QLED LCD Ultra HDTV: $2,600
Samsung's flagship "Neo QLED" QN90A TV series cost more than equivalent LCD models in the company's 2020 lineup but offer a serious bump in performance that elevates the LCD category to new heights. Upgrades include a marked improvement in one of LCD's longstanding bugaboos — off-center viewing — and a full-array local dimming backlight that uses Mini-LEDs to substantially expand the number of dimming zones to upwards of 800.
The TV's central processor also draws on Artificial Intelligence (AI) to enhance images frame-by-frame in all picture modes, except for the purist Filmmaker Mode. And while the QN90A doesn't decode Dolby Vision high dynamic range (HDR) content, it supports the HDR10, HDR10+, and HLG formats and applies an effective dynamic tone mapping algorithm to the HDR10's static metadata to improve picture performance beyond what you would get with straight-up HDR10 processing.
All these upgrades translate into a picture Tom Norton called "impressive" at its worst and "spectacular" at its best. While absolute blacks aren't as quite as deep as what you'd see on a topnotch OLED set, Norton hailed HDR punch and contrast as "unequalled in my experience" and consistent across a number of Ultra HD discs, including the torture test otherwise known as Harry Potter and the Deathly Hallows Part 2. "From the deep, dark nighttime scenes of Hogwarts' spires surrounded by Dementors, to Voldemort and his minions perched on a rise as they prepare to attack, each shot revealed solid blacks and excellent shadow detail." The QN90A also excelled at rendering the exquisite detail, brilliant colors, and natural skin tones that help define the historical dramedy Victoria and Abdul on Blu-ray. As Norton put it, the banquet scene was "complete eye-candy." No doubt, this is one of the best LCD TVs you can buy today. Editor's note: As of this writing, the QN90A is available for $2,200 on samsung.com.
AT A GLANCE
Plus
Standard-setting HDR performance
Wide viewing angle for LCD
Deep blacks and strong shadow detail
Minus
Lacks Dolby Vision
Occasional blooming artifacts
Full Review Here (posted 9/8/21)
LG HU810PW 4K Laser DLP Projector: $3,000
LG's HU810PW breaks ground as the first ceiling-mount projector to offer the sort of smart features we've come to expect from today's TVs. The laser-lit DLP projector uses pixel shifting technology to deliver 4K resolution and provides ready access to Amazon Prime Video, Disney+, Peacock, YouTube, and other streaming apps via a wired or Wi-Fi connection, courtesy of the same webOS 5.0 interface found in LG's flat-panel TVs. The projector also comes with LG's Magic Remote, which lets you control the projector using voice commands or by pointing at (and clicking on) a cursor on the screen.
Smart TV tricks aside, the projector is equipped with an eARC-enabled HDMI 2.1 port for routing audio (including Dolby Atmos) from the projector to an outboard receiver or processor and is spec'd to cover 97% of the DCI-P3 color space in addition to supporting the HDR10 and Hybrid Log Gamma (HLG) high-dynamic-range (HDR) formats. LG also includes a Dynamic Tone Mapping mode that adjusts HDR images on frame by frame and offers a series of white-balance adjustments you don't usually find on a projector.
No question, this is probably the most feature-laden ceiling mount projector in existence but it also puts up a great picture. Reviewer Al Griffin was particularly impressed with the detail and contrast conveyed in the opening scenes of the sci-fi classic 2001: A Space Odyssey on Ultra HD Blu-ray, the rich color in the Amazon Prime series ZeroZeroZero, and the projector's HDR prowess in the 2018 Chinese film Shadow: There was a "wide range of creamy gray tones in scenes that take place in the king of Pei's court, and I didn't note any color tinting that wasn't originally part of the movie's post-production special effects. Blacks looked consistently solid and image highlights had a satisfying level of punch." In the final analysis, LG's HU810PW offers impressive all-around performance and a bevy of unique features at a reasonable price.
AT A GLANCE
Plus
Ample brightness and good contrast
Flexible zoom and lens shift range
Built-in streaming apps
Minus
Requires calibration for best performance
Smart features may be overkill for some
Full Review Here (posted 5/26/21)
Projection Screens
EPV Screens DarkStar UST 2 Efinity Projection Screen: $2,799 (as tested)
It's taken a few years but ultra-short-throw (UST) projectors that throw a massive image when placed only inches from the wall have become well established with the likes of Samsung, LG, and Epson now offering UST models. Sure, you could project the image on a bare wall but why would you? The result will be far from ideal for all sorts of reasons, which brings us to EPV's DarkStar UST 2 Efinity — a video projection screen designed specifically for use with this
new class of projectors
.
The Efinity is an ambient-light-rejecting (ALR) screen designed expressly for use with a UST projector. In short, a special optical coating on the surface of the screen filters out most of the light emanating from above the screen while reflecting light coming from below where the projector sits; the screen also has a special black layer that absorbs light to increase contrast and color saturation. Using Epson's Top Pick-designated LS500 projector, resident video expert/S&V editor Al Griffin put a 9-foot-wide (123-inch diagonal) screen with a thin fixed-edge frame only 0.4 inches thick to the test. He was not disappointed.
Drawing on many years of experience judging video quality, Griffin was impressed with both the "floating TV" look he was able to achieve and the screen's ability to render rich, detailed images with movies and sports — even when the room's overhead lights were left on. "The IMAX-shot scenes in Tenet on Ultra HD Blu-ray were incredibly immersive as they filled up the full 16:9 aspect ratio screen. This is how you do IMAX at home! As I watched a sequence where The Protagonist fights travelers from the future in the time-turnstile, details like the pinstripes of his suit were clearly rendered amidst all the motion and chaos, and black levels were for the most part solid." If you like the idea of achieving a vivid, theater-like presentation without having to turn off all of the lights in the room, EPV's DarkStar UST 2 Efinity screen can help get you there.
AT A GLANCE
Plus
Highly immersive image from 123-inch screen
Easy assembly
Five-year warranty
Very good value
Minus
Requires high-brightness projector for best performance
Full Review Here (posted 8/11/21)