Projector Primer: Closer Than It Looks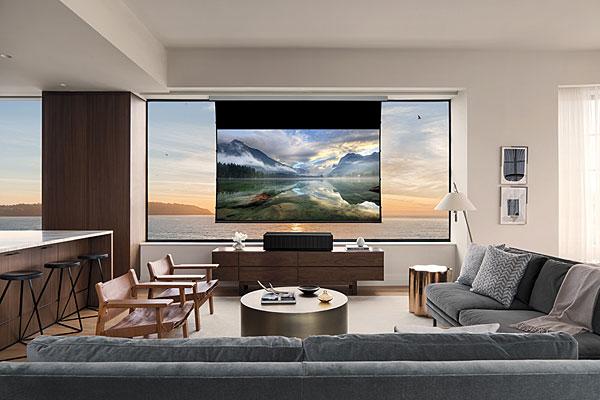 With new ultra-short-throw and cheaper 4K projectors appearing on the market, your path to the ultimate home theater experience appears to be shrinking.
Last year in our annual front projection update, we wrote about how the category wasn't about to be left behind on the 4K, Ultra HDTV revolution. Nothing in this business stands still, of course, and we're happy to report that "front projection's reinvention," as we dubbed it last year, is moving into yet another phase. Not only are 4K-compliant projectors more readily available, better performing, and in some cases much cheaper, we're also seeing a batch of fresh ultra-short-throw home theater projectors reaching the market in 2018. So what does this mean for you if you've always dreamed about sitting back in front of that giant 100-inch screen? Read on to find out.
Let the Revolution Begin
Let's start with the premise that, for now anyway, there is no viewing experience you can have with any conventionally sized and -priced flat panel that will match the impact of a large projection screen. Sitting, say, 12 feet back from a 100-inch-diagonal image ups the engagement factor, big time.
That said, it wasn't too long ago that acquiring that big screen meant a serious commitment and willingness to deal with space requirements, potentially complex installation, and the need to control ambient light to avoid washing out the image.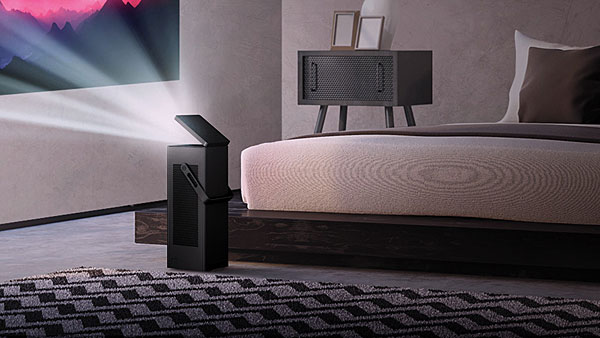 In the last couple of years, that's started to change with the appearance of two significant front projection technologies: ambient-light-reducing (ALR) screens and ultra-short-throw (UST) projectors. The new ALR screens have been a game changer in their own right up to this point. Combined with UST projectors, though, they stand to introduce front projection and the really-big-screen experience to a whole new class of customers.
Let's take the ALR screen first. Sound & Vision has been reporting for years on so-called "high-gain" or gray screens intended to boost contrast in modest ambient lighting or with inherently darker source material, such as projected 3D images. But their performance was marginal at best. Today's ALR screens are another breed entirely, and they employ some sophisticated, multilayered designs to more directly eject light coming from overhead or the sides of the screen while reflecting light from the projector back to the viewer. As long as the projector has suitable brightness, some of these screens can produce a remarkably high-contrast image, even in a lit room, something impossible just a few years ago. So, ALR screens really open the opportunity for taking projection out of a dark-room home theater environment that requires controlled lighting and spreading it to multi-use spaces around the house as an alternative to the flat-panel TV.
In response, projector manufacturers have been ratcheting up the light output as best they can on the latest projectors, even the more affordable budget projectors, with a few models hitting 3,000 lumens or more. To put that in perspective, until the advent of high dynamic range (HDR) content (more on that below), 1,200 lumens was generally considered more than enough to light up a 100- inch-diagonal projection screen in a dark room.
There are some caveats with these screens, though. Although late-gen ALR screens are definitely appearing now at budget prices, these high-tech materials remain considerably more expensive than traditional matte screens, and the better examples of the breed can easily run $3,000 to $5,000 or more for a 100-inch-diagonal, 16:9 version.
More critically, although an ALR screen should provide a surprisingly high-contrast image when the lights are on, as well as a boost in contrast versus conventional screens when the lights are off, they may produce a pearly or sparkly quality to the image surface that could be more noticeable in dark-room viewing. So if it's paramount for you to get a smooth, film-like picture in a darkened home theater, a conventional matte-white screen is still the best option. Keep in mind, too, that you can still keep your 65- or even 75-inch flat panel around as your day-to-day TV for lit-room viewing and let your den or family room do double duty as a dark- room projection theater with the pulling of shades and the push of a button that drops a retractable screen down in front of your everyday set.
Skip the Install
ALR screens may represent an opportunity to take front projection out into the light of your everyday living space, but the installation requirements for conventional projectors remain a serious impediment. For a 100-inch screen, most permanently installed projectors will likely utilize a ceiling mount placed at least 10 feet from the screen if not greater, which provides the necessary throw distance (depending on the projector) and a clean line of unobstructed sight that prevents viewers from casting shadows on the image every time they get up for a snack. That means hanging a projector in plain view in your living space or somehow concealing it at the back of the room, as well as snaking long cable runs through the ceiling and walls back to the signal source. It's easy to see why so many people take the pass.
Ultra-short-throw projectors tackle this issue head on. A UST projector combines a small, typically component-like chassis that gets placed just below and only inches from the projection screen. An optimized lens allows it to cast a geometrically correct image of 100 inches or more on either a conventional screen material or an application-specific ALR screen that accepts light from below and reflects it to the viewer while rejecting it from all other angles. It's a simple matter to place your video sources and audio components nearby, perhaps in the same console furniture that supports the projector or in an adjacent rack, so there's no requirement for any mounting or in-wall cable runs. Easy-peasy-lemon-squeezy, as some folks say.
So, what's not to like? Well, although UST projectors have been around for the business and educational markets for a while, home theater-centric models are just starting to appear. And while the UST projector/ALR screen combos we've tested so far have lived up reasonably well to their promise of replacing a TV for lit-room viewing, so far we've yet to see one that delivers the dark-room contrast and black levels of a high-performance theater projector. That includes the top of the crop, where Sony has its $25,000 VPL-VZ1000ES laser-driven 4K SXRD projector, or at the entry level where Epson has the new LS100, a lamp-driven 3LCD projector priced at $3,000. And then there's the Hisense Laser TV Al Griffin just reviewed, a 4K DLP projection system that retails for $10,000; it comes with its own UST screen and offers a host of TV-like features, including a built-in tuner.
Still, we're just at the beginning of this UST trend, and it's reasonable to assume that in future generations manufacturers will get more serious about further improving image quality. One thing we'll also be exploring in future reviews is how well these UST projectors might perform in dark-room applications with traditional white-matte screens. Given the ease of installation, a high-performance UST projector makes an attractive use-case even for a dedicated theater room with controlled light.
Details, Details
Most new flat-panel TVs today are Ultra HD models, and front projection is very slowly heading in the same direction. As we've frequently reported, the benefits of Ultra HD start with 3840 x 2160 pixel resolution, or approximately 8 million pixels of detail versus the 2 million for 1080p or "Full HD" resolution. That spec for Ultra HD comes close to the 4096 x 2160 pixel count for true digital cinema 4K—hence, the common use of both terms in describing UHD displays. The extra pixels beyond Full HD have frequently been dismissed by the pundits for displays of 75 inches or smaller, where the benefits are said to be lost unless you sit uncommonly close to the screen. On the other hand, they are most welcome for large projection screens, where they can visibly smooth diagonal and circular edges on objects and generally provide a sharper overall image.
The more recently introduced UHD features of wide color gamut (WCG) and high dynamic range (HDR) are more obviously discernible. But while the additional color range of WCG is a shared benefit among both flat panels and projectors, the noticeably brighter highlights and deeper blacks of HDR just don't come across with the same impact as they do on traditional TVs. Brightness has always been a challenge for projectors casting a large image, which explains why the digital projector at your local cinema is a monster that dwarfs any consumer product. But the ability to hit the high peak-brightness levels on small isolated portions of a projected image to provide the same level of enhanced viewing you get with HDR on a top-notch direct-view display has, for now anyway, not been demonstrated in any affordable consumer projector. Complicating matters is the fact that, while the industry has issued a clear technical target for what HDR should ideally look like on a flat panel, it has yet to do so for projectors. With no standard in place, projector makers have been forced to develop their own formulas for the so-called "tone-mapping" that translates the brighter highlights and darker blacks found in HDR-mastered content to the screen. Some do it better than others, but all still seem to be feeling their way around for now.