Sony VPL-VZ1000ES SXRD 4K Ultra-Short-Throw Projector Review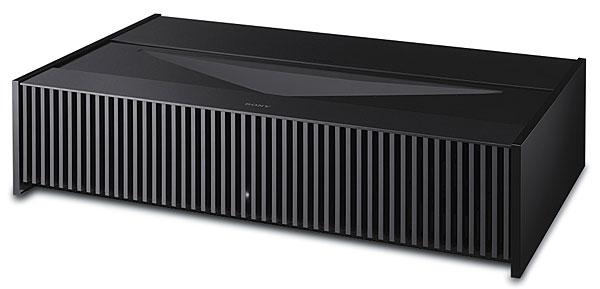 PRICE
$25,000
AT A GLANCE
Plus
Crisp 4K image
Projects 120-inch picture from 10-inch distance
Can be used in average room-lighting conditions
Minus
Below-average picture uniformity
So-so contrast
Pricey
THE VERDICT
Sony's ultra-short-throw projector can dazzle for daytime viewing and fulfills its promise as a big-screen panel TV alternative, but dark-room home theater enthusiasts may be less impressed.
When it comes to setting up a home theater, the main goal should be to get the largest image that your space and budget will allow. In many cases, that's going to mean hanging a projector from a ceiling mount at the back of the room and attaching a screen to the wall up front. Next come the light dimmers and blackout shades—both necessities if you want to get the best picture possible from your projection rig.
While there are tricks that custom installation outfits perform to minimize the impact of such setups, including projector lifts that magically drop down from a hidden compartment in the ceiling, and framed pictures that slide out to reveal a hidden screen—all of it voice-controlled by an Amazon Echo speaker, of course—there will be no getting around the reality that your living space has become a movie theater. Buying a huge flat-panel TV is another option, but getting one that delivers the 100-inch-plus picture that even budget projectors provide puts you in the $100,000-plus price range. Suddenly, that custom drop-down ceiling lift doesn't seem like a bad idea after all.
If the idea of both a traditional projection setup and a crazy-expensive flat-panel TV put you off, you might want to consider an ultra-short-throw projector like the new Sony VPL-VZ1000ES ($25,000) instead. Ultra-short-throw (UST) projectors have been around for years—they're popular in business and classroom settings where placing a projector at the front of the room near the screen is convenient and keeps late-arriving students (or marketing VPs) from interrupting the picture as they settle into their seats. But these have traditionally been low-performance projectors (by Sound & Vision standards) not intended for dayto-day TV or home theater movie viewing. A new generation of high(er)-performance UST projectors is emerging now, along with new ambient light rejecting (ALR) UST screens that allow them to function in place of a traditional TV.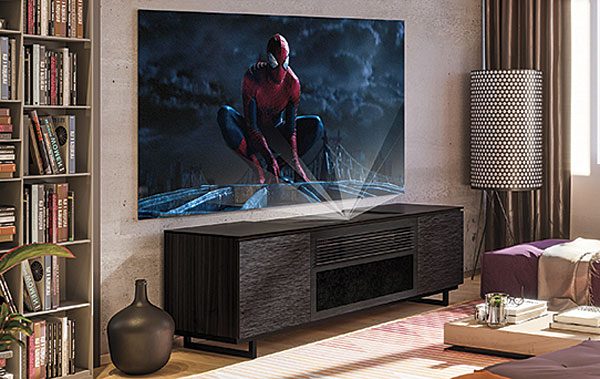 That's where the VPL-VZ1000ES comes in. Sony's ultra-short throw is a native 4K (4096 x 2016 resolution) SXRD model that's capable of projecting an image ranging from 80 inches diagonal when positioned only 2 inches out from a wall, to up to 120 inches when positioned 10 inches out.
The VZ1000ES uses a laser light engine instead of a traditional lamp to beam pictures with up to 2,500 lumens brightness. Not only does the laser light engine provide the benefit of quick startup compared with a traditional projector (I clocked it at 25 seconds), but it's spec'd by Sony to last for 20,000 hours, so it doesn't need replacement or require frequent calibrations the way regular projection lamps do. The projector is compatible with both the HDR 10 and HLG high dynamic range formats, and it also does 3D. If you're among the remaining 3D enthusiasts out there, Sony will sell you its optional TDG-BT500A active shutter glasses for $50 a pair.
Since an ultra-short-throw projector like the VZ1000ES is designed to sit out in a room as opposed to being mounted on the ceiling, Sony put effort into making it look furniture-like. The low-profile black case stands 8.5 inches high by 36 inches wide and 19.5 inches deep. (An earlier Sony ultra-short-throw model, the LSPX-W1S, measured 43 inches wide—and cost twice as much.) A row of vertical slats lining the projector's front give it a stately look, and the sides are capped with removable gloss-black panels. A panel on the top slides in to reveal the lens when the projector is in use, and then slides back to keep dust out when powered off. It would be cool if the door were motorized and synched with the projector's power on/off control, but that action happens manually with the VPLVZ1000ES.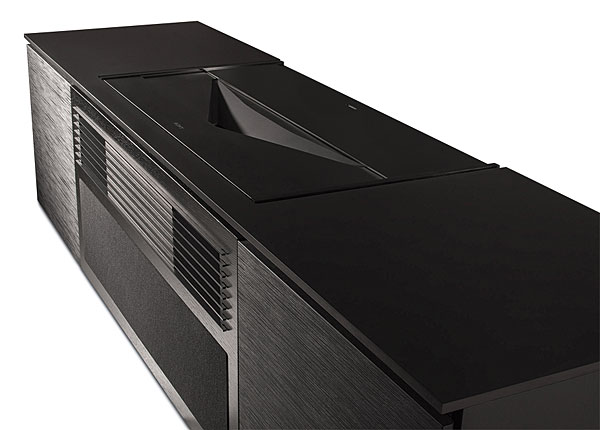 While the VZ1000ES looks good by itself when set up on a low table, third-party companies are developing furniture to house the projector. Salamander Designs, for example, created a custom version of its Chameleon cabinet that holds the VZ1000ES in a compartment on top and provides storage for A/V components and speakers. The Salamander cabinet has a sleek, contemporary look and features front-facing slats that provide ventilation. A pair of HDMI 2.0a jacks is located on the rear of VZ1000ES, and the removable panel on its right side provides access to additional connections, including a second pair of HDMI 2.0a jacks, an IR input, a trigger output, and LAN and RS-232C ports for external control systems. There's also a set of control buttons located on the right side, though you'll need to remove the side panel to access them.
Sony's remote control is large, with a clean layout and a fully backlit keypad. Dedicated buttons are provided to switch between picture mode presets and to call up menus for Color Space, Color Temperature, Color Correction, and Reality Creation, among other things. A row of large rocker buttons at the bottom let you easily tweak picture brightness, contrast, and sharpness on the fly.
Setup

I received help in setting up the VZ1000ES by Andre Floyd, Sony's product manager for home entertainment projectors. For the installation, we used a 92-inch-diagonal 5 Series Zero Edge screen frame from Screen Innovations paired with the company's Short Throw (ST) screen material, which is designed specifically for ultra-short-throw projectors. The projector was placed on a low table in my home theater room about 4 inches out from the screen plane and 9 inches below the screen's bottom edge. Calling up the projector's internal test patterns, Andre then used its adjustable feet to dial in the geometry before making fine adjustments with its powered 1.02x zoom, focus, and lens shift controls. The projector's setup menu also provides the option to use external test patterns to tweak focus and geometry, and you can adjust the alignment of the red, green, and blue SXRD panels in multiple zones.
Picture presets on the VZ1000ES include two Cinema Film modes, along with Reference, TV, Photo, Game, Bright Cinema, and Bright TV modes. It also offers a wide range of gamma, color temperature, and color space presets, including BT.709 for HDTV and BT.2020 for Ultra HD sources. A two-point custom color temperature adjustment is provided for grayscale calibration, and there's a Color Correction menu with a full set of color management system (CMS) adjustments.