Epson Home Cinema LS100 LCD Projector and Elite Screens Aeon CLR Screen Review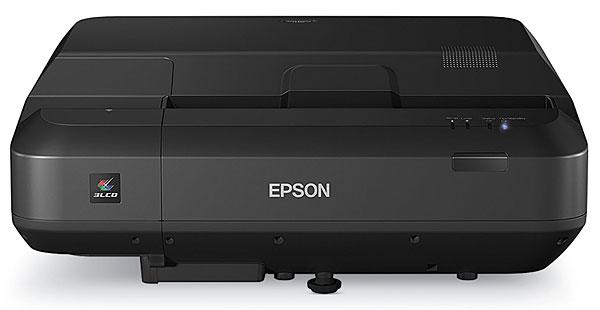 PRICE
$3,000 (Epson), $799 (Elite)
AT A GLANCE
Plus
Bright picture
Compact form factor
Can be used in average room-lighting conditions
Minus
Below-average picture contrast
Some center-to-edge brightness dropoff
Mediocre remote control
THE VERDICT
This combination of Epson projector and Elite screen represents a great value for those seeking a daylight-friendly, ultra-large-screen viewing option.
Ultra-short-throw (UST) projectors are becoming an increasingly popular alternative to regular front-projection systems. The reason is that, unlike regular projectors, which require careful lighting control to perform their best, UST models can operate in well-lit environments. They beam light upwards and are designed to be mounted only a few inches away from the screen, an arrangement permitting clean installations that not only are free of ceiling mounts or long wiring runs but also avoid the problem of onscreen shadows when someone traverses a projector's beam.
Another display category that UST projectors are taking a bite out of is ultra-large flat-screen TVs. One example is Sony's VPL-VZ1000ES projector, a $25,000, 4K-resolution, ultrashort-throw model I recently reviewed in these pages (October 2017; also available at soundandvision.com). Even at that price, the Sony, which is capable of beaming images as large as 120 inches, comes off as a bargain per-inch compared with TVs like Samsung's twenty-grand 88-inch QN-88Q9F. Epson's new entry on the UST scene is the LS100, a 1080presolution, three-chip LCD projector that, similar to the Sony, uses a laser light engine. The LS100 costs $3,000 and can beam images up to 130 inches. Does it represent the same bargain as the Sony? Let's look.
One benefit to a laser light engine is rapid startup: After hitting the projector's power-on button, it takes only about 5 seconds for a picture to pop up onscreen. Another benefit is longevity. While most projectors require a lamp replacement after a few thousand hours, Epson claims up to 20,000 hours as the lifespan for the LS100's light engine. The company's specs cite brightness for both the white and color components of projected images at 4,000 lumens. They put the contrast ratio at 2,500,000:1, which may well be the highest contrast ratio claim I've seen, short of infinite. Unlike many other current 1080p-res projectors, including other models from Epson, the LS100 doesn't do 3D.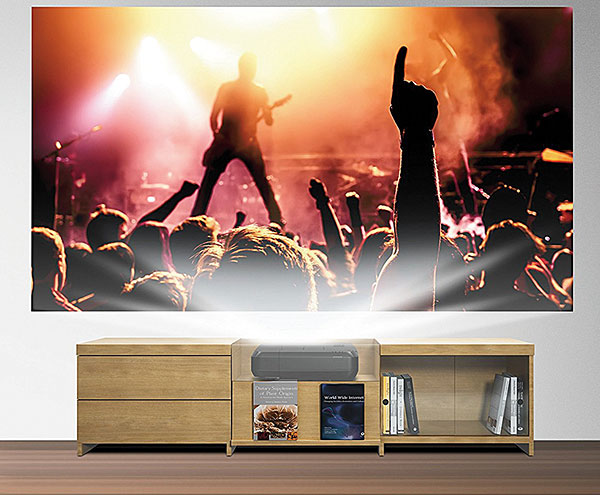 It may not have the same elegant design as Sony's UST projector, but the Epson's relatively compact black case (measuring roughly 19 x 7 x 17 inches, WxHxD) has an understated look that should let it blend in with most environments. Fan noise when the projector's Quiet Light Source mode is selected is very low—another factor that will help it blend in with a living room space. (Fan noise in the Normal Light Source mode, which runs laser brightness at full power, is notably louder.)
A full set of control buttons is provided on the projector's right side as you face it. Input connections are located on an inset section on the back left of the projector—the side that actually faces the screen, and they include a trio of HDMI inputs (one with MHL support for connecting a compatible smartphone or tablet), two USB type-A inputs, and one USB type-B input. There's also a LAN port for linking to a home control system. An additional set of connections is hidden under a nearby panel and includes composite video and VGA inputs, along with an RS-232C control port.
Epson's compact remote is packed with small buttons, many of which are used to control features meant for classroom instruction, such as picture split, freeze, and zoom modes. (Although it's sold as a home entertainment projector, the LS100 clearly has a counterpart in the education market.) Also, the keypad isn't backlit, making it difficult to find specific buttons on the crowded handset in a dim room. On the plus side, power and input selection buttons are set off in a section at the top. After using the remote for a while, I was eventually able to get a handle on things.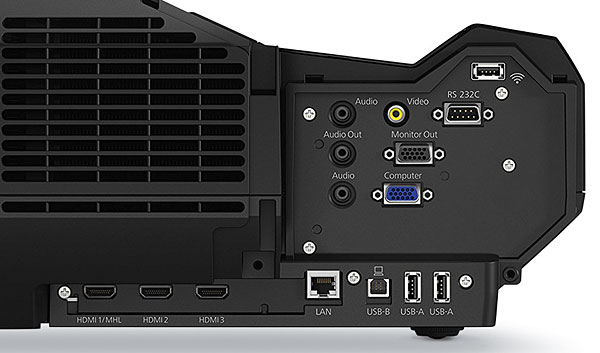 Setup
During my evaluation of the LS100, I used two separate ambient-light-rejecting screens designed specifically for use with ultra-short-throw projectors. The primary screen was a 90-inch-diagonal model from Elite Screens' Aeon CLR series, which is also under formal review here. I placed the projector on a low table in my home theater, with its top front edge about 8 inches from the screen plane and 1 foot below the screen's bottom edge. The other screen, used as a reference, was a 92-inch diagonal 5 series Zero Edge frame from Screen Innovations paired with the company's Short Throw (ST) material.
Tweaking image geometry proved fairly easy using the projector's built-in test patterns and adjustable feet. There are Tele and Wide zoom controls to adjust image size and position controls to adjust horizontal and vertical placement, but these are all digital controls that reduce resolution by remapping the image on the projector's display chips. Image focus with the LS100 is a bit odd in that you have to remove the projector's air filter cover and raise or lower a lever tucked away in that compartment. Fortunately, this is something you typically have to do only once, and the Epson's control allowed me to achieve crisp image focus across all areas of the screen.
The LS100's picture presets include Cinema, Bright Cinema, Dynamic, and Game modes. Making my adjustments in Cinema, I used the Customized controls in the White Balance menu to adjust its grayscale by tweaking the RGB gain and offsets. I also selected a gamma setting that gave me a balance closest to a 2.2 target, and I used the color-management controls in the RGBCMY menu to tweak color point accuracy. Controls in the Image Enhancement menu let me adjust image sharpness without adding any ringing artifacts or other noise to the picture. Last, I selected the High Speed option in the Dynamic Contrast menu—a setting that delivered the best overall contrast ratio when used in conjunction with the projector's Quiet Light Source option.
Performance
I did plenty of casual viewing with the Epson projector and Elite screen before seriously digging in for my review. During that time, I found the picture to be satisfyingly bright, with decent contrast even during daytime viewing with room lights left on. With a maximum 70 foot-lamberts of measured light output, brightness isn't as powerful as what you'd get with a flat-panel LCD TV—or even an OLED TV, for that matter. But it was better than what I measured with the Sony VPL-VZ1000ES, though that projector delivered a higher measured contrast ratio.