Epson Home Cinema LS100 LCD Projector and Elite Screens Aeon CLR Screen Review Page 2
As I watched The Lego Batman Movie in dim, theater-like viewing conditions, colors in the computer-animated images looked bold and well saturated. Contrast wasn't nearly the same as what I typically get using a good regular projector and screen in those conditions, but the blacks were still reasonably dark. Both color saturation and contrast remained solid when viewed from an off-center seat—something you can't say for many flat-panel LCD TVs, even the most expensive ones.
When I checked out the blackand-white "Noir" version of the movie Logan on Blu-ray, the picture looked reasonably punchy. But shadows still came across as dark-to-medium gray, rather than a deep black, in scenes such as one where the mutant girl Laura eats cereal in the abandoned chemical plant where Logan and Charles are hiding out. However, the picture did look detailed and crisp, and it displayed a range of fine gray tones. Image uniformity was very good; I saw a small degree of tinting at the edges of the picture, but it was fairly minor and, for the most part, not noticeable.
The Epson's positive performance attributes—ample brightness, accurate color, good detail and uniformity—were all on display when I streamed an episode of Mindhunter on Netflix. In a scene where Holden walks through the entrance area of a prison, I could see a surprisingly wide range of colors in the bland, institutional environment. And when he sits down in a meeting room to interview serial killer Ed Kemper, the skintones of both men looked natural, and there was a subtle rendering of daylight that streams in from a window to the otherwise dim space.
Elite Screens Aeon CLR Screen
AT A GLANCE
Plus
Affordable UST screen option
Good color uniformity
Good ambient light rejection
Minus
Less-than-ideal brightness uniformity
Screen reflections from overhead lighting
Arduous self-assembly procedure
The 90-inch-diagonal Elite screen ($799) that we tested with the Epson was an "edge-free" model that mirrors the ultra-thin-bezel design of current flat-panel TVs, with a bezel width of 0.5 inch. Elite makes it available in 100- and 120-inch sizes as well, and has a similar material available to installers through its EPV Screens professional division. The Aeon CLR series uses the company's StarBright CLR, a 0.6-gain ambient-light-rejecting material with an optical structure that's designed to filter out overhead light coming from the ceiling. Viewing angle is specified as 180 degrees. Wall-mounting and LED-backlighting kits come with the screen, though a backlighting kit wasn't included with my review sample.
Unlike some other ALR screens, StarBright CLR is a flexible material that can be rolled up, which allows Elite to deliver the screen in a compact box. Along with allowing it to be navigated to the install site around tight corners that a large, rigid screen might not travel through, this usually saves money on shipping costs.
The catch is that you have to put the screen together yourself, assembling the sharp-edged metal frame, tightly wrapping the screen material around it, and then fastening everything up with Velcro. Also, the bezel needs to be attached with adhesive strips, and the bond that this created was a bit flimsy. While I didn't have the same physically taxing experience assembling the Elite screen as I did with the model from Screen Innovations, there were moments when I found myself in the Ikea zone, trying to follow the instruction manual. Fortunately, Elite has a how-to video on their website that more clearly details the process.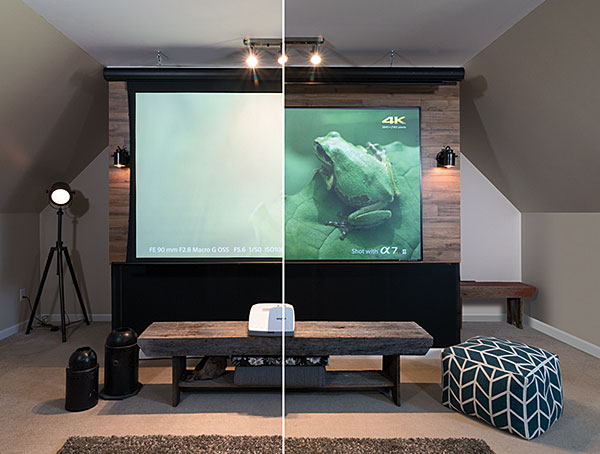 Once assembled, the Aeon CLR screen had an impressively solid build and seamless look for a $799 model. The screen material itself has a black surface with a slightly reflective quality that makes it look even more like a flat-panel TV. When I projected video onto it, with overhead ceiling lights turned on, I saw some onscreen reflections. They weren't as bad as what you'd get with a regular TV, but they were hard to overlook. When I eventually swapped out the Elite Aeon CLR for the Screen Innovations Zero Edge frame and Short Throw material for a comparison, I didn't experience the same reflections.
Brightness and color temperature measurements I made on the Aeon CLR across multiple points on the screen (available with our web version of this review at soundandvision.com) revealed impressive color uniformity, with a negligible degree of color shift on full-field white and gray test patterns. Brightness uniformity wasn't as good as with the Screen Innovations setup, however, with measured brightness dipping by as much as 11.6 ft-L in some sectors, compared with 7.1 on the SI when I performed the same tests. Still, I can't say I had much to complain about when I watched movies and TV: Any brightness differences between the center and corners of the picture were difficult to spot unless I was looking for them. Contrast ratio measurements I made with both screens revealed an equivalent performance level.
In sum, the Elite screen doesn't offer the same degree of overhead light rejection and brightness uniformity as the Screen Innovations model. And build quality isn't as solid, though it definitely exceeded my expectations. That said, the SI costs $4,199, whereas the Elite is only $799. And once they're installed, both look good—good enough, at least, to forget that they're there, which is what you want to do with a screen. Viewed from that perspective, the Elite Aeon CLR is a great option for a budget UST projection system.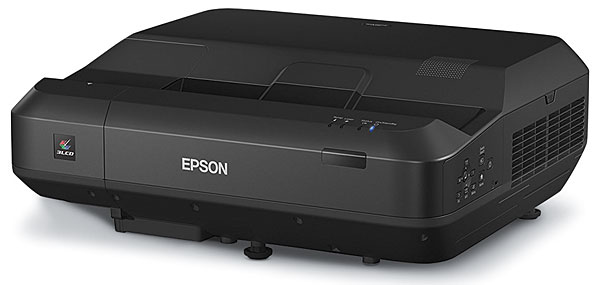 Conclusion
For a total price of $3,799, this projector-and-screen combo can display a satisfyingly bright picture as large as 130 inches diagonal while taking up little more space than a stand-mounted flat-panel TV. And it will do that in a well-lit environment, such as a typical living room. It also brings the benefit of excellent off-axis uniformity, so viewers at all seats in the room can experience the same picture quality.
Where this system comes up short compared with a regular-projector-and-screen combo is contrast: Shadows lack the depth and punch that the best projectors readily deliver in dark, theater-like settings. That limitation comes down to the Epson LS100, which isn't capable of delivering the same punchy contrast as the Sony VPL-VZ1000ES I tested in my last UST projector review—though the Epson does exceed the Sony when it comes to color uniformity. And, of course, it costs a fraction of the Sony's price. When you consider the solid level of performance delivered for the money, the Epson/Elite Screens duo makes for a fantastic value proposition in UST projection.