A Screen for All Seasons
Special screens for special purposes.
There are a number of reasons why front projection doesn't have the same popularity as other display methods. The biggest factor is integrating the screen and projector into an environment that has to be lived in. Sure, some of us (like me) have no problem blocking out all light in our living rooms so we can watch our projector during the day. I also don't have kids that could muck up the screen. If either of these issues has prevented you from going front projection, check out these screens.

TAW XtreamScreen
One of the most original screens I've seen in a long time is TAW's XtreamScreen. TAW bills it as an indestructible screen. It is made of a material that feels like coarse plastic. Foods and many chemicals do nothing to the screen. You can claw at it, hit it, and apparently stand on it. (I didn't test that.) So, regardless of pretty much whatever your kids or drunken buddies throw at it, you should be able to clean it up with some detergent. For those hard-to-clean stains, you can even use paint remover. But, wait—there's more. An indestructible screen has uses in that harshest of environments: the environment. Leave it outside for those poolside movie nights or to annoy the neighbors with 24-hour showings of your kids being born. With a gain of 6.0, brightness won't be a problem. The XtreamScreen comes in 70- ($1,595), 92- ($2,295), 103- ($2,499), 110- ($2,799), and 123-inch ($3,299) sizes. Kid-proofing a home theater is no small task, and, with the cost of regular screens, most people don't want to have to replace them the first time Junior discovers scissors.
• www.xtreamscreen.com

Geoffrey with a TAW XtreamScreen
Sony HCS-W80 ChromaVue
When you first hear about the ChromaVue, skepticism is understandable. Sony's claim of a watchable, even decent, front-projection image with the room lights on is difficult to believe—at least, it was for me. Then I saw a demo with a screen that was one-half ChromaVue material and the other half a regular white screen. The difference was night and day. With the room lights on, the ChromaVue was completely watchable, while the white screen became washed out and difficult to see. ChromaVue works by only reflecting the exact red, green, and blue wavelengths created by the UHP lamps nearly every projector uses. (So, Sony's own xenon-lamped VPL-VW100 won't work.) The screen absorbs the rest of the light. So, the result is a contrasty image regardless of ambient light (within reason). Perhaps best of all, when the projector is off, the screen color is a stylish black. You'd think this would mean it's a negative-gain screen, but it has a gain of 1.7. At the moment, only an 80-inch size is available, and it's $2,000.
• www.sonystyle.com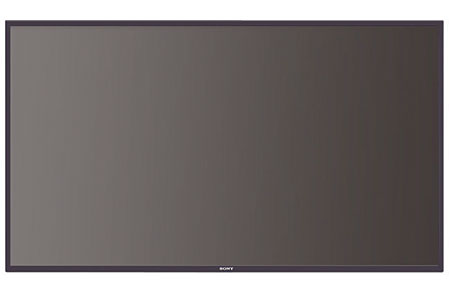 Sony's HCSW80 has a black tint.
dnp Supernova
You may not have heard of dnp before, but they are a longtime maker of parts for lots of other companies. Their Supernova screen combines a little of the Sony screen and a little of the XtreamScreen. The Supernova uses nine layers that block light coming from off axis and only reflect the light coming from the projector. This does mean you need to set your projector in a specific place, but, after that, room light should have very little effect on the image. So, like the Sony screen, you can use it with room lighting. It should give a little more pop to the image, thanks to its 2.0 gain. Like the TAW, it has a hard outer coating. It's not "indestructible," but you can write on it with dry-erase markers with no problem. The Supernova is available in 45- ($979), 60- ($1,999), 72- ($2,039), 84- ($2,109), 92- ($2,769), 100- ($3,779), and 120-inch ($4,639) sizes with aluminum frames. A black frame is also available for a little more. There are also 4:3 sizes, but who cares about 4:3?
• www.supernovascreen.com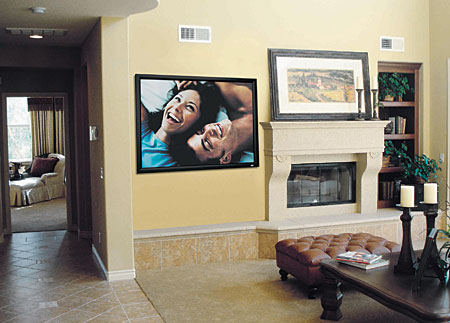 dnp Supernova screen
So, don't let life get in the way of movie-watching bliss. There's always a way to fit a projector into your house.