EPV Screens DarkStar UST 2 Efinity Projection Screen Review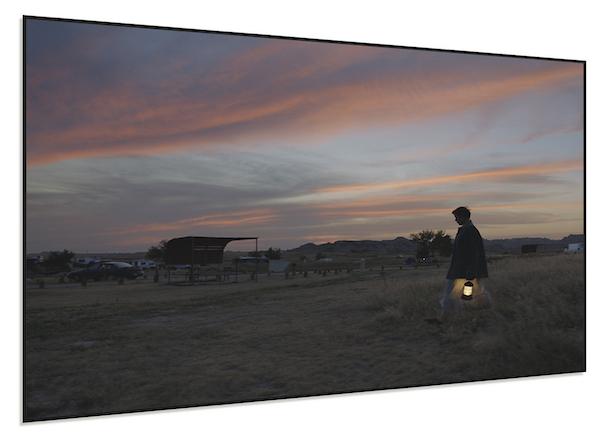 PRICE
$2,799
AT A GLANCE
Plus
Highly immersive image from 123-inch screen
Easy assembly
Five-year warranty
Very good value
Minus
Requires high brightness projector for best performance
THE VERDICT
If you're looking for an ultra-large screen to pair with your ultra short throw projector, the DarkStar UST 2 Efinity offers impressive performance and value.
With ultra short throw (UST) projectors available from a growing list of companies including Epson, LG, Hisense, Optoma, Vava, and now Samsung, it's clear that the category has become firmly established. That's no surprise given the ergonomic and screen real estate- per-dollar benefits such models offer, but getting the best picture quality from a UST setup requires a specific screen pairing. We've frequently discussed ambient light rejecting (ALR) screens in Sound & Vision and have reviewed a fair number of them. But a UST projector requires a specialized type of ALR screen—one like the DarkStar UST 2 Efinity from EPV Screens.
What makes a UST screen different from a typical ALR model is the structure of the optical coating on the screen's surface, which is aligned to filter out light emanating from above the screen while reflecting light coming from below where the projector is positioned in a UST setup. Screens such as the DarkStar UST 2 Efinity also feature a black layer that helps to absorb light and increase both contrast and color saturation. The formulation used for UST screens allows for overhead room lights to be left on but doesn't fully reject light hitting the screen from its left and right sides, so you'll need to exert some degree of control over ambient room lighting conditions for best performance.
The DarkStar UST 2 Efinity is sold exclusively by EPV Screens' dealer network and arrives in a 68 x 8 x 12-inch (WxHxD) shipping carton. Given the compact size of the package that arrived at my door- step, I was somewhat mystified to learn that its contents would yield a 60.7-inch high by 107.3- inch wide (123 inches diagonal) screen when fully assembled. I use a 100-inch diagonal Screen innovations Short Throw as a reference and consider that to be "big." But once the DarkStar UST 2 was fully assembled, I found myself surprised by how dramatic a size boost stepping up to 120-plus inches delivered—this was by far the most immersive image I've yet experienced in my home.
Adding to that sense of visual immersion is the DarkStar UST 2 Efinity's fixed Edge Free frame, which, at just 0.4 inches wide, delivers the same floating "bezel-free" look you get with certain large flat-panel TVs. EPV Screens' specs list gain as 0.8 percent, overhead light absorption at 85 percent, and viewing angle as 160 degrees. The DarkStar UST 2 Efinity is also ISF Certified, 8K and HDR ready, and comes with a five- year limited warranty.
Setup
The unavoidable heavy lift when buying a projection screen is assembling it yourself, something you'll need to set aside a few hours to do and ideally with a second set of helping hands on deck. Fortunately, the DarkStar UST 2 Efinity comes with a detailed, well-illustrated instruction manual that I mostly found easy to follow. An online support video would have been a welcome additional resource here, but I couldn't find one dedicated to this particular model when I checked out the company's website.
After piecing the aluminum screen frame together using the included hardware, the next step was to insert a vertical center support bar to stabilize it. EPV Screens also supplies an oversize sheet of foam, and this gets used to lay the screen material on when attaching it—a step that requires using metal springs to latch perforations on the material's outer edges to grooves on the frame's back side. (The material's surface can be very easily damaged, so two sets of white cotton gloves are included and should be used whenever handling the screen.) Once that's done, you affix the black edge trim frame pieces to the screen's top, bottom, and sides, and use angle covers to finish off the corners. Of the entire kit, the angle covers were the only components that used adhesive tape instead of screws for fastening, and consequently struck me as a bit flimsy.