OutStandingScreens OSS Drive-In 16 Outdoor Projection Screen Review
PRICE
$549
AT A GLANCE
Plus
Stupidly simple setup/takedown
Machine-washable screen material
Front- or rear-projection configuration
Minus
Thin (though strong) aluminum poles
THE VERDICT
Affordable, easy to set up, and convenient to transport, this huge screen has an awesome picture and provides more fun than just about anything else you can do outdoors with your clothes on. What more could you want?
Not everyone is as keen on outdoor televisions as I am. In fact, most people with whom I've discussed the subject have walked away convinced that I was a blithering idiot—or, at least, more of a blithering idiot than I'd previously proven myself to be. On the other hand, the folks who've had the chance to watch a movie or a playoff game on one of the outdoor TVs I've tested over the years have invariably come away from the experience with a totally different (ahem) outlook. For those of us who have watched TV au naturel, there is nothing ridiculous, extravagant, or abnormal about it. It's just one heck of a good time.
There's something about the nature of an outdoor TV setup that gives watching one a festive air, and as is often the case with get-togethers, the excitement grows as the number of people increases. (Even golf might—I said might—be entertaining if you could convince six or so people to watch it with you outside.) Of course, the larger the screen, the more people you can fit in front of it. I discovered that fact some years ago when I backyard-movie-party-tested a 72-inch inflatable projection screen that, at the time, seemed enormous—and enormously fun for everyone there. In retrospect, after receiving the OSS Drive-In 16 Outdoor Projection Screen from OutStandingScreens, that old blimpish, jolly 6-footer seems more cartoonish than bijou-esque.
Ginormous but Compact
There are several things that make this screen, if not unique, at least quite unusual, the most obvious of which is its size. The screen real estate measures an impressive 16 feet wide x 9 feet tall. (Give yourself half a point if you can guess the aspect ratio without using a calculator.) In layman's terms, that's a 220-inch-diagonal screen—around twice the diagonal of the screen in my home theater. With a screen this size, you don't need to landscape your backyard to accommodate stadium-style seating.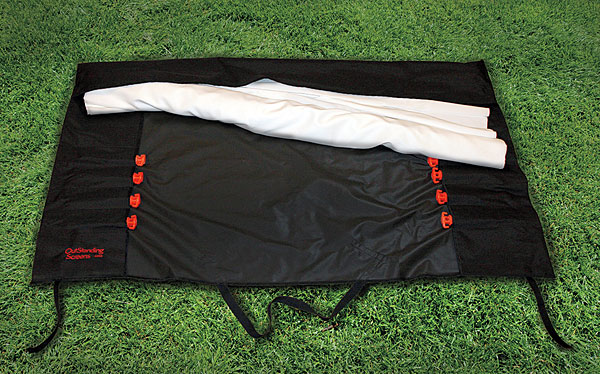 You'd think that shipping a screen this ginormous would require a packing crate and an obscene freight upcharge, but the screen, posts, and other setup hardware—including a heavy-duty 30-foot tape measure and an equally manly, 1-pound rubber mallet—arrive at your doorstep in a cardboard box that's 6 x 6 x 72 inches. Inside the carton, the parts and pieces for the screen come stored in a well-designed canvas carrying bag that even includes pockets for the stakes. In all, the bag and parts weigh around 20 pounds.
How is it possible that a complete 220-inch screen can fit into such a convenient storage/carry bag? It's because the OSS Drive-In 16′ screen sets up similar to the way a backyard badminton net does, using aluminum side poles (measuring 11 feet, 3 inches tall) that slip into fabric channels sewn into the left and right sides of the screen. Each pole is composed of two shorter sections that insert one into the other, which is why the entire kit can fit into a 72-inch-long carry bag. Two pre-installed eye bolts near the top and middle (approximately) of the assembled poles are already pre-threaded with adjustable, red anchor ropes, which get attached to bright-orange, plastic ground stakes (four per side), each measuring 11 inches long x 2.5 inches wide (at the top).
A Breeze to Set Up, but Not in a Breeze
Setting up the screen is stupidly simple. After using the included tape measure to mark spots for the poles that are equidistant from the projector (oh, yeah, you'll have to supply your own projector…damn…), you pound in the stakes at various points that are 8 feet out from each pole's intended location. After looping three of the support ropes around each one's individual stake, you use the fourth rope to pull the pole in place before looping that rope around its stake. Then you repeat with the other side. It can definitely be done by one person, although it's easier with two people—especially in breezy conditions, since the screen acts like a 16-foot-wide sail. After the first time, most people should be able to set up the screen from scratch in less than 20 minutes. If you regularly set up the screen in the same place, you can save time by installing a permanent group of support stakes; keep the original stakes in the bag for use in alternate locations. You can visit the company's Website and click the YouTube link to see a video of the setup procedure.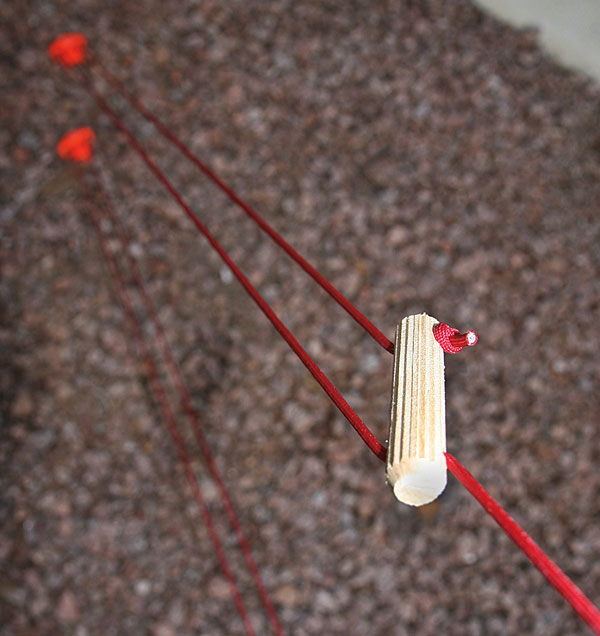 OutStandingScreens says the whole thing is made in the U.S., and in addition to being mold-resistant and fire-retardant, the cloth screen material is machine-washable (cold water, cool dry). That's extremely important because there's no doubt that even the most fastidious setter-upper is going to get dirt and/or grass stains on the screen at some point. There's also the fact that a screen of this size will make an irresistible target for any bird within 10 miles.
The company points out that, unlike inflatable screens, the OSS Drive-In doesn't require electricity—which means that even though you'll obviously need power to run the projector and source component(s), you won't have to worry about an additional extension cord (with the additional tripping and shock hazards) for the screen. Another advantage the OSS Drive-In has over most other outdoor projection screen setups is that it can be used for front- or rear-projection configurations. That's an important aspect because having rear-projection capability, especially if you have a short-throw projector, expands your placement options and offers the possibility of getting the projector/source/cords totally out of the way.
Not as Good but Better
In order to go as portable as possible, I asked BenQ to send a sample of one of their HT1075 projectors (review at soundand- vision.com) along with a matching Wireless Full HD Kit. This meant that, as long as I stayed reasonably close to the house, I could access two source components in the rack in my home theater. (BenQ just released a short-throw version of the projector, the HT1085ST, but I opted for the HT1075 because of its lens shift capability.) I must say that I was dubious about getting a bright, watchable image on a 220-inch screen from an $899 (retail) projector (the wireless kit is an additional $349), but I wanted to use a relatively affordable model to go with the $549 OSS Drive-In screen—keeping the combo under $1,500, which is about what you'd pay for a 32-inch outdoor LCD TV. (To be fair, I also used a Soundcast OutCast wireless outdoor speaker system (review at soundandvision.com), making the total price closer to $2,500, but that's still cheaper than a 46-inch outdoor TV.)
The results were stunning. After I made some minor adjustments to the support ropes, the screen stayed taut and flat. And the image quality wasn't just acceptable; it was spectacular. In fact, although nobody was interested in seeing me set up the screen, everyone came out of the house to watch the show—and that was just to look at the projector's onscreen menus! Once I started playing Gravity, a movie meant for the big screen if ever there was one, they were hooked.
Would the image have been better if I'd used a 4K projector to project the 220-inch image? Yes. Did the picture quality match what I'd get from the BenQ HT1075 on the 110-inch Screen Innovations screen in my home theater? No. Did I, or anyone else watching, notice or even care? Absolutely not. The great outdoors isn't a place you go to find reference-quality video—or audio, for that matter. But even without those caveats, there was no reason to apologize for the picture quality, either.
Conclusion
What this $549 screen provided was a truly outstanding-looking and thoroughly exciting outdoor theatrical experience, one that would cost a lot more to create by other means. While the affordability is important, the screen's most significant aspect is its ease of setup. Being easy to use means it's more likely to be used, over and over. In fact, it's so easy that choosing which movie to rent/stream will probably be the more difficult chore. In my opinion, that increases the value of this screen immensely. I've always been a fan of outdoor TVs, and the OutStandingScreens OSS Drive-In 16′ Outdoor Projection Screen just made me an even bigger fan.