Stewart Filmscreen Phantom HALR Ambient Light Rejecting Screen Review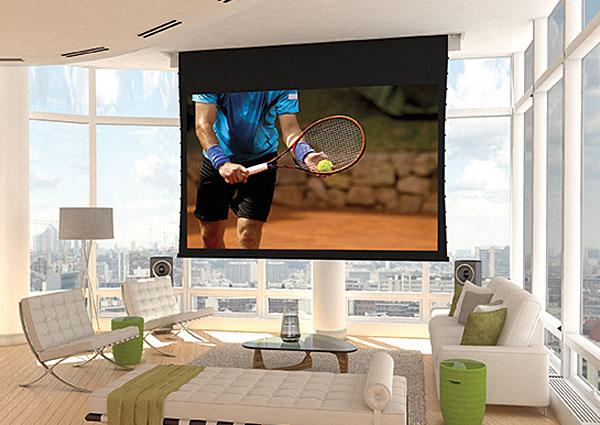 PRICE
$4,132 as reviewed
AT A GLANCE
Plus
Excellent off-axis light rejection
Wide viewing angle maintains color saturation
Very good calibration accuracy
Minus
Cloudy artifacts with camera pans on bright scenes
High price
THE VERDICT
A paradoxical hybrid that blends excellent contrast management for challenging viewing environments with a frustrating callousness about pristine image fidelity.
Two years ago, Sound & Vision contemplated how pairing sub-$2K projectors with innovative ALR (ambient light rejecting) screens might compete as similarly priced replacements for large flat panels in multipurpose environments. Compelling, immersive, life-size projected images for the same currency swap as a diminutive, backlit, uh…TV?
We celebrated our certainty at pinpointing every red, green, and blue-blooded home theater enthusiast's eureka! moment. Back then, mainstream TV size effectively peaked at about 80 inches. Now, flat panels again are staking out ever-increasing amounts of naked wall space—as evidenced recently by Sony's 100-inch XBR-100Z9D, which shamelessly persuades the well-enough heeled that it's a better use of electricity than the Tesla Model 3 they'd been fancying. We also reviewed two artful approaches to ALR screens, Elite Prime Vision's DarkStar 9 and Seymour-Screen Excellence's Ambient-Visionaire Black 1.2 (April 2016 and our website), both of which earned Top Pick status.
At CEDIA 2016, Stewart Filmscreen unleashed their assault on unrestrained photons, introducing the Phantom HALR (High Ambient Light Rejecting) screen, a greatly anticipated antidote to contrast-hampered viewing conditions. Was this a case of last-minute bidding by a 70-year industry stalwart, casting their "We can, too" product into an already crowded ALR arena? A peek at screen history reveals quite the opposite—and Stewart, it turns out, is well rehearsed in the role of battling the wandering light.
Screen Wars: Episode 1
A decade before the emergence of current ALR screen designs—a few boasting exotic build materials suspected to be taken from Area 51—Stewart's optical alchemists purposely brewed reflective formulations to aid projectors needing a little help against unfettered light. GrayHawk RS debuted in 2001, designed to provide necessary assistance in picture areas displaying dark content for then nascent digital projectors deficient in black level. The FireHawk G1 followed a year later with a unique approach inhibiting entry of nonprojected light into the viewing area.
Most of today's ALR efforts feature variations on a solid, semirigid, Mylar-like theme. Ingenious manufacturing techniques deposit layers of nearly atom-sized mystery particles onto these surfaces that direct, reflect, and reject unwelcome light from sources other than a projector. Stewart retained flexible vinyl, also used in their iconic StudioTek screens, for the Phantom's substrate backbone. Vinyl empowers Stewart with such advantages as enabling the Phantom to remain seamless to a massive 90 x 40 feet. And whether the screen is flat-hanging, cine-curved, or electrified to be a stowaway, Stewart's two perforated-screen options—Microperf X² THX Ultra and Cinemaperf—hide speakers from view, providing a flexibility that the quasi-rigid ALR competition can't claim.
The Phantom's heavy lifting results from two distinct layers applied to the vinyl body, combining for a peak gain of 1.0, with half gain breached passing 30 degrees each direction away from center. The outer layer is a two-way diffusion coating, allowing projector light to pass through and be returned back into the viewing area, but only when the lens is perpendicular to the screen. This suggests that projector placement must, as always, be mechanically precise, with no reliance on digital correction. Lens shift is, by definition, mechanical; vertical lens shift should be minimally used as required. Aside from slight touch-up, the need to use horizontal lens shift (and then overuse it) indicates misplacement of the projector or screen—move something. Menu-executed digital geometry adjustments, however minor, correct for the presence of skew. This can introduce interplay with the screen's diffusion layer, treating light entering angularly as astray and not emanating from the lens. The second layer on the vinyl body is a sub-layer composed of a highly reflective optical coating. It's designed to return only light entering perpendicularly back through the transmission layer.
Slotted into the Stewart lineup as a black screen (actually, dark gray), the Phantom was conceived to provide greater ambient light rejection than four other Stewart screen materials categorized as "gray."Initial setup of my Phantom sample went smoothly. Stewart's timeless design—with quick-snap fastening of the screen material to the easily assembled frame—required a mere 15 unassisted minutes to take the screen from shipping box to viewingready. To make it easier to move the screen between two theater rooms, I had requested optional "T" floor stands; this meant I didn't have to remove existing screens, and it afforded rapid comparisons. A design feature provided easy elevation adjustment of the 96 x 54-inch, 16:9 screen. Plan on tacking 6.5 inches onto the screen's horizontal and vertical viewing-surface dimensions for the robust, tension-retaining frame, whose beveled sections are shrouded in Stewart's contrast-enhancing, light-absorbing VeLux appliqué.
The screen material initially exhibited an acute odor (imagine newly applied varnish), which persisted for weeks. When I contacted Stewart, an engineer responded that this was normal. Given that Stewart manufactures to strict California environmental regulations, I felt no additional concern, and the scent eventually subsided. But it took a while.
Many thanks to Epson for extending the loan of their PowerLite Home Cinema 3500 (May 2015 and our website), which allows for projector consistency in our reviews of ALR screens.
Let There Be Light
Prior to critical viewing and color calibration, I sampled memories for other screen materials that I had saved in the Epson. I was curious to see whether the Phantom favored a particular setting—including one I thought might be very close, the setting for the FireHawk G3 screen I own. That memory wasn't as appealing as one for my Labsphere reflection target (a color-neutral reference material that reflects light equally from any angle). This similarity was encouraging, suggesting that the Phantom's goal for color accuracy and uniformity may have been accomplished, which I suitably confirmed after calibration.
A Seymour-Screen Excellence Ambient-Visionaire Black 1.2 resides as my reference ALR screen for my overly windowed Theater Two. I find that it delivers plausible late-afternoon images when so tasked and excellent fidelity from dusk into nightfall; meanwhile, it's seemingly impervious to judiciously placed localized lighting. The proof is in the pudding, so to speak: In tandem with the Epson projector, this screen works quite nicely as a "TV" and has forced the relocation of my Panasonic plasma to a movable cart—though it retains visitation privileges.
Stewart cites the Phantom's minimum throw distance as 1.8 times image width to avoid hotspotting (where the screen middle appears noticeably brighter than perimeter areas). I positioned my sample at the screen wall, standing on the floor in front of an equipment rack, leaving scant room for deviation. The Epson rested atop a tallish cabinet against the back wall, ideally situating the lens at screen center, 14.5 feet away. With this scenario in place, it was time to test the Phantom's mettle.