Elite Prime Vision DarkStar 9 Projection Screen Review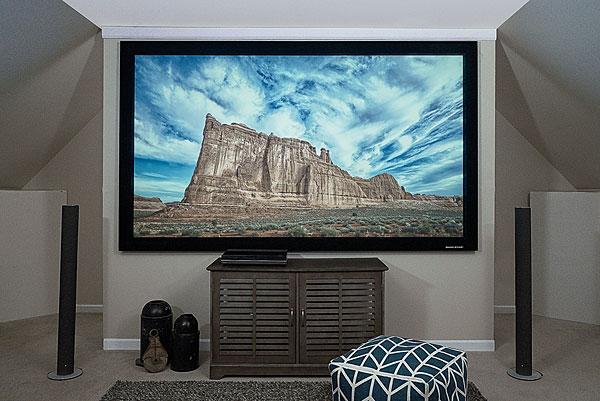 PRICE
$3,138 as reviewed
AT A GLANCE
Plus
Exquisite color rendering
Solid black level with a tremendous sense of image depth
Glare-free viewing with sensible ambient light level
Minus
Pricey compared with Elite's traditional screen materials, though in line with or cheaper than some other ALR solutions
THE VERDICT
No misgivings apply to this multi-layer, firm-surfaced material. Every atom of detail in the source reflects back with seemingly free, bonus lumens. If there's color shift at extreme angles, it's only measureable, not noticeable.
High light-output capabilities and receding prices in the DLP and LCD projector camps have recently broadened the application possibilities for two-piece projection video. One facet of design garnering prominent attention from screen manufacturers is ambient light rejection (ALR) technology, which allows a projector/screen combo to function as the big-screen TV in a multipurpose room the way a flat-panel TV might—though at a potentially much larger size.
A branch root of these innovative endeavors may be time-lined by the introduction of "gray" screens during the toddler days of LCD projection, as struggling black levels found welcome assistance from tinted screens. Arguments may ensue over whether "tint" is the appropriate connotation here—some insisting that, in the realm of projected light, gray is a shade within the overall balance of correct colorimetry and not an alteration. Well, then, imagine delivery day of your special-order Ferrari California in Bianco Avus, only to find that when unveiled, a Grigio Ferro exterior makes your acquaintance. Mamma mia! In the primordial days of screen benefaction, the general populace took kindly to the darker grays provided by these screen types. Sure, a few pesky devotees of the industry-standard D65 white point objected that some formulations were red-subtractive or made hockey ice appear dull, but we—er, I mean they—accepted forfeiting a portion of light output as ransom for higher contrast ratios.
Many refined forms of gray screens are satisfactorily deployed today in moderate ambient-light conditions. However, driven by fresh thinking and a Formula 1–style, no-holds-barred approach to the problem of projecting images in a lit-up room, some manufacturers have unearthed new materials and applications that produce astonishing results.
Historically, ALR screens have been used when light levels aren't easily harnessed or when partial illumination is desired, such as in dual-purpose areas with down-radiating light for reading. Increasingly, manufacturers are citing the enhanced contrast that ALR screens may provide compared with that of their white-reflective brethren, and they're urging that ALR screens be used in dedicated home theaters, where judicious management of light has always been a priority.
One company purveying a screen with these attributes is Elite Prime Vision, the custom-installation and systems-integration division of Elite Screens. Responding to our request for an ALR screen, EPV provided their DarkStar 9 model in a 110-inch- diagonal configuration (DS110H-ISF). Newly certified by the Imaging Science Foundation, DarkStar 9 is an active-filter, rigid and non retractable, optically based design, not an extruded colored vinyl or vinyl/appliqué hybrid. Will the technologies employed prevent color shift, maintain unity gain, and reject penalizing ambient light? And when the screen is used in a controlled-lighting situation, will it enhance the viewing experience as claimed? Let's see whether our Ferrari will be white or gray.
Materially Speaking
The appropriately named DarkStar 9 offers a 0.9 gain when viewed head-on and offers a generous horizontal viewing angle of 180 degrees (90 degrees left/right) and a vertical angle of 36 degrees (18 degrees up/down). Minimum throw ratio for DarkStar 9 is 1.5x the image width, not the total screen assembly. (More about that in a moment.) In comparison, the original DarkStar material was 1.4 gain with a hori- zontal angle of 70 degrees (35 degrees left/right) and a vertical angle of 32 degrees (16 degrees up/down). Its minimum throw ratio was 1.8x the image width.
Elite specifies a minimum throw ratio so that the vertical optical filter layer of a DarkStar screen, which is designed to absorb ambient light, doesn't also consume the desired projected light. With an excessively close throw distance and DarkStar material, a projector's angle of incident light becomes too steep for correct reflection; instead, that light will be diverted away from the viewer and result in a dimmer image (i.e., the optical filter layer believes it to be ambient light). Also possible is hotspotting, that proverbial "mariner's halo" at the center of the image, often seen on elderly screens in sports bars.
My DarkStar 9 review sample had a screen frame 3.9 inches wide. (Keep in mind that this is an additional dimension for all four sides, appended to the 95.2 x 53.5-inch viewing surface.) While a 2.4-inch Special Edition frame was listed on EPV's Website at review time, the company says it's being discontinued, with development underway on a new super-sleek design.
The 0.3mm retro-reflective DarkStar material, as described in a video on EPV's site, "uses a complex, six-layer microfilter design that maximizes brightness by blocking 90 percent of ambient light." I asked an EPV spokesperson how many layers comprise the screen, earning a reply that they could only "quote 'multiple layers,'" so I defer to the video and presume it to be correct. The com- bination of the recessed reflective layer, below triangle-shaped microscopic filters providing off-axis vertical light rejection, enables the desired projected light to be returned to the viewer. Of the multiple DarkStar layers, one is said to be a tinted diffusion layer to enhance black levels for higher contrast ratios. DarkStar 9 is stated to have a 6x increase in contrast ratio over that of standard matte-white screens.
EPV confirmed that the DarkStar material doesn't offer light rejection horizontally. However, in my time with the DarkStar 9, I found it adequately doing so, perhaps by default.
The reduction of gain from the original DarkStar's 1.4 to DarkStar 9's 0.9 creates the wider 180-degree viewing cone with improved uniformity to minimize color shift, granularity, hotspotting, and a darkened viewing-surface perimeter. DarkStar 9 is compatible with HD, Ultra HD, and 4K, meeting SMPTE .004 standards for dark-room environments.
Setup
The DarkStar 9 frame is one of the most substantial consumer screen frames I've seen. It's a bit of an erector set, in that the top and bottom frame members are each composed of two joined pieces and not shipped as a singular span. But the screen assembled methodically, free of concerns. The viewing surface affixes handily to the rear of the frame via an army of spring clips. Yet from the moment of completion to the time the screen was repacked, I saw no signs of tension forfeiture.