Screen Innovations Solo Pro 2 Motorized Projection Screen Review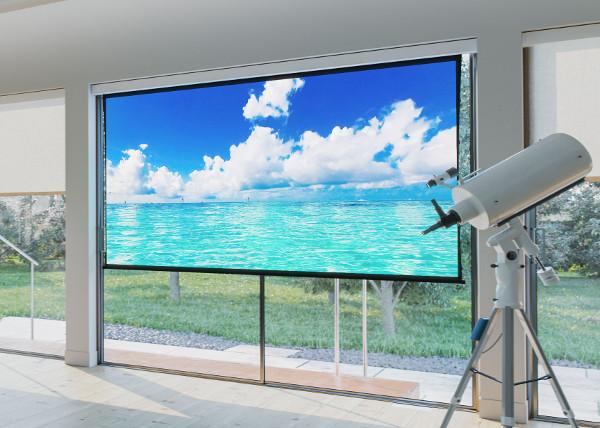 PRICE
$4,000 (as tested)
AT A GLANCE
Plus
Designer colors and mounting options
Rechargeable battery option allows varied placement
Silky smooth, silent retractable operation
Minus
Tab tensioning less robust than competitive retractable screens
Price may deter some
THE VERDICT
The Solo Pro 2 offers a highly flexible alternative to standard motorized screens. And when paired with the company's Slate 1.2 screen material, it provides satisfying viewing in elevated light conditions, and excellent results in lights-out theater mode.
Austin, Texas, that state's vibrant capital city, houses many cultural icons. For Millenials (not me), it means the South by Southwest film, music, and tech festival. For Formula 1 racing fans (ok, I confess...) the Circuit of The Americas is— finally—the home of a United States Grand Prix. And for music devotees of any age (y'all count me in), Austin's official motto, "Live Music Capital of the World," says it all. But for fans of home theater, Austin is where you'll find Screen Innovations, manufacturer of a diverse lineup of projection screen solutions. SI's newest line of motorized screens is the Solo 2 series, a re-engineered version of the Solo family that debuted in 2017. The Solo Pro 2 under review here was designed to provide a high degree of flexibility, with twelve reflective materials including ambient light rejecting, acoustically transparent, and ultra-short-throw in 16:9 and 16:10 aspect ratios, propelled by three different motor capabilities.
My Solo Pro 2 sample arrived in the most compact projection screen box I've ever seen. Secure packaging provided more than adequate protection for the internal contents, which arrived intact and completely assembled—a welcome reprieve from what I'm used to with fixed screen reviews. The total assembly, which SI refers to as the "cassette," was an astonishing 2.9 inches high by 2.8 inches deep and sported a sleek black finish, one of twelve designer colors offered (I must admit, Ferrari Red was tempting). For my review, I requested SI's Slate 1.2, a screen material with a specified gain of 1.2 and an ambient light rejection rating of 65 percent. While my studio can be completely light-isolated when necessary, windows and assorted lighting make conditions possible for ALR evaluations. I further requested the 16:9 aspect ratio option, with the reflective surface measuring 87 inches wide by 49 inches high and the cassette size designated by SI as small. For screen reviews, I take the Install-It-Yourself perspective, and fearing that a larger size might not be manageable solo (bad pun), the small cassette frame seemed ideal.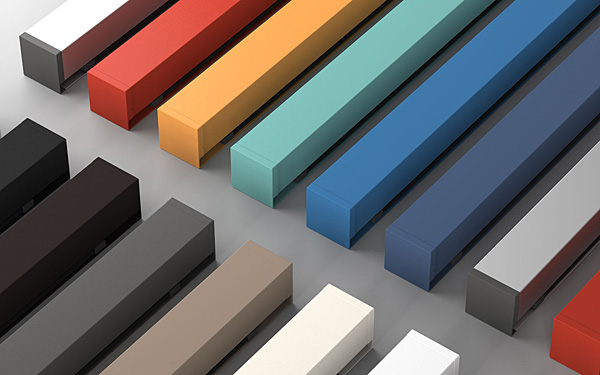 Two more cassette sizes are available to accommodate larger screen sizes. The medium cassette is 3.7 inches by 3.5 inches, while a large cassette that supports screen dimensions up to 160 inches diagonal is still a petite 4.75 inches by 4.6 inches. These are impressively compact, fashionable mechanisms by any standard.
SI offers three power options for the Solo Pro 2, including the AC motor traditionally used for retractable screens. The downsides to that approach are that line voltage needs to be supplied to the screen housing (which requires pre-planning) and a cement mixer-like cacophony can be generated as the screen surface maneuvers into or out of action. Another option is to adapt low-voltage motors such as those used in powered window shades, which offer quieter operation and typically a single category wire connection to provide power plus control. In this case, Screen Innovations offers a 24v DC motor with available RS-485 interface to enable integration with third party control systems such as Control4 and even Alexa.
A third power option is unique to Solo Pro 2: a magnetically rechargeable, lithium battery mechanism with a stated two-year period between charging. This opens up endless application possibilities—the original Solo screen was unveiled at CEDIA 2017 on the side of a classic VW Micro Bus, suggesting that campers have options other than huddling around an iPad to keep tabs on the big game.
Setup
The Solo Pro 2's included standard brackets provide a very slight offset from the wall or ceiling. For my installation, however, I selected the rechargeable Solo Pro 2 assembly paired with SI's easy to use optional Zero Gap brackets that flush the cassette directly to the wall. SI offers additional Décora bracket options for wall or ceiling mounting where the brackets might be visible (such as the "flying kit", which enables the lithium-powered cassette to be suspended by two aircraft grade steel cables, minus any visible wires) that are color-coordinated when ordered with the screen. If the screen were mine to keep, I would select the flying option for its cool factor alone.
With the Zero Gap brackets in place, it was merely a matter of lifting the Solo Pro 2 up and angling the cassette into place—a nearly effortless endeavor. In retrospect, the large cassette with a size matching my 123-inch reference screen would likely have been just as easy.
A supplied RF remote lowers the screen for viewing and returns it into the diminutive housing, all in relative silence via a small whip antenna atop the cassette. SI includes a power supply for recharging, along with a generous 15-foot cable that magnetically attaches to a port on the cassette housing.