Escapes: Secret-Entry Theater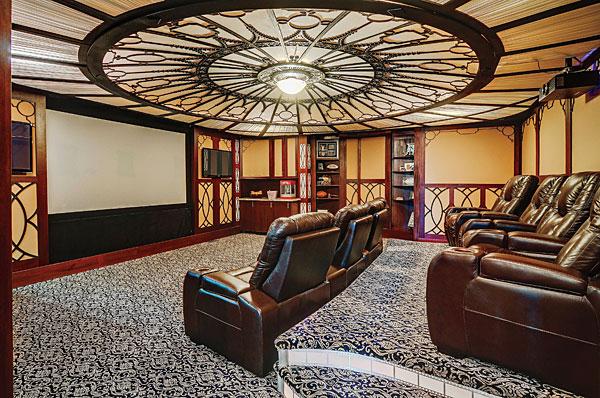 Out-of-the-box thinking among the homeowner, Donny Hackett Designs, and Jacob Abbott of Visual Concepts turned a less than appealing home theater into a magical masterpiece that can only be entered if you know the secret.
After three days of demolition, it was time to start from scratch. It would take about six months before the theater was ready for use. It was located at the end of a hallway, and there was no door. The hallway just ended at the entrance of the theater, providing easy access.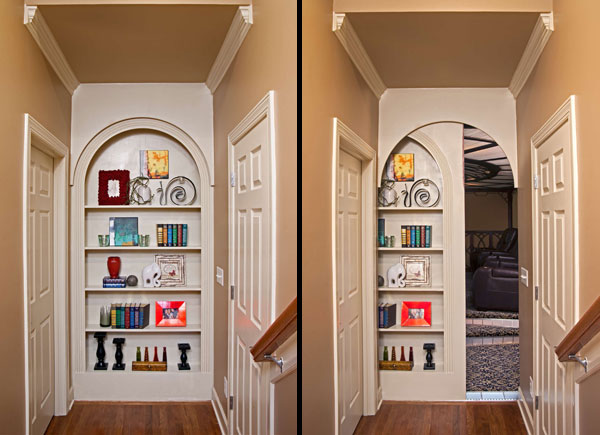 "I came up with the idea to terminate the hallway with an arch-top bookcase, which serves as the door to the theater," says Hackett, the theater's wizardly designer. "To enter, you have to know which of the fake books pulls out, and then the door will open to reveal the theater inside."
A threshold was cut from 0.25-inch aluminum and inlaid with plexiglass to resemble a 35mm filmstrip. The holes in the filmstrip serve as tracks for the bottom of the 200-pound bookcase to roll smoothly back and forth. It was linked to the belt-drive garage-door opener hidden in the suspended ceiling. For the ceiling, Hackett installed a suspended dome, reminiscent of the one used in the film Titanic.
Being a sports fan, the homeowner wanted multiple screens for viewing more than one sporting event at a time, which inspired the inclusion of two LCD TVs alongside the main screen.
What makes the design of this theater so amazing is its versatility and use of all the elements available. When you walk in, you see two LCD TVs side by side. When you want to watch the big screen, the front wall splits in two, sending one TV to the left, the other to the right, and reveals an acoustically transparent, custom-made 120-inch screen in the middle paired with a Panasonic PT-AE4000 projector attached to the back wall. Behind this screen is the in-wall LCR speaker array.
Guests, friends, and family are seated luxuriously in eight Palliser theater seats with power recline. In addition to the A/V system, the six channels of lighting with dimming, motorized panels, draperies, and entry door all run through a Control4 automation system controlled via an Apple iPad.
Contact Donny Hackett Design, (615) 424-0446, donnyhackettdesign.com; Visual Concepts, (615) 426-2655, vchometheaters.com