Epson PowerLite Home Cinema 3500 3D LCD Projector Review Page 2
One hundred hours of lamp aging quickly elapsed, with the Epson in Natural color mode, Iris at Normal, and all other parameters at their out-of-the-box defaults prior to final calibration. During that wear-in period, I never found the pre-cal settings whatsoever disturbing; fleshtones, varied as they can be amongst broadcast channels, always appeared lifelike.
Post-Cal Performance
The pre-cal pass showed the green color point well outside the CIE Rec. 709 triangle and heading south for a visit with yellow, the visual effect being a contribution to higher light output to appeal to the less finicky. After calibration, green was brought inside the CIE triangle, though the best setting left it quite undersaturated. All other colors fell into place, with the exception of cyan, which lined up but was also suffering from undersaturation.

For my post-cal inaugural audition, I turned to an Oppo BDP-103 playing the perennial trade show and calibrator fare The Art of Flight. The opening credits feature trailers from Dolby and Brain Farm Digital Cinema, where the Epson earned its first true demerit. The obvious ding in contrast ratio on those deep black segments will alert the purist to the trade-offs that Epson's engineering team made in favor of big light output and low price. Minutes later, though, the Red Bull helicopter drops the lads off atop some of the steepest mountains in Alaska for their perilous snowboard descent, and it's easy to look past Ferrari desires to acknowledge the Fiat price. The copter looked radiant in the dress of the Red Bull F1 team, while the winter apparel of the brave souls jetting down the slopes mere feet ahead of an avalanche defied the flowery language of even a J. Peterman description from Seinfeld.
During the music-only overture on Sony's restored Lawrence of Arabia, the projector once more revealed a design trade-off: the inability to completely go to black, no matter the Auto Iris setting. As the London Philharmonic Orchestra thunders away on the Oscar-winning Maurice Jarre soundtrack, the projected image, which should be absolute black absent video content, is instead awash with a grayish hue. When the opening credits appear, as Peter O'Toole prepares for his motorcycle ride, black bars top and bottom of the 2.19:1 active image show the disparity against the black Velux of the Stewart screen frame. Still, despite such criticism, one must consider the application of the projector. If the thought is to displace a flat panel with a very large image for everyday TV viewing in some ambient light, then the occasional two-steps-back can be easily dismissed. For $1,600 plus the price of an accompanying screen, you can proudly paste that "Go Big or Go Home!" sticker on the bumper of the minivan.
3D Viewing
With 3D becoming scarcer than Kryptonite, my inclination was to give it due respect but not dedicate a calibration to it, instead using Epson's default 3D settings. My experience with 3D on flat panels has shown that manufacturers tend to enable every brightness-pushing circuit available in an effort to wring out every picolumen of light. While shortage of illumination is hardly a problem for the Epson 3500, my sampling of its 3D wares began in the 3D Dynamic mode. The Epson's versatility with ease of placement and setup makes it a family-friendly projector, where 3D may hold an attraction for younger viewers (for whom a great deal of 3D content exists). My personal feelings about 3D are less than enthusiastic, but I attribute that to having to wear vision-corrective glasses; doubling down with 3D lenses is quite an annoyance. However, I acknowledge the fascination with 3D, and I do not chastise those who embrace it. Those who do will find two pair of durably constructed active-shutter glasses accompany the projector, rechargeable via USB. A full charge affords a claimed 40 hours of "on" time, and Epson says a scant 3 minutes of charging will yield 3 hours; how handy is that at a moment's notice?
Transformers: Dark of the Moon revealed a new twist on the Epson's contrast ratio performance: With 3D glasses, the black bars of the 2.40:1 presentation displayed in the manner you'd wish for in 2D, with the screen disappearing and the image levitating. With the auto iris set to normal, I fortunately saw no overt signs of pumping as various scenes whisked in and out of bright and dark transitions. When I toggled between 3D Dynamic and 3D Cinema modes, I noticed the extra "pop" the Dynamic mode lends.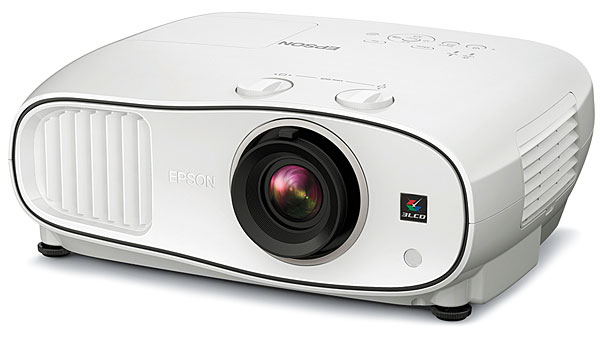 Pixar's Brave pulled me in for a rather extended period as I admired the lush color palette the 3LCD technology accentuates. My recollection of DLP being this admirable with 3D was on a Runco D-73d dual-projector, high-output, LED affair at more than 30 times the price. I'm not at all suggesting that the Epson 3500 competes in the same strata, only that the argument of equal color brightness and white brightness was given credible evidence by the Brave disc. Merida's emblazoned locks as she whisks around the kingdom dispel the notion that 3D is typically dark and drab, a notion I'm left with by most single-chip DLP 3D projectors.
Conclusion
My time with the Epson PowerLite Home Cinema 3500 proved it to be chameleon-like, changing as needed with screen material or environment. Quiet operation in ECO, copious light output, superb color saturation, a full suite of adjustment parameters for tailoring the image in your surroundings, and a satisfying black level even when partnered with a generous screen make this a compelling contender to similarly priced projectors and the largest flat panels. While Epson makes Pro Cinema models with ISF and THX certification for those seeking screening-room accuracy, the 3500 borrows most of those attributes minus the truly inky blacks afforded by greater precision and a considerably steeper investment. A less than state-of-the-art measured contrast ratio belied observation; while I would have appreciated a deeper black level, I never felt it to be overly deficient. Full-screen broadcast content exhibited black levels that composed the image in an eminently enjoyable manner. It took the letterbox bars on wide- screen Blu-ray movies to call attention to the Epson's floating black level.
The collaborative effort by Epson's color science, projector engineering, and product management teams has delivered an out-of-the-box picture that, in the Natural color mode with screen material designed for multipurpose environments, makes for compelling image fidelity. Calibration, however, should not be dismissed for fine-tuning the image to compensate for screen specificity, viewing surroundings, and lamp wear-in.
Taken in total, then, the Epson 3500 boasts dazzling "you-are-there" size partnered with an image as dynamic as a Manny Pacquiao punch—delivered at a price that lets you attend the big match in primo seats and then look for yourself in the crowd at home on DVR. Big fun for less funds, especially if 3D fits your fancy, makes this projector an easy recommendation.