The Doors: The Final Cut
The Doors
biopic to middling box-office success in 1991. Though some disagreement lingers regarding particular story beats and extrapolated mythologizing, there's no denying Stone conveyed much of the perpetual mystique surrounding Doors frontman Jim Morrison with an altruistic eye. Val Kilmer is absolutely riveting in the lead role, inhabiting Morrison with a fully committed, otherworldly etherealness that gave him a polarizing "not of this earth" quality—not to mention the way he exhibited a clear mastery of The Lizard King's growly baritone whenever doing his own on-camera singing.
Stone's grand A/V ambitions—including some big-budget cosmic visualizations fashioned by Industrial Light & Magic—are best realized with this new 2.39:1 aspect ratio 4K presentation with Dolby Vision HDR. Remastered from the original negative that was scanned in 16-bit on ARRISCAN at FotoKem US as overseen by Italy's L'Immagine Ritrovata and Stone himself QC'ing the color grading, it's a notable improvement on the 2008 Blu-ray. Detail is much more palpable, such as the mortar outlines of each individual brick on a building Morrison and Pam Coulson (a somewhat out-of-her-depth Meg Ryan) walk past at nighttime and the sand textures and fore- boding shadows hovering over the desert peyote scene. Foreground images are especially nuanced, like the contrast between the shifting folds in a dark velvet shirt and the shiny reflections of the form-fitting leather pants Morrison often wears onstage.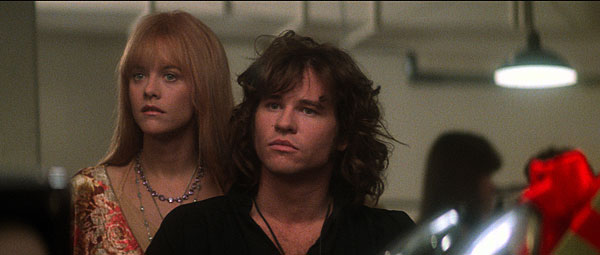 The Dolby Atmos mix is rarely dormant, with natural-environment sounds and extraneous dialogue placed all around you as they should be, including ping-ponging hecklers at an incendiary 1968 New Haven gig and aghast attendees and hangers-on at a Morrison family Thanksgiving gone horribly wrong. The wholly immersive mix of the music itself, from the militant thrust of "Five to One" to a chill-inducing "Not to Touch the Earth" to the evening rush of "L.A. Woman," is as good as Atmos surround gets.
Separate, UHD-exclusive interviews with Stone and sound editor Lon Bender add an observational depth that only comes with the passage of time, while an additional 117 minutes of extras carried over from the previous Blu-ray edition are bountiful in scope and raw honesty.
ULTRA HD BLU-RAY
STUDIO: Lionsgate, 1991
ASPECT RATIO: 2.39:1
HDR FORMAT: Dolby Vision and HDR10
AUDIO FORMAT: Dolby Atmos with TrueHD 7.1 core
LENGTH: 138 mins.(Final Cut Version), 141 mins. (Theatrical Version)
DIRECTOR: Oliver Stone
STARRING: Val Kilmer, Meg Ryan, Kyle MacLachlan, Frank Whaley, Kevin Dillon, Kathleen Quinlan
Oliver stone first heard The Doors while serving in the U.S. Army in Vietnam in the late-1960s, and the impact of their music never left him. Amid much controversy, the Oscar-winning director brought his singular vision for