A DIYers Multimedia Haven
Let me start at the end...When you're a A/V enthusiast, you're never really done building a dedicated home theater room. The best you can strive for is, "this is where the room is as of today". Adding and replacing equipment goes hand in hand with the passion of the audiophile. Over the past 24 months, I've built a dedicated home theater/multimedia room in my house that includes a host of components from Sony.
When I first started this project I contacted Home Theater Magazine for advice. I believe it was Geoffrey Morrison that suggested I contact a local high-end A/V store to do the work. I wanted reasonable "high end" (as it pertains to the average working family) but wanted to complete the work myself. I actually did all the work myself, with the exception of hiring a drywall contractor to spray the wall with the "orange peel" effect and to repair the walls where I ran speaker and electrical wiring, which replaced the #18 gauge wire that had already been pre-installed. There's 200 feet of new electrical wire for lights, switches, and power in addition to 250 feet of speaker wire. The pre-wiring took up a good deal of my time before I could start the actual installation of equipment.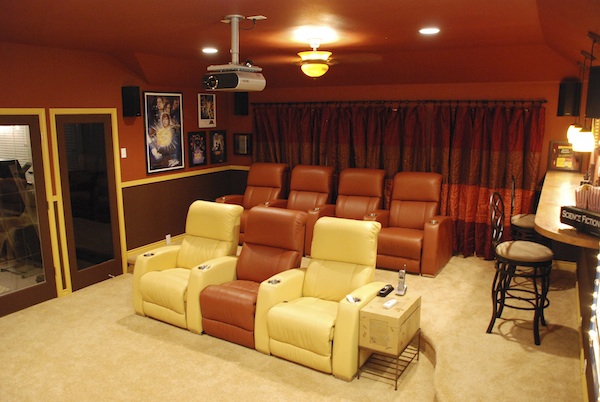 I constructed a raised floor for the seating in the rear, and installed lighting in the riser, which helps people move around without tripping in the dark. It's also a very professional-looking effect. I also had a custom countertop built for the two stools on the far side of the room. I removed french doors that were in the middle of the wall so I could place the screen in that location.
While some people like to hide their electronics, I prefer them in full view and believe it creates a level of excitement and anticipation for my guests when they first enter my theater. I used Sony equipment for most my major components as I am a die hard Sony fan. We use the room regularly for sports, movie nights, gaming, and surfing the web. I may be biased but the room turned out phenomenal. I couldn't be happier with the results and the system's performance. We are still in awe every time we go in, and we knock the socks off our friends and anyone new that comes over.
Equipment
Sony HCS-W80 ChromaView Screen
Sony VPL-HS51A Video Projector
Sony STR-DA7100ES/B Receiver
Sony Playstation3
Sony Viao VGN-N350E/B notebook
Sony LocationFree LFB-10
Sony AIRSA20PK S-AIR iPOD Dock and Wireless Speakers
PANAMAX M5400-PM voltage regulator
Nintendo Wii
Microsoft Xbox 360
(2) Definitive Technology BP7002 (tower speakers with built-in subs)
(1) Definitive Technology C/L/R 2500 (center)
(4) Definitive Technology BP2X (side and rear)
Belkin wireless Router
Harmony 720 (Logitech)
Lutron lighting controls