DIY Reader Home Theater: The Golden Era Theatre Memoirs
How we transformed our room from Brady Bunch shag to old-Hollywood glamour.
Eight years ago, we were in the market for a home that was a little outdated but in a good school district. The home we wound up buying included a "party room" that had been featured in a well-known home-decorating magazine. "Wow, this one might have potential," we thought.
I Got You, Babe
Clearly, the sellers had failed to mention that the magazine article about the room was published in the early 1970s. We affectionately called it Brady Bunch style. To make a long story short, five years went by, and we gradually updated and modernized the home. In fact, we worked on every room in one way or another—every room except one. We spent countless hours trying to figure out what we were going to do with our party room. Finally, it dawned on us that what we had on our hands was something quite unique: a large, bi-level, main-floor room that we could remodel into a state-of-the-art home theater with stadium seating.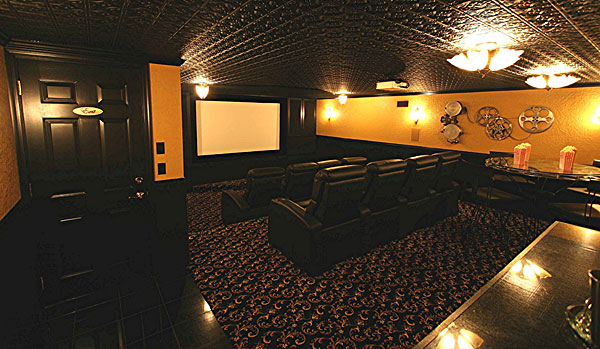 Seek, and Ye Shall Find
I'm a researcher and DIY-er type, and my wife loves to decorate and entertain. It seemed that this project would be perfect for both of us. We invested two years reading forums and learning everything we could about this relatively new type of family room. Clearly, we were novices, but, with my engineering background, the technology and design rules seemed to start to come together before the drywall arrived.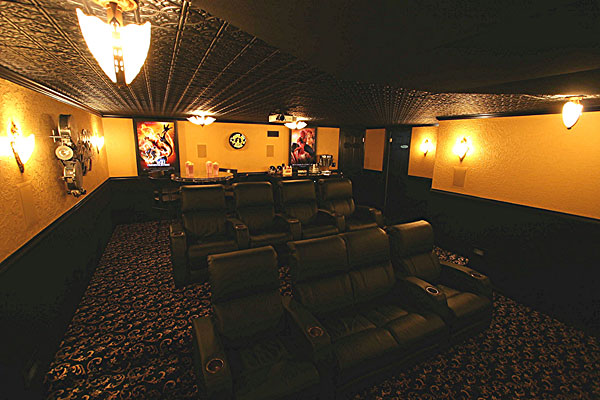 What a major turning point that was. My wife was convinced that I simply must have miscalculated when I ordered 80 sheets of drywall for one room. A layer of 0.5-inch drywall over a layer of 0.625-inch drywall seemed excessive, but there wasn't much about sound isolation that made sense at first glance. My wife never quite bought into the idea of floating walls and a floating ceiling, but she figured it couldn't hurt. Equipment purchases soon became my sideline focus, while décor became my wife's. We were constantly making compromises between what I viewed to be technological needs and her aesthetic concerns. Fortunately, we both agreed that the room should take on an old-Hollywood/art-deco theme.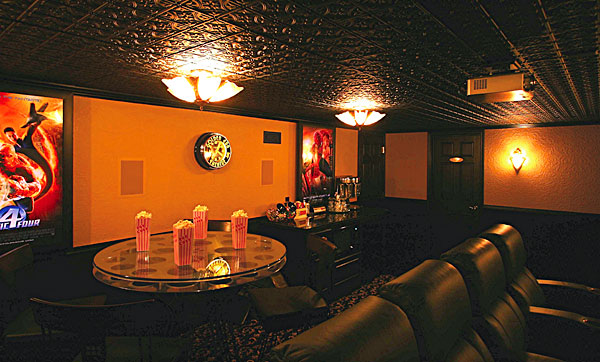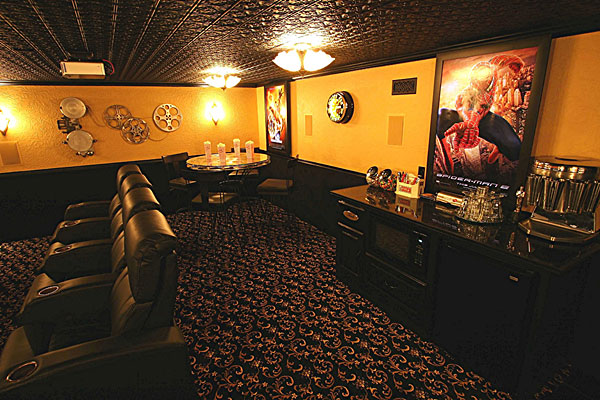 The décor developed little by little. For the walls and ceiling, we needed something bold and with character. During happy hour one day, we happened to notice the cool tin ceilings at our nearby T.G.I. Friday's restaurant. But then it hit me that this wouldn't be practical in a home theater because tin ceilings rattle. With more Web searching, I found paintable faux-tin ceiling panels. I talked to the distributor and found out something even more interesting: T.G.I. Friday's ceilings weren't tin, either. In fact, they used the exact same product I stumbled upon. Painted embossed anaglypta wallpaper was the ticket for the walls, and we decided to go with a bold vintage golden paint on the upper half of the wall and black fabric over acoustic panels on the lower half. This was clearly a compromise that worked.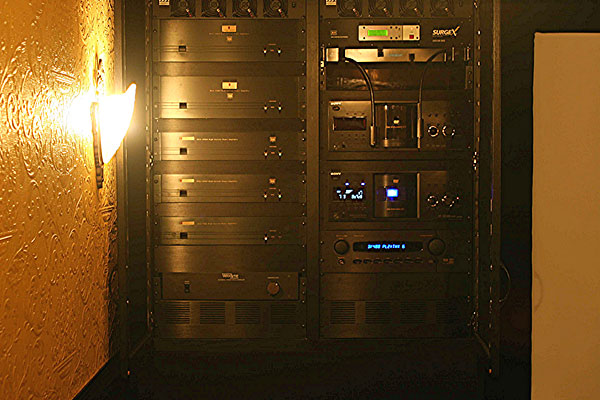 My deliberations over the equipment were no less interesting. There were many pros and cons on the decision of whether a receiver or a pre/pro and amp was the way to go. There's also a tremendous range in prices for either route, which made the decision even more difficult. Thanks to a good deal I found through a friend, I got to buy better-quality equipment than I thought I could justify previously. The speaker selection was also difficult. Luckily, to help simplify my decisions, there weren't many in-wall speaker companies at the time that integrated enclosures with their speakers. In-wall surround speakers were the only acceptable option in my wife's aesthetic opinion, and, luckily, they fit the bill technically. For my front three speakers, I chose ones that are normally found in DVD mixing studios. They are very accurate, near-field speakers. Since I was going to be sitting about the same distance from my speakers as technicians normally sit in studios, these speakers made perfect sense to me.
Our last two big design decisions were centered on flooring and lighting. To say that this took more than two months would not be an overstatement. Art-deco-style lighting and carpet aren't in high demand these days. Persistence paid off, but neither came cheap. By this point, we were over our budget, but the lighting from a company called Rejuvenation was too perfect to pass up. For the floors, we chose a combination of carpet and black granite tile. The carpet that we found after an exhaustive search brought everything together. It was again very bold and just screamed "theater" to us.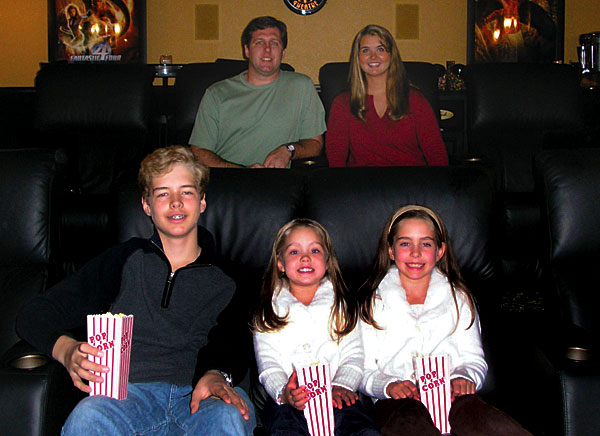 Total cost of theater: $49,500
Complete Home Theater design, installation and integration done by the homeowners. The installation included electrical, ventilation, sound isolation, acoustical treatment, cabinets, wall coverings, granite etc. (carpet installation was hired out).
Projector: Panasonic, PT-AE900U
Screen: SmXScreens, SmX Sound Screen
Preamp: B&K, Reference 50
Power Amps: 2 – Parasound, HCA-1500A (LCR), 2 – Parasound, HCA-1000A (Surround and Rear), 1 – Parasound, HCA-750A (Exterior – Zone 2)
Speakers: 3 – JBL Professional, LSR32 Linear Spatial Reference Monitor (LCR), 4 – Triad, InWall Silver/4 MiniMonitors (Surround and Rear), 2 – Boston Acoustics (Exterior – Zone2)
HD-DVD: (Toshiba HD-A2 soon to be added when released)
DVD: Sony, DVPCX995V, 400 Disc Carousel DVD/CD/SACD w/HDMI
CD: Sony, DVPCX985V, 400 Disc Carousel DVD/CD/SACD
Surge Protection and Power Conditioners: 2 - Surge-X, SX15-NE/RT, Nema , 1 – Surge-X, SX2120-SEQ, Power Sequencing Control
Rack Hardware: Middle Atlantic; fans, custom shelves, rails, vents and blanks
Chairs: 8 - Palliser, Brando Series
Lighting Control: 1 – PCS, Programmable UPB 6 Button wall mount Controller, 4 – HAI, 600W UPB Dimmable Light Switch
Lighting: Rejuvenation Lighting and Hardware
Clock: Ken-Glo Neon Clocks, Custom Glo-Dial Reproduction
Graphics: Custom "Hollywoodland" Mural by Environmental Graphics, Hopkins, MN
Sound Isolation: PAC International, Inc., RSIC-1 and RSIC-EXT04 isolation clips
Acoustical Treatments: ASI Pro Audio Acoustics, Chaska, MN