DIY Reader Home Theater: Curlee
The Beginning
I am an avid do-it-yourselfer, thanks to my father. We did everything around our home together, from electrical to plumbing to construction. I purchased my first home theater receiver in college back in 1989. It was a Kenwood with big and loud Cerwin Vega speakers. For the next several years, I pieced together this system as best I could with what money I had.
After I graduated from college, I got married, and my wife and I decided to build a larger home to grow our family in. One item I definitely wanted for our new home was an updated, nondedicated home theater system for our family that would play music and movies. My wife, Krisi, was not too sure about the idea at first. She did not want an overbearing system. I assured her that it would be family functional, easy to use, and would blend in nicely with our great room. We also wanted a secondary system upstairs in our bonus room and a complete home-security system. We knew if we were to put in what we wanted, we would have to do a lot of the work ourselves.
Getting Started
We took the blueprints and started deciding where the home theater system would be located and how we would use it. We wanted a 7.1-channel system with speakers in the dining room and kitchen for music. I also laid out the locations for the alarm system master panel, keypads, and sensors. Once we'd determined where the home theater would be located within the great room, I met with the builder and added a dedicated receptacle with a 20-amp breaker for the main theater system. My wife and I both work full-time jobs, so we ran all the wiring on evenings and weekends. In the evenings, my wife would hold the lights while I climbed in the rafters pulling the wire. On the weekends, my father and brother-in-law, Joe, helped to get all the wiring complete by our deadline. We ran the wiring for the in-ceiling speakers and took accurate measurements of the locations before we installed the drywall. That way, I would know exactly where to cut the drywall in the future to install the in-ceiling speakers. I stapled all the wiring every 6 inches and insulated behind the main theater system to minimize any vibrations. In order for the main system to blend nicely, we needed a nice cabinet. We did not find any we liked in our local furniture stores, but we stumbled across one online at www.furniturefind.com.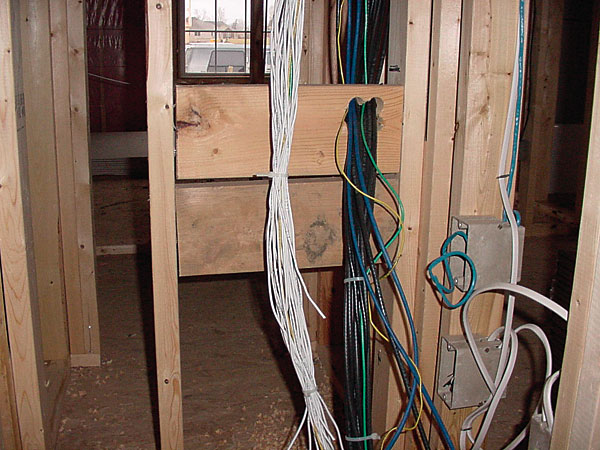 Selecting Our Equipment
After we'd pulled all the wire and orderied the cabinetry, we started the research to choose our equipment using Home Theater magazine. We started with the television. After poring over the many available models and sizes, we had narrowed it down to two Mitsubishi models. We debated on whether to buy a 65-inch Platinum Series model or the 55-inch Diamond Series model. A Platinum would have been over our budget, so we decided to go for the Diamond Series' higher quality and smaller size. It is a beautiful set with a high-gloss finish. The size is perfect for the room—any larger would be overbearing. The next equipment to decide on was the receiver and speakers. I remember how I wanted a Denon and Polk Audio system back in college but could not afford it. That still has not changed much, but we allocated a little more to our budget for the receiver and speakers. I wanted powerful, high-quality sound, but separates were out of our budget, so we opted for the top-of-the-line Denon AVR-5803 A/V receiver and Polk Audio RTi series speakers with a MartinLogan Descent subwoofer. For our music collection, we chose the Sony CDP-M555ES 400-disc CD changer. The last component to add was the DVD player. I was not too sure which one to pick, so I consulted my sales rep, Jason, at my local Ovation retailer. Jason was very instrumental in piecing together my old system, and I knew I could rely on his knowledge. He recommended the Pioneer Elite DV-47Ai. He also priced all my other equipment. Since I knew what I wanted, he was able to give me very good pricing. Our equipment was under budget, which left enough for a Monster Power HTS3600 surge protector. When you're spending money on high-quality equipment, it is important to protect your investment with a surge protector. I decided to use the Philips Pronto Pro remote from our old system for a few months until we did our first main system upgrade and added the secondary system in the bonus room. We ordered all the equipment and let Jason know when we would need it. Our home theater was finished within a couple of weeks of the projected date, and all of the equipment arrived on schedule.
How It Works For You
• Start Small. If you don't have a budget to build a theater all at once, don't worry. You can start out small by buying one or two components and building your system over the course of several years.
• Buy Appropriate Gear. Remember, there is a wide variety of gear available at all price points. You don't have to go with the top-of-the-line equipment for every component. Choose what is important to you and then budget more for those items.
• Get a Good Remote. Don't be one of "those" with three or four remotes on your coffee table. Get a good universal remote, and learn to use it!
My Budget
Couch and Tables $3,000
Entertainment Cabinet $2,000
Mitsubishi WS-55908 Diamond HDTV $4,500
Denon AVR-5803 THX Ultra-2 A/V Receiver $4,000
Polk Audio RTi200i Front, CS400 Center, FX500i Surround, and RC60i Rear Speakers $3,000
MartinLogan Descent Subwoofer $3,000
Pioneer Elite DV-47Ai DVD/SACD Player $1,000
Monster Power HTS3600 Surge Protector $500
Sony CDP-M555ES 400-Disc CD Changer $700
Monster Cables and Speaker Wiring $550
Lutron Dimmers $350
Columns, Plants, Paint, and Accessories $500
Polk Audio Atrium Outdoor Speaker $450
Polk Audio RC60i Speaker $300
Niles SPS4 Speaker Selector $100
Niles VCS2D Imp Volume Control $200
DVDO i-Scan HD Processing Scaler $1,250
Escient Fireball DVDM-100 Disc Manager $2,250
Sony DVPCX777ES DVD Changer $950
Universal Remote Control MX-3000 Remote $1,000
TOTAL $29,600