DIY Reader Home Theater: Bluth
My interest in home theaters stems from my father. Like anyone brought up by a good father, I wish to be like him and take interest in things that he finds interesting. One hobby of his is audio/video stuff. Several years ago, he turned a little-used living room in the basement of his home into a home theater. He had professional installers do the work, and I was amazed at the results: a drop-down tensioned screen, an HDTV projector, and top-quality picture and sound. I wanted to have a home theater, too. In the middle of my Air Force service at Hill AFB, Utah, my family and I decided to build a home. I had plans to build a dedicated home theater under the garage. Financial issues, including medical-school loans, a family of seven to feed, and limited military income caused these plans to end up on the back burner. Two years later, I finished my military obligation, and we moved to rural Webster, South Dakota. We built a new home, and this time I was determined to make the home theater happen! We designed our own home, and the basement home theater fit right into the plans. I had the contractor lower the foundation 4 feet to give the room some depth. I had read that square rooms are poor choices for home theaters, but, with a degree of oppositional defiance, I set out to make a square 25-by-25-foot home theater.
I had the plans in my mind and had put them onto paper. I wanted stadium seating, I thought the addition of balconies would break up some of the sound problems of a square room, and my children wanted a stage that they could perform on. I was able to incorporate these into the plan. There is even an overlook from the entrance hallway into the home theater. My big concern was who would install it. I am not gifted in the art of electronics and wiring. There was no one in the area who did professional installations, so I studied and learned all I could about doing it myself. I gained confidence and decided I could probably do it.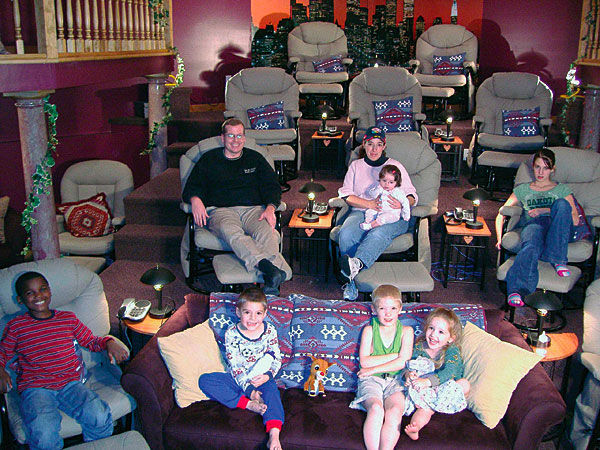 I started gathering the gear before we even left Utah. I bought my projector, receiver, and DVD changer from Performance Audio (the guys who installed my dad's theater). After we got settled in South Dakota, I bought my speakers and IR repeater system at Best Buy, purchased the speaker wire (PR4) at Kimber Kable of Ogden, Utah, and ordered my projector screen and Lutron graFik Eye projector on the Internet.
I showed my home theater room plans to the contractor of our home, Greg Johnson of Johnson Construction. He thought I was weird and a little crazy but agreed to build the three levels, the two balconies, and the stage. I picked up 10 columns at a local hardware store and had them painted at Hahler's auto-body shop. The guy at Hahler sprayed on the tan paint, dried it, then applied the eggplant-colored paint. While the second color was still wet, he wrapped Saran Wrap around it and pulled it off as it dried. It provided a nice marble effect. While the room was all studs and columns, I had to quickly go to work before the drywallers came and closed everything off. I needed 250 feet of speaker wire, component cables, and IR repeater wires, which would all converge in the next room. Once the drywall and painting was done, I anxiously hooked up my gear and was pleased that I hadn't forgotten anything. I crossed my fingers as I connected and tested the IR repeater system. It worked! I also found that the drop-down electric screen can be fully viewed from any seat, including under the balconies. I was pleased.
The furniture was the next challenge. I had seen these motorized home theater seats for the rich and famous at $2,400 each and gasped at the cost! If I were to fill this theater with 16 or so of those chairs, it would cost $40,000, putting me way, way over budget. I found three nice couches at Slumberland furniture and some comfortable, inexpensive reclining chairs on sale at Shopko. I bought 12 of the chairs for $80 each. For now, a couple of giant Love Sacs provide seating in the balconies. The total seating cost just over $3,000. The room can seat over 25 people very comfortably.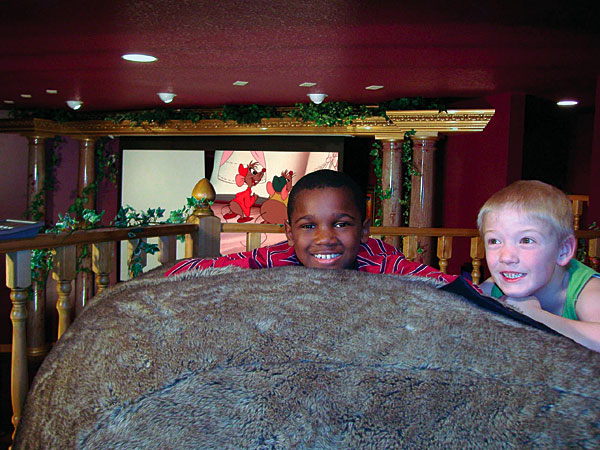 The sound is excellent. There are no echo problems whatsoever, despite the square room. I had 0.75-inch sound board placed behind the drywall of the ceiling and walls. Three of the four walls are cement, which also helps contain the noise in the theater. This keeps the wife happy. The lack of windows and eggplant walls make for good home theater viewing.
My family enjoys the room for watching movies and putting on plays, and we even use it as a conference room for work and community meetings. I might have even convinced our contractor to build his own home theater.
The best part of this whole process was when my dad came out for a visit, and he and I got to sit in the home theater together and watch a movie. Awesome!
My Budget
Construction/materials $5,600
Sound Board, drywall, painting $6,600
Carpet $3,200
Electric wiring/lights $2,700
Lutron GRAFIK Eye 2400 $350
Marantz SR7200 receiver $599
Marantz VC8100 disc changer $599
DVDO line doubler $500
Sharpvision XV-Z90U projector (demo model) $2,200
DISH Network 811 HDTV tuner $400
Klipsch synergy speaker system $1,300
Da-Lite 58-by-104-inch electrol cosmopolitan screen $720
Niles IR repeater system $320
Wiring/cables $800
Couches/Love Sacs $2,100
Recliners (12) $960
Tables/lamps/phones $230
Total $29,178
Sitting with my dad in the home theater.... Priceless!!!