DIY Home Theater: "His and Her" Home Theater
Her style, his performance—in a room they can both enjoy.
Welcome to the ultimate his-and-her home theater. This home theater and family room was a labor of love that my wife and I designed and constructed. We did all the wiring, electrical setup, lighting, texturing, drywalling, painting, and flooring. The room measures 16 by 23 by 18 feet and is painted a flat latex chamois. The rear of the room opens to the kitchen where my wife can cook, entertain, and watch a movie all at the same time.
Since we decided to go with a front projector from Panasonic, light control became our primary consideration. The left wall is almost all glass, and it's very hard to access to opei and close blinds. It's also almost impossible to install a blind on the arched window on top. The solution was to install roller hurricane shutters on the outside of the house to control the light. This solution preserved the architectural detail of the windows while providing easy control of the light entering the room. We installed blackout curtains on the first floor and in the kitchen.
The Vermont-maple floors are floated and isolated for superb acoustical interaction. All the wiring for the video and surround sound system runs beneath the floors in channels cut into the concrete foundation. This made for a very clean and easy installation. My wife insisted that all the cabling be hidden. The cables were all provided by Blue Jean Cables.
The Klipsch Reference Series speakers provide a truly remarkable experience, with great sound for music and movies. The system includes RF-7 floorstanding speakers, an RC-7 center speaker, and two RS-7 surrounds. An RSW-15 subwoofer rounds out the system for clean, powerful bass. A Denon AVR-3805 A/V receiver provides the audio and video switching, as well as control, and a Denon DVD-910 DVD player accompanies it. A Hughes H10 HD DBS video receiver provides all the HD material via DirecTV and OTA signals.
We mated the Panasonic PT-AE700U front projector with a 100-inch Carada Brilliant White Criterion screen. We chose this LCD projector because DLP projectors tend to give both my wife and myself headaches and motion sickness. The Panasonic provides a beautiful picture with HD signals and DVDs.
The cocktail table and A/V credenza were made in Canada by a company called Laurier. The Carino series is specifically designed for home theaters and provides pullout racks that swivel for easy access to all of your components' rear panels. The seating is from the Todd Oldham collection by La-Z-Boy. The arms and backs are removable for several different configurations. The furniture is light and easy to move for times when we want to do some serious music listening or dancing.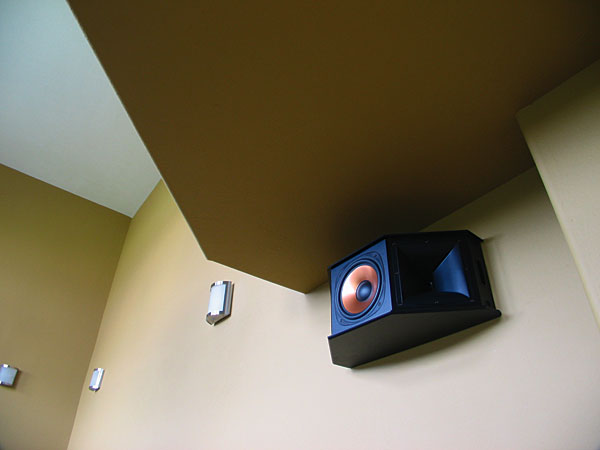 I wanted a system that would be easy to operate and control, so I selected a Logitech Harmony 688 remote with activity functions. One button press switches on or off all of the corresponding components, selects the correct inputs, dims the lights, and closes the roller hurricane shutters. Since the credenza sits behind the couch, we mated the Logitech Harmony remote with a Next Generation Radio Frequency system. Now I can control all of the components, lights, shutters, and so on from anywhere in the house or from outside.
We still watch a lot of SD programming, so we made room for a 27-inch Sony Wega CRT TV. SD programming just doesn't look very good blown up to 100-inch-plus sizes, and we really like the picture quality that a good CRT television can provide. Besides, there just isn't a lot of HD programming available yet.
My wife and I both made several compromises in the design to accommodate each other's wants and needs, but I think we both won. We still have some work to do, like decorating and installing acoustical treatments, but it's all downhill from here. I want to thank everyone on the forums and the writers of all the home theater publications. Without their input, our "His and Her" theater would never have turned out like it did.
Total cost of theater: $32,445