Denon AVP-A1HDCI Surround Processor and POA-A1HDCI Amplifier
Price
: $15,000
At A Glance
: State-of-the-art video and audio performance • Customizable amplifier • Sets the bar for connectivity • Tedious GUI and remote
Both Guns Blazing
The separates market has long been the pinnacle of audio performance for high-end home theater setups. But you've always had to pay a price for that performance: the lack of bleeding-edge features. While standalone processors typically set the bar for pure audio performance, many of them lack the latest features that A/V receivers offer. I've been guilty of envious glances at the latest high-end receiver designs, wishing that those cutting-edge features would find their way into a reference-level surround processor. But unfortunately that hasn't been the reality—until now, that is.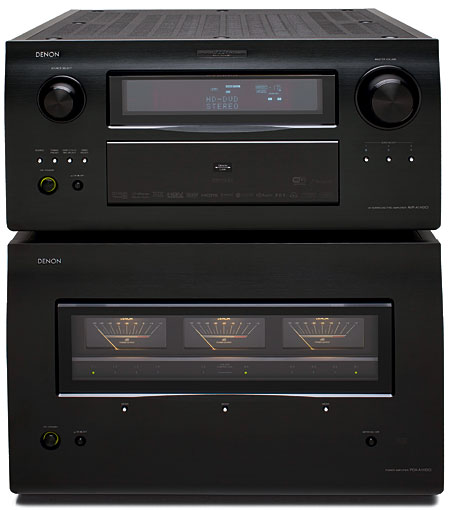 It's been a long time coming, but Denon has returned to the separates market with the AVP-A1HDCI surround processor ($7,500) and POA-A1HDCI amplifier ($7,500). Denon didn't tiptoe into this market; its new flagship designs nearly obliterate the competition at any price point for features. In other words, Denon has delivered what most manufacturers have only dreamed they could bring to this market—and maybe even a bit more.
The Beauty of the Beasts
These components have the scale of Denon's flagship AVRs. Rather than the standard-sized processor chassis, Denon used the chassis of its massive AVR-5308CI AVR, then ripped out the guts and designed the interior of the AVP-A1HDCI from the ground up. This includes four dedicated Burr-Brown 24-bit/192-kilohertz digital-to-analog converters (DACs) per channel that operate in dual-differential mode. It also has state-of-the-art HD video processing, two massive torroidal transformers (plus five others), and separate power supplies for audio and video sections.
The THX Ultra2–certified AVP-A1HDCI incorporates Denon's latest styling. You could easily mistake it for Denon's flagship AVR without close inspection. The front panel shares the same wave style design as the AVR line. A front flip-down door reveals a control panel that leaves no adjustment in the cold. Nothing about this design feels flimsy. The quality of the machined knobs and massive number of connections on the back remind me of more expensive boutique brands. While this combo's price is nothing to shrug at, it redefines what to expect from separates at this price point. It will probably inspire other high-end brands to rethink their price structures.
The AVP-A1HDCI's back panel is where the reality of this thing's capabilities really kicks in. Denon used every last inch of real estate, and it includes the most impressive connectivity I've seen on any product, period. Every base is covered and then some. I could go on and on, but I'll try to keep it to the highlights, which make most surround processors look embarrassingly sparse.
For video, Denon includes some rare connections for the high-end enthusiast. It has component video connections that utilize BNC connectors, six HDMI 1.3a inputs, and two HDMI outputs that work simultaneously.
For audio, Denon provides the typical analog and digital options, along with two digital audio inputs with BNC connectors, a fully balanced two-channel XLR input, and a 7.1-channel analog input with full DSP support.
If that isn't enough, don't worry; there's plenty more. The AVP-A1HDCI also features Ethernet and Wi-Fi support for your home network. This lets you seamlessly integrate with media like music and photos. It also has an optional iPod dock that integrates with the processor and allows full playback of iPod audio and video with an onscreen interface. The Denon also supports HD Radio, and it's satellite radio ready (Sirius).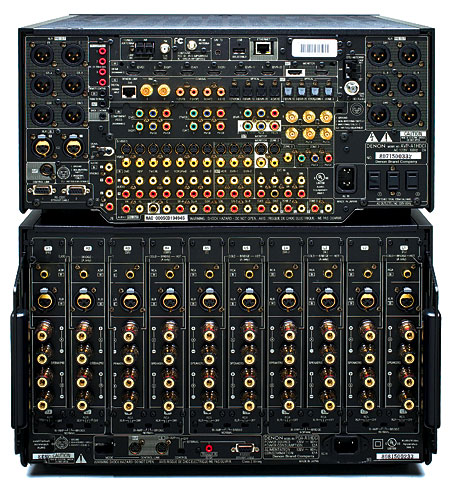 For outputs, the AVP-A1HDCI has a full slate of balanced outputs and single-ended RCA options. Very few surround processors offer true differential processing. The AVP-A1HDCI's noise floor was the lowest I've heard in my system. Even when I put my ear right up against my loudspeakers when my system was on, I couldn't detect any noise at all. It's this kind of noise floor that makes music playback a transporting experience. All of the main channels have XLR outputs, including extras for multiple surround speakers or multiple subwoofers.
The POA-A1HDCI is equally impressive and represents the pinnacle of flexibility in amplifiers. At more than 130 pounds, this monster features 10 channels of highly customizable power that can handle demanding speakers. Each channel is rated to deliver 150 watts of power for an 8-ohm load. Individual channels share four power transformers, but each has its own transformer windings and power supply components.
The POA-A1HDCI shares the AVP-A1HDCI's curved faceplate design and features three power meters on the front panel. You can set these meters to read the power output from one of several channels: L1-L4 for the left meter, R1-R4 for the right meter, and R5 or L5 for the center meter. You can also dim the meters. The POA-A1HDCI has a hard power switch and a standby switch.
The back panel is similar to the AVP-A1HDCI's in its impressive layout and flexibility. Each of the ten channels features a high-quality single-ended RCA input and an XLR balanced input. Every channel also has two pairs of speaker posts, so you can biwire each channel if you want. Along the bottom, you'll find switches to select the mode you want each pair of channels to run in (biamp, normal, or bridged). The Denon also includes RS-232 connections for remote systems and communication connections to mate the amp with the AVP-A1HDCI. The amp uses a single power cord and is rated at 12 amps.