Days of Hamlin
A kid who went from racing go-karts at age 7, to becoming the first Rookie of the Year to take home the Shootout victory at the 70-lap Budweiser Shootout, to scoring the highest-points finish ever for a NASCAR rookie in 2006, Denny Hamlin, age 27, is loving life. And with that success has come the means to enjoy his home in a way that suits his ultra-fast-paced lifestyle. For Hamlin, that means technology.
Talk about getting things done fast. Mark DiPietro, president of Custom Home Integrations in Mooresville, North Carolina, relates an interesting story about how they came on board for Hamlin's technological home makeover. "Hamlin calls me an hour before a race, and I know this because I am a racing fan—and I was getting ready to go watch the race on TV," says DiPietro. "He said, 'I want to talk to you about some things for my home,' and I said, 'Aren't you at a race?' He said, 'Yes, I'm about to go jump in the car right now—I gotta run.'" And the rest was history.
Hamlin's house, located, incidentally, just a few doors from the home where Talledega Nights was filmed, underwent an extensive renovation before Hamlin moved in. In the renovation, the basement and first level were completely gutted. "The house was about 10 years old, which isn't that old from a design standpoint; but from a technology standpoint, it's ancient," says DiPietro. DiPietro and his team did major rewiring in the home, which took about two weeks and involved ripping out all the existing speakers and wiring.
"Hamlin is definitely a video guy," says DiPietro, which is the understatement of the year considering the racing star has a total of 19 video displays, including plenty of Toshiba plasmas sprinkled throughout the house, a few outdoor LCDs, and a Da-Lite 120-inch Cinema Contour theater screen in the basement theater. One of the cooler display installations, however, is above the fireplace in the basement den. There was an existing rock fireplace, and Hamlin wanted a 50-inch display on both sides of it. The wiring had to be fished during the renovation stage, and all the rock was removed above the mantel and reset around the displays to allow them to be recessed into the rock. "The plasma looks almost flush with the stone. It's very cool," say DiPietro.
Through this vast network of video displays, Hamlin can watch whatever he wants in virtually any room of the house—or the same movie can play on all video screens. When DiPietro was taking some folks from Joe Gibbs Racing through the home, in fact, one of the guys said, "Wouldn't it be cool if we could have Days of Thunder playing on all the TVs in the house?" Mark simply pulled up the Escient server and called up the movie, and the racing flick was zooming through every screen in the house in less than five seconds. The home's wholehouse audio, video, security system, and intercom are controlled through the extensive Crestron control system programmed by Crestron guru David DeSimone of 1 Touch Design in West Palm Beach, Florida. "There are literally touchpanels all over the house," says DiPietro.
A home theater in the basement level lets Hamlin retreat for private screenings, or invite friends over to recline in the United Leather Seville recliners and watch Gone in 60 Seconds or The Fast and the Furious with amazing surround sound through the Sonance Cinema 2 in-wall speakers and Cinema Sub system. Little details were not overlooked, either. "High-quality, custom-made interconnect cables and patch cords are used to make all of the connections between components," says Hamlin. "The use of higher-quality cables ensures that the best audio and video signals are presented." A complete Panamax surge-protection system provides power control and surge protection for all of the components.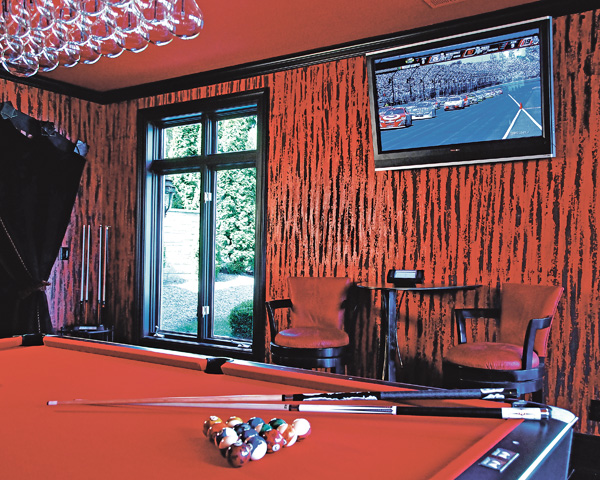 Outside the theater is an ultra-modern game room with black tile, contemporary chandeliers, and a vibrant red color scheme. It also has a pool table, a high-end card table, and two 50-inch plasma displays with tilt mounts to allow for sight-line adjustments. Hamlin can even watch content being played in the theater in this sleek lounge area.
You might think that 19 video displays is overkill for one guy, but Hamlin entertains like the champ he is. When he won at the 2006 Poconos 500, for instance, he invited several hundred guests over to the house. Whether he's entertaining a slew of guests, enjoying a game of pool in the rec room with a few friends, or watching a movie in his home theater, rest assured that Hamlin's entertainment needs are met, both on the track and off.