Contemporary Aesthetics, Green Technology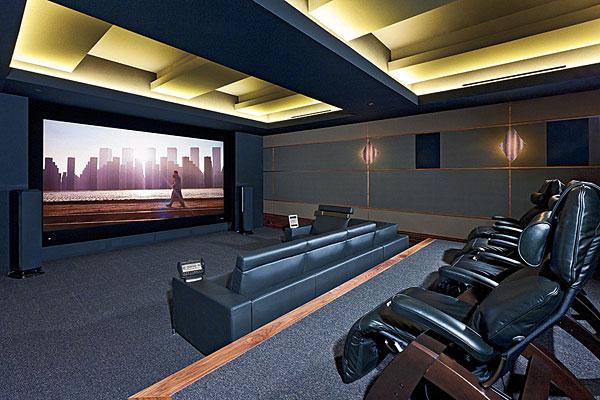 When he set out to build his own home theater, it was this homeowner's goal to achieve LEED Platinum certification (green home). Due to the sheer size of the residence—14,000 square feet—it was exceptionally difficult to achieve this status.
The homeowner expected his home theater to perform at a high level sonically and visually—and to be efficient. Everyone involved in the project knew the design directives: a sonically pure environment, commercial-quality picture, an LED light-controlled environment, and a silent ventilation system.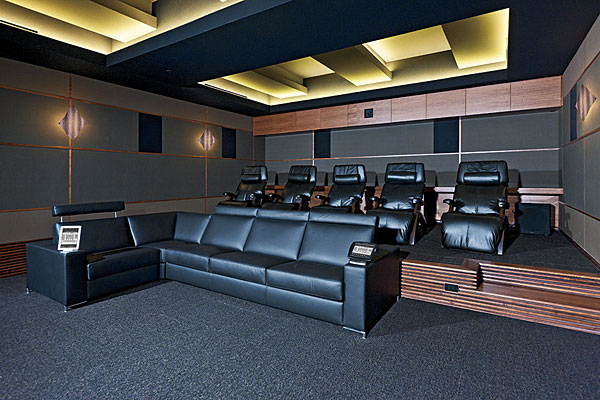 The theater space was predetermined in the home's original design. However, the home's contemporary architecture featuring steel beam ceilings created some acoustic challenges. Paradise Theater helped with room modeling, speaker placement, and seating positions to maximize the theater's effectiveness. Once all the electronics were installed, an Audyssey Pro Audio room calibration was performed. The end product is an ultra-quiet room, with ambient noise levels akin to a professional recording studio.
Barry Salehian Designs provided the architecture and interior design for the residence with geometric, textural, and positive-negative spaces. This style carried over into the theater for a slick and uncluttered appearance with only an acoustically transparent Stewart Filmscreen 16:9 screen (146 x 82 inches) and Revel Ultima Salon2 loudspeakers visible. A custom mask is engaged for viewing 2.35:1 aspect movies.
The Digital Projection HIGHlite Cine 1080p-330 projector is completely concealed in an air-conditioned niche in the soffit at the back of the room to minimize noise and heat. Hidden behind the screen is a Revel Ultima Voice2 center speaker and four Velodyne DD-15+ powered subwoofers. JBL S4ai THX Ultra2 flush-mount speakers are cloaked within the extensive acoustic treatments used on the theater walls.
To minimize the power impact on the home, a Lexicon DD-8 multichannel digital amplifier was installed since it runs at 90 percent efficiency, using less power during normal operation than many traditional amplifiers do at idle. The systems is controlled via a Crestron handheld touchscreen and a Crestron-connected iPad.
Contact VIA-DSI, Josh Christian, viahome.com, (818) 391-3061
Barry Salehian Designs Inc., (310) 560-8880
Paradise Theater, Sam Cavitt, medesign.tv, (808) 875-0518