CES 2021: A Little Something for Everyone Page 2
China's Skyworth Makes U.S. Debut
Skyworth, a $19 billion diversified electronics you never heard of, is the latest Chinese conglomerate to announce aspirations to enter the North America. In making an announcement similar to one made a year ago at CES 2020, the company announced plans to introduce an ambitious lineup of LCD and OLED 4K/Ultra HD TVs spanning five series, all powered by Google's Android TV OS smart platform and featuring two-way Bluetooth 5.0 capability.
Product detail was sparse and no timeline was given, but the TVs range from the UC6200 4K series featuring a minimalist design with a half-inch bezel to the flagship "wallpaper-thin" XC9300 OLED series featuring an edge-to-edge screen, Dolby Vision high dynamic range (HDR), Dolby Atmos sound, and a proprietary technology the company calls Chameleon Extreme that adjusts color and tone in real time to enhance realism.
Skyworth, which started in 1988 as an original equipment manufacturer (OEM), says it has advanced its partnership with LG to create TVs that deliver images of high contrast and clarity, citing the UC7500 series' 10-bit color and the UC8500 series' 120-Hz variable refresh rate as examples. Like the flagship XC9300 series, the UC8500 series one step down supports Dolby Vision HDR and Dolby Atmos sound.
Pricing and availability will be announced at a later date. Visit skyworth.net for more information.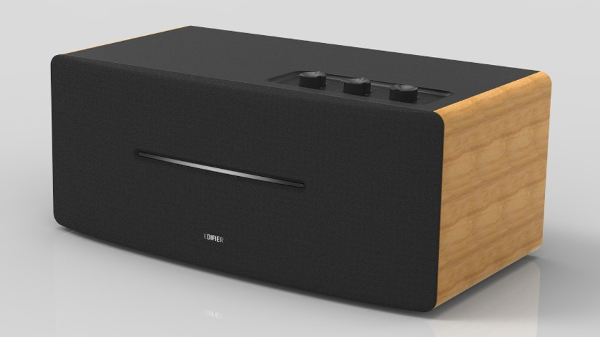 Edifier Previews All-In-One Bluetooth Speaker
Chances are you don't know much, if anything, about Edifier but the folks behind the brand know how to build great sounding speakers at affordable prices, as I discovered when I reviewed R1850DB Bluetooth speaker system for our 2020 Holiday Gift Guide. I was blown away by what I heard from speakers that were selling for less than $200 a pair at the time.
The company's newest speaker offering is the all-in-one D12 Bluetooth speaker, which mates two 0.75-inch silk-dome tweeters with a dedicated 2 x 15-watt power amp and a pair of 4-inch woofers driven by a 2 x 20-watt amp in a 14-inch-wide cabinet with wood side panels and top-mounted knobs for volume, bass, and treble. The cabinet is made of wood and partitioned to separate the left and right woofer/tweeter pairings to reduce resonance.
The speaker is built around the latest Bluetooth 5.0 technology and includes a compact remote with volume, pause/play, and track skip controls and buttons to switch inputs (Bluetooth, 3.5mm auxiliary, and stereo RCA), mute the sound, and engage movie and music modes. A line out is also provided for connecting a subwoofer or speaker.
The D12 will sell for $99 when it ships in February. Visit edifier.com for more information.
Singin' in the Rain…er, Shower
We can't speak to sound quality (no in-booth listening at this year's virtual CES) but we can tell you that we like the concept behind Ampere's waterproof Bluetooth speaker, which brings the shower alive as you stream favorite tunes (or audiobooks, if you're boring) from your phone or a nearby laptop/tablet. Once installed in-line with your shower head, the patent-pending Shower Power uses water pressure to spin an impeller connected to a mini generator that converts mechanical energy into electricity that charges its battery.
The moment the water is turned on, the 2 x 3-inch speaker pairs with your device and starts playing, while it charges the battery. In its online FAQ, the company writes: "The battery is designed to charge and discharge simultaneously, so as long as you have the shower running most of the time while you are listening, you will never run out of battery." And once fully charged, battery life is rated for 20 hours of water-free listening. Charging takes about 14 hours, assuming good water pressure.
About that sound, Ampere says the cylindrical speaker uses a proprietary design to radiate sound evenly in all directions for an "immersive" experience. The face of the speaker has buttons for volume up/down and play/pause/skip — or you can use its disc-shaped waterproof remote. Ampere is proud of the speaker's eco-friendly casing, which is made from plastic that has been recycled from our oceans.
"While we've been developing this idea for more than two years now, we couldn't think of a better time to launch it," explained Ampere CEO Reid Covington. "After a quarantine-fueled year, we're consuming more content on our speakers — podcasts, audiobooks and music — than ever before."
Shower Power is available for pre-order on Indiegogo for $100 and is slated to start shipping in the January to March time frame. To date, Ampere has raised more than $450,000 on Kickstarter and Indiegogo to fund the project. The company is also working on two related products: a mini Bluetooth speaker called Droplet ($50) that can be paired with the Shower Power or used as a portable travel speaker and an LED-lighted version of the shower speaker dubbed Shower Power Shine. Visit Indiegogo.com for more information.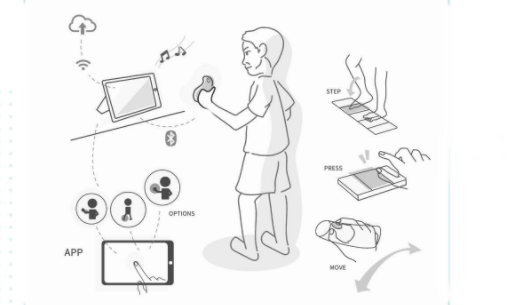 Harnessing the Healing Power of Music
Taiwan's Research Center for Music, Technology and Health (RCMTH) introduced the Smart Music Playground, an intriguing therapeutic system that harnesses the power of music to help with physical rehabilitation and promote well-being in adults, especially the elderly and children with disabilities.
The Playground is an assistive device with three interactive learning interfaces — Music & Hands, Music & Feet, and Music & Limbs — that uses easy-to-learn performance methods and participation incentives to improve the agility of limbs. "Repetitive behaviors in music playing infuse natural momentum and quality into performances, which improves interactivity through cognitive balancing and hand-eye coordination," the RCMTH explained.
The system monitors motion, endurance, and strength as well as functional hand moves, finger dexterity, and limb coordination. In technical terms, the Playground is an embedded Linux OS-based sensorimotor training system that uses digital audio workstation-compatible software, MIDI sound files, and an effects generator to enable the therapeutic musical performances. The system uploads data via Wi-Fi to the cloud where AI algorithms compute corresponding accompaniments to match the music the user is playing but also collects data on user interactions and uploads it to the cloud for analysis by therapists and medical professionals.
In addition to promoting well-being and spiritual fitness, the goal is to "help delay the onset and progression of disabilities in the elderly, promote good health in adults, and facilitate early interventions in children." The development team is also working on new music-based therapeutic systems to address multisensory balance training, music and sensory matching, and behavioral interaction.
More From CES 2021
Hisense Pushes the Outer Limits of Laser TV
LG Launches HU810P 4K UHD Laser Projector
JBL Synthesis Unveils SCL-1 Speaker and SSW-1 Sub
Panasonic Introduces Flagship JZ2000 OLED TV
Konka Announces 2021 Ultra HDTV Lineup
JBL Previews Retro Integrated Amp, L100 Classic Speaker
TCL Plans 8K TVs, 85-Inch Screens, Slimmer Mini-LEDs
LG Showcases 2021 OLED TV Lineup at CES
Sony Announces 2021 Bravia XR LCD and OLED TV Lineup
CES 2021 Preview: High-Tech TV Sets the Stage