2020 Holiday Gift Guide
A dozen-plus gifts to give...and get.
With a year of historic turbulence and divisive presidential politics almost behind us, it's time to count our blessings as we look toward the holiday season with hope for peace, prosperity, and a return to normalcy for all. Here we present a dozen or so gifts guaranteed to delight family and friends—and maybe even make your own personal wish list. Our goal was to go easy on the wallet so prices start at $50 and top out at around $300. With any luck, you'll be able to fill in a couple blanks on your shopping list and, ultimately, bring cheer to those you care about as we say good riddance to 2020.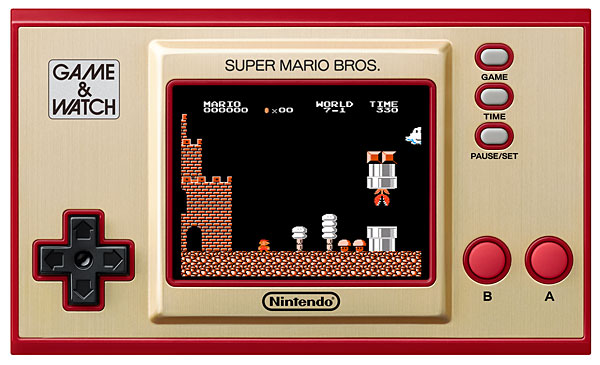 Nintendo Game & Watch: Super Mario Bros. ($50)
Who doesn't love the iconic game hero Mario? A fun gift for gamers and non-gamers alike, Nintendo's micro "console" is a modern update of the hugely popular Game & Watch series that dates back to 1980. The self-contained system celebrates the enduring charm and antics of Mario—who turned 35 this year—with a color screen (the original was black-and-white) and Nintendo's classic four-way + Control Pad, which replaces the original player's Left and Right buttons. You get two versions of Super Mario Bros.—the original 1986 game plus Super Mario Bros.: The Lost Levels (released in Japan as Super Mario Bros. 2) and an updated Mario-centric version of Ball, the game featured on the original Game & Watch that tasks players with keeping two balls in the air (hey, we're talking 1980 here…). Adding to the fun, players are encouraged to keep an eye out for 35 "little touches," including guest appearances from Mario friends and foes in addition to his regular sidekick, Luigi. Measuring 4.4 x 2.6 x 0.5 inches, the game is small enough to slip in a pocket and, like its predecessor, doubles as a clock.
gameandwatch.nintendo.com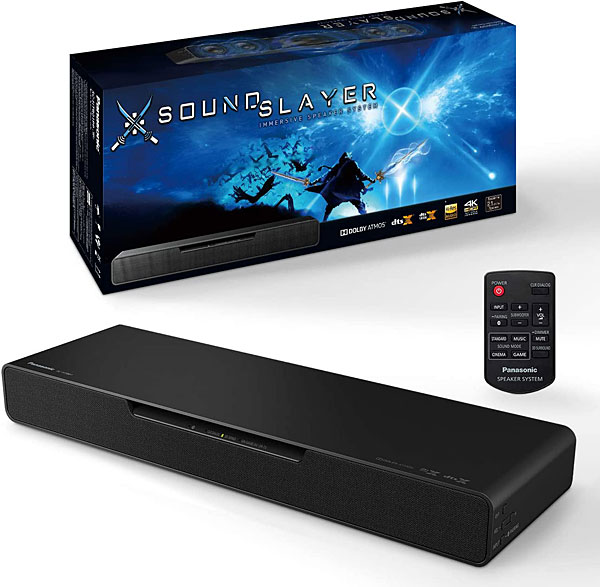 Panasonic SoundSlayer Gaming Speaker ($299)
With a name like SoundSlayer, you know that Panasonic's latest soundbar means business. In this case, the business at hand is delivering a high-impact audio experience for gamers, something the SoundSlayer does via Dolby Atmos, DTS:X, and DTS Virtual:X processing, along with sound modes jointly developed with the FINAL FANTASY® XIV Online sound team to specifically enhance role-playing, first-person shooter, and adventure games. Compact enough to be placed under a desktop computer monitor, the 2.1-channel 3-way soundbar features a built-in subwoofer, and its HDMI input and outputs support 4K video/HDR pass-through. When you're done gaming, you can then settle back and wirelessly stream tunes using the SoundSlayer's Bluetooth audio connection.
shop.panasonic.com
Vizio V21-H8R Soundbar System ($180)
We all know someone who somehow tolerates the anemic sound produced by the speakers built into their TV when watching TV and movies. Be their savior with the gift of a soundbar and they'll thank you a hundred times over. I speak from experience. Several years ago, we gave a Vizio soundbar system to my in-laws for Christmas and they were astounded by what they had been missing (plenty of bass and sonic detail, including surround effects from a set of rear speakers). Though I wasn't able to audition the V21-H8R, seven Vizio soundbars have made Sound & Vision's Top Picks list since 2013, the most recent being the SB3621n-G8), so I feel confident recommending it. Like the SB3621n-G8 (which at this writing was still available on costco.com for the discounted price of $130), the V21-H8R is a 2.1-channel system with a separate bass module and a soundbar with two drivers and DTS Virtual:X surround sound processing but it ups the ante with an HDMI connection (cable included) in addition to the optical audio input. If you want to spend a little more for a richer sonic experience, the V51-H6 adds a dedicated center-channel speaker and two surround speakers for an extra $30.
vizio.com
Edifier R1850DB Bluetooth Speakers ($200)
Everybody can use a set of good small speakers, especially wireless speakers that don't cost an arm and a leg. Edifier's R1850DB speakers sound fantastic and support Bluetooth streaming in addition to analog (RCA) and digital (optical and coaxial) inputs and a subwoofer output; they also have a few things many wireless speakers don't: bass and treble controls and a remote control. Edifier says its specialty is "premium sound systems that showcase technological innovation and design elegance." They're not kidding. Standing 10 inches tall, each speaker mates a 0.75-inch silk-dome tweeter and 4.5-inch woofer in a sturdy enclosure with classy piano-black side panels you don't expect to see in this price range and an angled base that makes them ideal for a desktop setup. I'm still shaking my head in amazement at how good the little Edifiers sound. As I write this, the 50th anniversary remix of The Beatles singing "Because" (Abbey Road) is streaming in Master quality over Tidal. The gorgeously layered harmonies sound appropriately sweet—like they were recorded yesterday.
edifier.com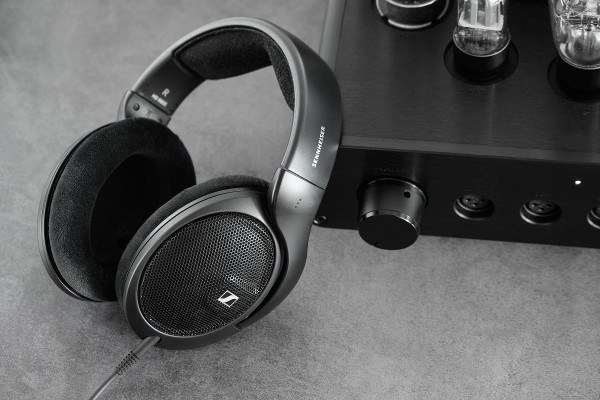 Sennheiser HD 560S Headphones ($200)
Headphones are another perennial gift choice but, like speakers, there are so dang many of them that it's hard to know where to start. Germany's Sennheiser wasn't the first company to sell consumer headphones but it did revolutionize the category in 1968 with the HD 414, the world's first lightweight, open-back set of headphones. Headphone guru Steve Guttenberg reminisced about owning a set of 414s in his 2018 review of the closed-back HD 569 headphones, one of four Sennheiser models to make Sound & Vision's Top Picks list in recent years.
The HD 560S is the newest open-back model and the third least-expensive model in a line of 10 that ranges in price from $100 to $1,700. Weighing just 8.4 ounces, the HD 560S's are designed for "fatigue-free" listening with a new polymer-blend transducer built to deliver improved clarity and deeper bass. A few hours spent sampling a broad mix of go-to demo music and the latest MQA tracks on Tidal confirmed that these 'phones live up to the Sennheiser tradition of sonic excellence. The sound was natural — rich in detail with abundant bass and ultra-clean, unless meant to be "dirty" like the guitars in Billie Joe Armstrong's new quarantine-inspired album of covers, No Fun Mondays — with rich detail and abundant bass. I also appreciated the comfortable, though not super-cushy fit of the velour earpads.
sennheiser.com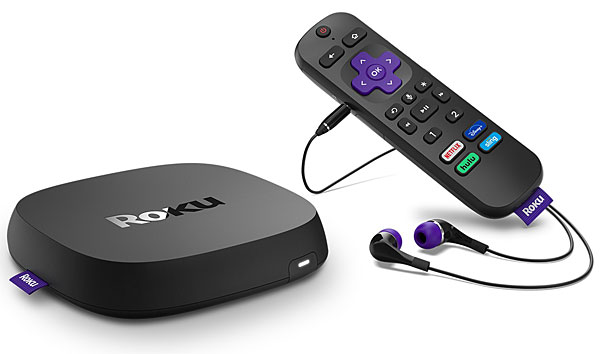 Roku Ultra Streaming Player ($100)
Roku continues to up its game, most recently with an upgraded version of its top Roku Ultra 4K streaming player (a.k.a. model 4800R). Hailed as its fastest and most powerful player yet, the little box now decodes Dolby Atmos surround sound for heightened immersion and supports Dolby Vision high dynamic range (HDR) for a more lifelike visual presentation—as long as the giftee has a suitably-equipped TV and audio system. Roku has also added Bluetooth streaming and promises snappier load times (thanks to an improved quad-core processor) and a robust streaming experience with a wireless range that's half again as much as last year's Ultra, which could make a big difference if the box is located a couple of rooms away from the router. Throw in support for AirPlay 2 (courtesy of the OS 9.4 update) and a voice remote with programmable shortcut buttons and a jack for headphone listening (earbuds included), and you have a pretty amazing value. I didn't have a chance to try the new Ultra but I've had a basic Roku hooked up to a second TV for years and it's a dependable streamer. Time for an upgrade.
roku.com
Audio-Technica AT-LP60XBT Turntable ($150)
Did you know that almost 19 million LPs were sold last year in a category that has seen gains every year since 2007? Total sales for the period are just shy of 90 million. Factor in the vibrant market for used vinyl and you can more than double that number. In relative terms, the "vinyl comeback" is small but real, which begs the question: who gets a new turntable for Christmas? Whether it's a 20-something hipster discovering vinyl for the first time or an older music aficionado who's itching to resurrect a long-neglected record collection, we've got you covered with a solid-performing turntable from Audio-Technica, a family-run business that's has been making phono cartridges and turntables for decades.
The AT-LP60XBT is a two-speed (33 1/3 and 45 RPM) belt-drive design that has everything you need to get acquainted (or reacquainted) with vinyl. It even has a secret weapon: aptX-enabled Bluetooth connectivity makes it a cinch to stream treasured records to a Bluetooth speaker(s). I paired the table with a Klipsch One II Bluetooth speaker in another room and cued up Donald Fagen's "I.G.Y" from 1982's The Nightfly (track one, side one) to compare the quality of the audio stream with the same song streamed over Pandora. Going back and forth several times, I ultimately preferred the slightly warmer tone of the AT stream. If you want to skip Bluetooth, get the AT-LP60X and save yourself 50 bucks.
audio-technica.com