CD Review: Smashing Pumpkins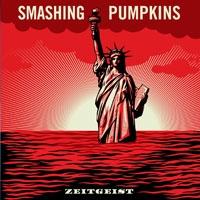 Zeitgeist Martha's Music/Reprise
---
Music •••½ Sound ••••
Did anybody really doubt that Smashing Pumpkins would someday be back?
They dropped their unrelenting swan songs - MACHINA/The Machines of God and its Web-only companion, MACHINA II/The Friends & Enemies of Modern Music - in 2000, a few months before breaking up after a series of farewell concerts in their hometown of Chicago. Back then, bandleader/visionary Billy Corgan lamented being part of an industry that celebrated the cult of Britney Spears over true musicianship. (These days, he and Brit now share essentially the same chrome-dome haircut.) He later took a detour to helm the indie-rock supergroup Zwan on 2003's fairly cheerful Mary Star of the Sea, following that with a solo record, 2005's technoid treat TheFutureEmbrace. But now, Corgan has reteamed with powerhouse drummer Jimmy Chamberlin (whose own Complex knocked out 2005's tasty Life Begins Again) to fly the Pumpkins flag once more with Album No. 7, Zeitgeist.
Corgan and Chamberlin share a symbiotic musical relationship that serves as the backbone of the Pumpkins sound - a hypnotic mesh of swirling, atmospheric guitars and insistent, propulsive drumming. Call them the Orange Stripes. Some have griped about the absence of co-founding guitarist James Iha and bassist D'Arcy Wretzky, but those protests are shrug-offable since it's generally acknowledged that Corgan has long been responsible for the bulk of the band's studio work.
All that being said, does Zeitgeist deliver the goods? Yes and sometimes no. Yes, there's plenty of bombast to go around, but no, there's not enough melody to balance the bludgeoning. Still, you're in for a pretty good rough ride. Opener "Doomsday Clock" wastes no time getting out of the gate, with Chamberlin's opening gallop followed quickly by Corgan's layered thunder. "Is everyone afraid? Is everyone ashamed?" wonders a world-weary Billy. "I'm certain of the end." A thumping timepiece for these troubled times. That ol' Pumpkins magic shines best on the cosmic immortality tale "Starz" and the crunch of lead single "Tarantula." The more mellow moments, like the alt-radio-friendly unit-shifters "That's the Way (My Love Is)" and "Neverlost," aren't as immediately spot-on as "1979" or Zwan's "Settle Down," but they'll grow on you.